American Music Review
Vol. XLIX, Issue 2, Spring 2020
Top Billin': First Priority Music and Brooklyn's Local Hip Hop History
By Will Fulton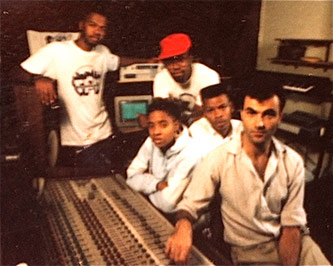 In the ever-changing cityscape of Brooklyn, little evidence remains on the streets of the vibrant early years of hip hop culture that existed in 1980s. Though a significant culprit may be gentrification, part of the reason for the absence stems from the ephemeral nature of the music business itself. The sites of that industry—recording studios, record companies, record stores, and nightclubs—have only occasionally survived through civic support or been considered landmarks. Further, often due to the increasingly high cost of living and changing demographics in the borough's once-predominantly African American neighborhoods, many of the participant rappers, deejays, producers, and promoters in the early days of Brooklyn hip hop culture have since moved away.
While the cultural sites that supported hip hop music in its early years all but disappeared in some borough neighborhoods, the records produced by Brooklyn rap soloists and groups in the 1980s capture the borough's critical contributions to hip hop's vibrant first decades. Long before the images of hip hop stars were used to elevate Brooklyn's cultural cache during city-sponsored urban development projects like Forest City Ratner, local performers such as Audio Two and rappers such as MC Lyte (Lana Moorer) were producing recordings that captivated the city. Collectively they employed innovative techniques that redefined what was possible in hip hop, and mainstream music in general. Their locally-produced records stand as sonic reminders of the importance of DIY production at a critical period in the history of hip hop.
During this era, 12" singles served as both the primary mode of transmission and sonic artifact of hip hop culture. They reflected a distinct mode of cultural production, and their legacy with local hip hop fans was reinforced every time the record was played by a deejay on the radio, at the club, or block party. These events were then memorialized on homemade cassettes that teenagers commonly traded for boombox or headphone listening. The success of a hip hop record could be judged by the number of times it was heard coming out of cars or radio speakers, and the speed that fans memorized and recited the lyrics.
Given this history, understanding how these records were conceived, produced, sold, distributed, and received is critical to understanding local hip hop culture. A prime example is the story of the First Priority Music label, a Brooklyn-based independent label run by former club promoter Nat Robinson with his teenage sons Kirk Robinson (Milk Dee) and Nat Robinson Jr. (Gizmo), who recorded as Audio Two. Their struggles and accomplishments exemplify how Brooklyn entrepreneurs (often before they turned eighteen) redefined what was possible in the music industry.