Student Projects and Success
Student Success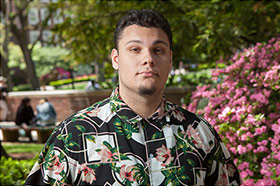 Christopher LaSasso '19 Awarded Full Scholarship for Doctoral Studies at Brown University
At Brooklyn College, he finally found an intellectual community in which he could thrive.
The Mellon Transfer Student Program aims to help transfer students grow as thinkers, researchers, and independent, critical thinkers, and to help them do that in a supportive, collaborative atmosphere with their peers. One former participant, Dominick Braswell (BC '18) explained: "As a student I participated in the very first cohort of this program and what it accomplished for me, as someone who had never done extensive academic research, was to help demystify the process of conducting scholarly research. This demystification was achieved not only through the guidance of our faculty-mentors but also through the 'community' the program helps to foster between student participants ... making it less an individual journey and more of a collective one."
MTSRP research projects have been diverse and far-ranging, crossing numerous disciplines in the humanities and social sciences. From identifying and mapping book deserts in Brooklyn, to literary tropes of gentrification, to how Japanese manga is re-purposing and reshaping Shakespeare, to the commodification of food and sex in US culture, from making a map of civil rights sites in NYC to interviewing and documenting gentrifying Williamsburg to investigating and photographing ethnic change in South Brooklyn neighborhoods, the projects represent a wide range of interests and research methods. Students have researched the lives of undocumented immigrants in NYC; the role of "de-growth" models as necessary for sustainability; public housing privatization in New York; the differences in Brazilian and Trinidadian carnival; the experiences of female bartenders; land mines and unexploded devices around the world; participatory democracy in action; early Christian novels; the NYPD's tactics of gang policing; the representation of childhood in Dickens; the history of scrap metal; and much more.
Students have achieved remarkable success during and after their participation in the program, including publishing their research results jointly with their faculty mentors and presenting at national academic conferences. Several students are enrolled in or heading to Ph.D. programs (from Columbia University to the University of Delaware), and others into MA programs, at institutions ranging from The New School to Long Island University to Oxford. Multiple students have been accepted into CUNY's Pipeline Program, which supports minority students seeking to enter the professoriate. One team of students exhibited photographs they took and oral histories they conducted in the Brooklyn Public Library, and students who researched participatory budgeting helped student government allocate some of its money.