Events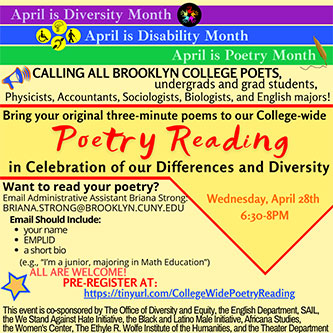 College-wide Poetry Reading
Wednesday, April 28, 2021, 6:30–8 p.m.
Calling all Brooklyn College poets, undergrads and grad students, physicists, accountants, sociologists, biologists, and English majors! Bring your original three-minute poems College-wide Poetry Reading in celebration of our differences and diversity.
Let us know that you'd like to read by sending your name, your EMPLID, and a short bio (e.g., "I'm a junior majoring in math education") to the Office of Diversity and Equity, attention: Administrative Assistant Briana Strong.
After registering, you will receive a confirmation email containing information about joining the meeting.
All are welcome!
Sponsored by the Department of Africana Studies, the Black Latino Male Initiative (BLMI), the Center for Disability Services, Student Activities, Involvement, and Leadership (SAIL), The Department of English, the Ethyle R. Wolfe Institute for the Humanities, the Office of Diversity and Equity Programs, the Department of Theater, The Women's Center, and We Stand Against Hate. 
  An engaging and dynamic virtual panel discussion about the impact of social emotional learning in schools.
 Wednesday, May 19th at 5:30PM.  We will be joined by the following panelists : 
• Brandon Frame: Director of Social Emotional Learning at the Urban Assembly and Founder of The Black Man Can Inc. 
• Dr. Ian Levy: Assistant Professor of School Counseling at Manhattan College 
• Carl Jackman, LMSW: Assistant Director of Wellness Support at the Opportunity Network 
• Moderator: NYC Men Teach Educator