Malcolm J. Merriweather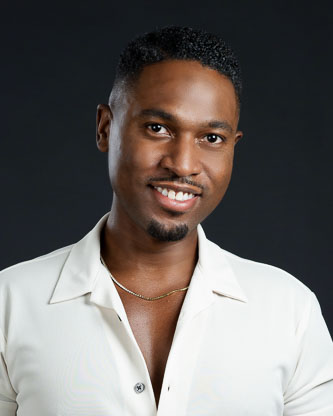 Associate Professor, Director of Choruses, Coordinator of Voice Studies
Conductor Malcolm J. Merriweather is music director of New York City's The Dessoff Choirs, known for performances of choral works from the pre-Baroque era through the 21st century. An assistant professor, he is director of choral studies and voice department coordinator at Brooklyn College, artist in residence at Union Theological Seminary, and artistic director of Voices of Haiti, a 60-member children's choir in Port-au-Prince, Haiti, operated by the Andrea Bocelli Foundation. Merriweather is also in demand as a baritone soloist, often performing throughout the eastern United States.
This past summer, Merriweather led Voices of Haiti in performances with Andrea Bocelli at Teatro del Silenzio in Lajatico, Italy, and for Pope Francis at the Vatican. Other conducting highlights of the 2017–18 season include: David Lang's The Little Match Girl Passion; Vaughan Williams' Dona Nobis Pacem; Bach's Singet dem Herrn, BWV 225, and Komm, Jesu, komm, BWV 229 with The Dessoff Choirs; Handel's Messiah at Brooklyn College and the Harvard Club of New York; and Leonard Bernstein's Mass (Concert Selections); and Honegger's King David at Brooklyn College. Recent conducting highlights have included Mozart's Requiem, Vivaldi's Gloria, Bernstein's Chichester Psalms, and Orff's Carmina Burana.
Solo engagements for the 2017–18 season include the premiere of Sanctuary Road by Pulitzer Prize winner Paul Moravec, with Kent Tritle and the Oratorio Society of New York at Carnegie Hall, and Fauré's Requiem and Ralph Vaughan Williams' Dona Nobis Pacem with Christopher Shepard and The Masterwork Chorus.
Recent performances have included the baritone solos in Rautavaara's Vigilia as a part of the Great Music in a Great Space series at the Cathedral of St. John the Divine; the music of William Byrd with Parthenia; and Vaughan Williams' Dona Nobis Pacem with the Grace Choral Society. Additionally, Merriweather has been featured as a soloist with the Boston Symphony Orchestra, The Dessoff Choirs, the New York Choral Society, and Bach Vespers Choir and Orchestra at Holy Trinity Lutheran Church in New York City. The baritone has also premiered contemporary solo works by Eve Beglarian, John Liberatore, Ju Ri Seo, Douglas Fisk, and James Adler, and he has been a fellowship recipient at the Norfolk Chamber Music Festival and Tanglewood Music Center.
Merriweather holds a doctor of musical arts degree in conducting from the studio of Kent Tritle at the Manhattan School of Music, where his doctoral dissertation, Now I Walk in Beauty, Gregg Smith: A Biography and Complete Works Catalog, constituted the first complete works list for the composer and conductor. He received master of music degrees in choral conducting and in vocal performance from the studio of Rita Shane at the Eastman School of Music, as well as a bachelor of music degree in music education from Syracuse University, graduating summa cum laude.
Merriweather's professional affiliations include membership in Pi Kappa Lambda, the American Choral Directors Association, and Chorus America, and he sits on the Board of Directors of the New York Choral Consortium.
Connect with him on Twitter and Instagram.
Other links: