Stephanie Griffin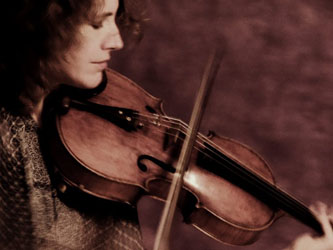 Adjunct Assistant Professor, Viola
Stephanie Griffin is an innovative violist/composer with a unique and eclectic musical vision. Born in Canada and based in New York City, her musical adventures have taken her to Indonesia, Singapore, Japan, Hong Kong, England, Ireland, Germany, Belgium, Mexico and Mongolia. From large concert halls to the sand dunes of the Gobi desert, she has performed as a soloist and chamber musician in classical, contemporary and improvisational contexts. She has been called "one of the city's most inquisitive, accomplished violists" by Steve Smith in Time Out New York and her playing has been described as "enthralling" by Mark Swed of The Los Angeles Times while The New York Times' Allan Kozinn noted her "fiery, full-throttle performance." 
As a composer, she was a 2019 Composition Fellow at the Instituto Sacatar in Brazil, and the recipient of the prestigious 2017 Emerging Composer and Sound Artist Fellowship from the Jerome Foundation and the 2016 composition fellowship from the New York Foundation for the Arts. She has a growing catalogue of concert chamber music, and has engaged in fruitful collaborations with choreographers, filmmakers and theater artists. Steve Smith described her hour-long theatrical string quartet for children, "The Lost String Quartet" as "really, really smart, imaginative, and beautifully conceived and executed." She has taught experimental composition workshops in Indonesia, and was a guest lecturer for the composition seminar at the University of Binghamton and Bates College. 
As an improviser, Stephanie performs with Wadada Leo Smith and Henry Threadgill, and played with the late Butch Morris from 2001 until shortly before his death in 2013. She was a 2014 fellow at Music Omi, and is a member of Matt Lavelle's 12 Houses, Carl Maguire's Floriculture, Gordon Beeferman's Other Life Forms, Hans Tammen's Third Eye Orchestra, Adam Rudolph's Go: Organic Orchestra and the composer/improviser collective the Brooklyn Infinity Orchestra. From 1998 to 2001, she was the only non-Indonesian member of Tony Prabowo's New Jakarta Ensemble, creating avant-garde compositions alongside traditional musicians from Sumatra.
Stephanie has worked closely with numerous composers as a viola soloist, among them Salvatore Sciarrino; Tristan Murail; Tony Prabowo; Kee Yong Chong; Ursula Mamlok; Matthew Greenbaum; and Arthur Kampela.
A founding member of the Momenta Quartet, she has given over 200 chamber concerts at such esteemed venues as the Library of Congress and the National Gallery in Washington, DC and led residencies at major American institutes of higher education, among them Cornell and New York Universities and the Eastman School of Music. Ms. Griffin performs regularly with the New York contemporary music institution, Continuum, and has given American premieres of major works by leading European composers, among them Georg Friedrich Haas and Michael Jarrell, as a member of the Argento Chamber Ensemble. From 1998 through 2002, she was Executive Director of the contemporary music series at Galapagos Art and Performance Space.
Ms. Griffin is now in her fourteenth year as principal violist of the Princeton Symphony, and teaches viola at Brooklyn and Hunter Colleges. She studied viola with William Gordon in Vancouver, Paul DeClerck in Brussels and Wayne Brooks at Rice University in Houston, and holds a Doctor of Musical Arts degree from The Juilliard School where she studied with Juilliard Quartet violist Samuel Rhodes. Stephanie's varied viola sounds can be heard on a diverse array of classical, new music, jazz and world music labels, among them Tzadik, Innova, Naxos, Aeon, Centaur, Aksara, Firehouse 12, and New World, Albany, and Aeon records.
Other links: