Wolfram Koessel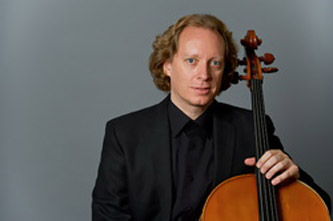 Adjunct Assistant Professor, Violoncello
Cellist Wolfram Koessel's distinguished career has established him as a much sought-after teacher, chamber musician, soloist, and recording artist. Mr. Koessel is a member of the world-renowned American String Quartet, with whom he performs regularly in leading concert halls around the world, including Carnegie Hall, Berlin Philharmonie, Tokyo's Suntory Hall, Koln Philharmonie, the Concertgebouw, and many more. 
An active collaborator, he's worked with artists from many creative spheres, such as Zakir Hussain, Salman Rushdie, Broadway legends Chita Rivera and Ute Lemper, film composers Bryce Dessner, Paul Cantelon, and Alexandre Desplat and many more.  He has performed with the Mark Morris Dance Group since 1999 and was appointed their music director from 2004-2008.
Mr. Koessel has appeared regularly with a wide range of ensembles most notably the Orpheus Chamber Orchestra and the New York Philharmonic. 
Highlights of this year include supervising and performing music for Columbia Pictures Little Women (2019), performing the complete Beethoven piano trios and Triple concerto at Tel Aviv Museum of Art, a 10-city European tour with American String Quartet and collaborating with mezzo soprano Stephanie Blythe and poet Tom Sleigh.
He is on the faculty of the Manhattan School of Music and the Aspen Music Festival, and, from 2005-2013, was at the Great Wall Academy in Beijing.
Other links: