"Education is not the filling of a pail, but the lighting of a flame."
/web/aca_socialsciences_general/CT_Fall2017_Gould_94x84.jpg
Message From the Dean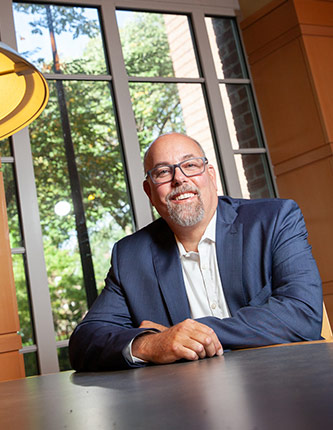 The humanities and social sciences help Brooklyn College students develop essential skills in critical thinking, creative expression, data analysis, and assessment. They will need those skills to be adaptive and resilient in a rapidly changing global economy, and to be effective publicly engaged citizens in a rapidly changing political environment. More than employment skills, we work with our students to build their survival skills for a future we can neither fully envision nor anticipate. As is often said, "Education is not the filling of a pail, but the lighting of a flame." The humanities and social sciences keep the flame lit in the midst of the current darkness. In the contemporary political context, it is vitally important that we continue to remind ourselves, and the publics we serve, of the crucial contributions that the humanities and social sciences make to a vibrant, healthy society. Now more than ever, we need to double our efforts to engage the public, sharing our ideas and insights, and making our skills available to serve the needs of our communities.
We build our students' enthusiasm for the kinds of work we do, the kinds of questions we ask, and the kinds of problems we address, by modeling that enthusiasm for our work, our questions, and our problem solving. The most pressing problems of our time regarding peace, justice, sustainability, and democracy will not be effectively addressed without the insights generated by the multifaceted analytical lenses provided by the humanities and social sciences, both as individual disciplines and as interdisciplinary collaborations. The value of these perspectives in addressing these problems has been reflected in the wealth of intellectually rigorous and provocative programming generated by our departments, programs, and institutes over the course of this academic year. The range and scope of these events is truly impressive, from award-winning author Edwidge Danticat's Hess Memorial Lecture, "A Right to Be Here: Race, Immigration, and My Third Culture Kids," to Ambassador Alexander Vershbow's Mendelsohn Lecture in International Relations, "Relations with Russia: The Right Way Forward."
Our faculty are increasingly engaged beyond the bounds of the academy lending crucial analyses and perspectives to contemporary debates through high-profile op-eds, public talks, and social media. Our students are emerging as leaders of a new and diverse millennial intellectual class, entering a wide range of fields, movements, and graduate and professional programs. Brooklyn College's School of Humanities and Social Sciences is a center of hope and excellence in challenging times. It has been a great honor and privilege to serve as your acting dean for the 2017–18 academic year.  Good luck with finals, and have a terrific summer!
Back to Critical Thinking — April 2018