History Department Transfer Student Will Enter Cornell University as a Ph.D. Candidate in History
/web/aca_socialsciences_general/CT-April22-Mutore-94x84.jpg
Student Profile: Jean Michel Mutore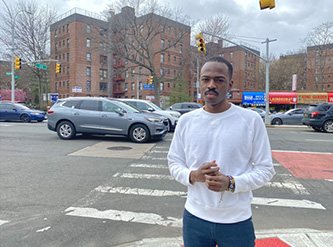 One of the School of Humanities and Social Sciences' most accomplished students this year is Jean Michel Mutore, a history major and English minor. Like so many of our other students, Mutore transferred to Brooklyn College and has only spent five semesters here.  But through his diligence and with the support of numerous faculty impressed by his intellectual and scholarly talent, during the past two years, Mutore has been able to formulate and execute a plan to study history at the graduate level and become a college professor.
When he started at Brooklyn College, he was not planning to become a professor, though he knew he wanted to work in a field where he could read and write frequently and was curious about teaching.
"At Brooklyn College, I was surrounded by faculty who encouraged me to branch out. Even in the middle of the pandemic, my history and English professors kept in touch with me and informed me of all sorts of opportunities to stay engaged with my scholarly interests," he said.
In two years, Brooklyn College and its faculty became the springboard for his intellectual growth and future success. 
Background
Mutore came to the college from Concordia University in Montreal, where he spent two years pursuing a B.F.A in Film Studies. Though he explored various aesthetic schools and international film movements, learned to analyze cinema using Marxist, gender, post-colonial, and queer lenses, and even made short films and produced a play, he found himself drawn to history as a way to tell the kinds of stories he wanted to tell.
"More often than in my film and literature classes, I was finding compelling stories about Black people being taught in history classrooms, where I discovered and read the works of C.L.R. James, Saidiya Hartman, and Eric Foner. By my second year at Concordia, I found myself taking as many history courses as film courses," he said. "When I eventually decided to return to college to complete a bachelor's degree in history, it was because I wanted to acquire the tools to dissect the root causes of Western hegemony, capitalism, and colonialism, rather than to keep treating its symptoms in the form of hegemonical movies."
And he wanted to tell stories. As he put it, "I came into my current discipline, history, partly as a storyteller. Perhaps I learned to appreciate the seemingly effortless ability good stories have to communicate complex ideas because I grew up in a home where communication required a lot of effort. I think I became attached to stories because I saw them as a way to transcend miscommunication." 
Indeed Jean-Michel has garnered exceptional success in his chosen field. Since coming to Brooklyn College in January 2020, the Department of History awarded him their Gertrude Beatrice Leon and Louis Albert Scholarship after his first semester. He won the department's Core 4 Book Prize. And this spring will be awarded the Ruth Kleinman Memorial Prize, which goes to an outstanding History major who has been admitted to a Ph.D. program.
As Department of History Professor Lauren Mancia put it, Mutore is incredible. "He is both a serious creative writer and a serious historian. He is deeply insightful—and as excited to learn about feudalism as he is about domestic labor in colonial India, as he is about African Americans in the 19th century in America," Macia said "He has an insatiable appetite for learning. He is an amazing student, one of the strongest I've ever known in my time at Brooklyn."
Given his outstanding academic performance in their classes, Africana Studies Professors Dale Byam and Prudence Cumberbatch recommended him for the Mellon Mays Undergraduate Fellowship Program, which is part of the Brooklyn College Honor's Academy. Mellon Mays students are offered a range of advisement opportunities for humanities majors interested in the professoriate, including the CUNY Pipeline program, a kind of boot camp to prepare for graduate school. He was not planning to go to law school, but he wanted to know more about labor law and in how capitalism affects the working class. So he enrolled in an Introduction to Labor Law course at the CUNY School of Labor and Urban Studies CSTEP Project in the fall of 2021.
Research Projects
The point has often been made that collaborating with faculty on research projects is key to honing a students' academic skills, and indeed, Jean Michel has taken advantage of opportunities to work with History and Africana Studies Department faculty to develop his critical thinking. In 2020, as a Mellon Transfer Student Research Program (MTSRP) fellow, he pursued an independent study supervised by Department of History Professor Swapna Banerjee for which he researched the history of enslaved African-American families and the interplay of slavery and capitalism. He wrote a paper from his research, "Transatlantic Slavery as the Foundations for Modern Marriage, Family, and Property in the US," and presented "Slave Marriages and 'Moral Families,'" at the School of Humanities and Social Sciences Student Expo in April 2021.
He also served as a research assistant for Banarjee's project, "Ayahs and Amahs: Transcolonial Servants in Australia and Britain: 1780-1945."
Through Mellon Mays he also participated as a researcher and collaborator with Africana Studies' Byam to produce a theater-for-development project , "Who Set The Fires?," on Brooklyn College's 1969 student protests.
For his senior undergraduate thesis, he is working with Africana Studies faculty, including Cumberbatch, combining historical, ethnographic, and journalistic research methods to write about Black workers' involvement in the organized labor movement.
He is also becoming an activist-scholar, volunteering with the Amazon Labor Union—the organization of Amazon warehouse workers trying to establish a union at the Amazon complex in Staten Island. He wrote a paper about that too, "Organizing Amazon: Possibilities for Labor Power in the Fourth Industrial Age," which he presented in early April at the  National Conference on Undergraduate Research.
Going Forward
Mutore has been accepted at Cornell University and wants to work with faculty members in the History Department who will guide him in his coursework and future research. He said he is looking forward to accessing their library's extensive archives on the history of unions to advance his labor history research.
He intends to build on his research experience and historical knowledge to "become a better organizer" and believes that his history Ph.D. will help him give back to the working class communities of color as a researcher and teacher, as well as an organizer.
"What drives me as a writer, scholar, and historian is the feeling of clarity I get from confronting the simple narratives that have been presented and re-presented to me throughout my life,"  he said. "I thrive within the ambiguities, the complications, and the recursions that others shy away from."
His five semesters at Brooklyn College as well as the paths he has taken since moving to New York have prepared him well for his next academic journey.
Back to Critical Thinking—April 2022