A new grant provides funding to help students from community college transition to life at Brooklyn College. 
/web/new_2020news/Transfer_Student_Welcome_Reception_2019_345_s_94x84.png
Supporting Transfer Student Success
Sept. 1, 2020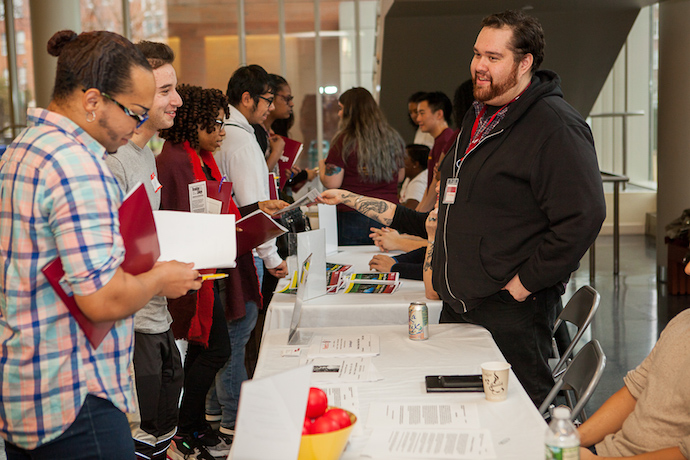 Brooklyn College has received a two-year, $300,000 grant from The Carroll and Milton Petrie Foundation, Inc. to help retain and graduate transfer students.
"At Brooklyn College, we're committed to the success of our transfer students," says President Michelle J. Anderson. "This generous gift from the Petrie Foundation will help to ensure that our students have the support they need to complete their degrees."
Transfer students typically make up more than 50 percent of the college's student population, and the vast majority of those transfers come from Kingsborough and the Borough of Manhattan community colleges. But transfer students often face unique obstacles to graduation that require greater support and academic advisement.
"They encounter transfer shock," says Tracy Newton, executive director of Academic Advising and Student Success. "They're used to having multilayered support. They're eager to study and want to maintain their momentum, but when they don't have the support they need, their path to graduation can end up being a very winding one."
The grant will help address the issue by providing funds to hire three transfer advisement coaches, three transfer completion coaches, and four peer transfer advisers. It will also support Brooklyn College in establishing a presence—which will be virtual during the COVID-19 pandemic—at the two-year schools to support pre-matriculation events, early advisement sessions, and other events for transfer students.
The additional staffing will be key in establishing what Newton calls a "collaborative care model" in which the transfer advisement coaches will facilitate workshops to orient students to the college's academic life as well as connect them to the appropriate faculty and departmental advisers. The completion coaches will act as intermediaries, advocating for students and navigating them through obstacles that may increase their time to degree or their risk for fatigue. Completion coaches will have a particular focus on the final semester.
"One of the biggest takeaways we want transfer students to have is that there will always be someone here to help them," says Newton.
Newton says that the biggest gains she hopes to see are better graduation and retention rates and less time and fewer excess credits needed to graduate.
"We will make sure that we offer students a consistent and reliable support system. We want them to know that we are here for them from commitment to completion. They have a partner in this journey and their success is important to us," she says.
The Petrie Foundation has a long history of supporting students at CUNY. At Brooklyn College, the foundation supports the Food Pantry and emergency grants aimed at helping students complete their degree.
Back to BC News