Amidst the hustle of the end-of-semester-countdown, the college creates a room for students to stop and reflect during their hectic days.
/web/new_2018news/Room_for_Quiet_Reflection_94x84.jpg
College Opens Room for Quiet Reflection
April 11, 2018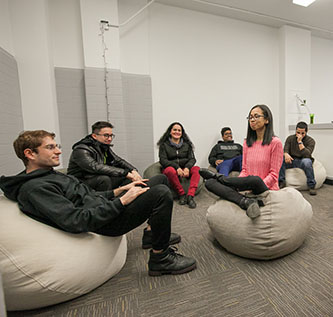 The overhead fluorescents are off but two small windows at the top of the southwest wall allow in just enough sunlight to give the room a warmth, a design effect aided in coziness by more than a dozen bean bags, glass flower bud vases filled with stones and sand, and a set of icicle lights strung casually against white and grey walls.
Last month, the college opened the Room for Quiet Reflection (0229 Ingersoll Hall), a space for students of all religious faiths, or for those who are not religious, to enjoy meditation and reflection. The idea is to support the holistic wellness of the college community.
"As a commuter institution within a thriving and fast paced borough, it's important to provide students with a space where they can escape from the hustle and bustle of life and calmly collect their thoughts," says Ronald Jackson, the vice president for student affairs. "The Room for Quiet Reflection ultimately supports positive mental health, which aids students in being more focused in the classroom."
The space is not for organized group activity or meetings and all users are expected to exercise mutual respect for the integrity of each other's beliefs, cultures, and traditions. The room can not be reserved and is available for individual students to use whenever the college is open. Cell phone use, food, candles or incense, and removal of shoes are prohibited in the quiet reflection room.
Back to BC News