From enhanced student support to a reexamination of course structure and financial aid, the CUNY-wide drive aims to better guide students in mapping their route to a degree.
/web/new_2018news/momentumpic94x84.jpg
Academic Momentum Campaign Creates New Tools to Help Students Graduate in Four Years
Nov. 2, 2018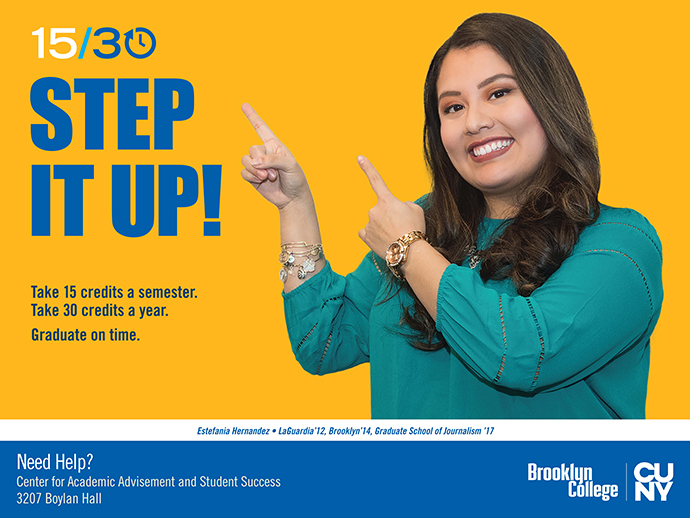 The popular theory of momentum in the academic field posits that generally, the more credits students have under their belts, the more likely they are to complete their degrees. CUNY research bears this out. Nearly 22 percent of CUNY students who take 15 credits in their first semester graduate in four years, compared to 16 percent of students who take 12 credits during their first semester.
With this kind of data in mind, Brooklyn College is pushing all students to complete 30 credits per year, and to specifically complete crucial English and math credits during their first year, as part of the Academic Momentum campaign, a CUNY-wide drive to help students earn their degrees in four years. To do so, the college has been beefing up student support and examining crucial questions about how to structure courses, majors, and financial aid.
"We're trying to help students achieve their success by creating a holistic approach," says Jesus Perez '95, director of the Center for Academic Advisement and Student Success or CAASS. "We know that in order to achieve that, all the pieces of the machine have to come together. From the academic departments to the administration, to the financial side of the house, everybody's asking what are we doing right and what can we do better to help students move through the college faster."
Completing a degree, or 120 credits, in four years is still not mandatory for Brooklyn College students. College officials recognize it won't be possible for everyone to achieve this goal, but statistics show that students who complete required credits in English and math in their first year often stand a better chance of graduating in four years.
Advisers also stress that completing a degree in four years helps students stay in line with financial aid and scholarship requirements. New York State financial aid is limited to eight semesters and the state's new Excelsior Scholarship requires students to take and earn 30 credits a year in order to qualify.
Perez says that one of the biggest tools his office is pushing in order to help students stay on track is degree mapping, where students get a map of suggested courses to follow each semester that makes it easier for them to understand how to graduate in four years in each major. The college is also looking to improve the DegreeWorks system, which provides students with details about the courses they have taken and those that are still required for graduation.
Additionally, the college is also looking into creating "meta majors," where individual majors are grouped under one academic umbrella, an option for students who come into college unsure of which specific field they want to go into. They aren't official majors but they allow students to take widely-applicable courses and not lose ground while they figure out which direction they want to go. Perez adds that his office will be working with faculty to identify students who may be falling behind in key courses in order to offer interventions to keep them on track.
The push isn't simply about which courses to take. Tracy Newton, executive director of student success, says that advisers want to help students plan out "high impact" activities like internships and study abroad that enrich the academic journey.
"It isn't just about finishing in four, it's about finishing with a robust amount of knowledge and experience," she says.
Both Perez and Newton stress that it is incumbent upon "student success partners" across campus to work together closely in order to achieve these goals
"This is not about forcing a student to complete a degree in four years, it's about supporting them and giving them the opportunity to do that, taking into consideration all the variables in their lives," says Newton. "They have very heavy lives and that does not come out of the equation for us. But we want to give them a clear path where requirements, course offerings, and student support services align with student needs. We're really thinking through this campaign to make sure we do everything we can so that students can progress."
For more information on the Academic Momentum campaign, contact the Center for Academic Advisement and Student Success at 3207 Boylan Hall, 718.951.5471, or at cass@brooklyn.cuny.edu.
Back to BC News