Shahzoda Davlatova's internship at JPMorgan Chase & Co. provided the tech savvy student a challenge that transformed her. 
/web/new_2019news/Davlatova94x84.jpg
Programmed for Success
October 16, 2019
Shahzoda Davlatova is in her fourth year of a five-year program in computational mathematics with a minor in physics, yet she faced a problem that daunts many students—she had big ambitions but little work experience. The counselors at the Magner Career Center helped her overcome that obstacle and Davlatova spent the summer working at JPMorgan Chase & Co.
Davlatova landed the internship, in part, due to her drive and savvy. "I've always pushed myself to be exposed to more opportunities," she says. I've been attending tech events even before my first computer science class." She had volunteered for an event that Magner Center, and afterward she was invited to apply for the Magner Center Career Ambassador Program, which enables a small group of students to volunteer to help the career center with promotion and events. It is an opportunity for students with no or limited work experience to begin to develop skills in a professional setting.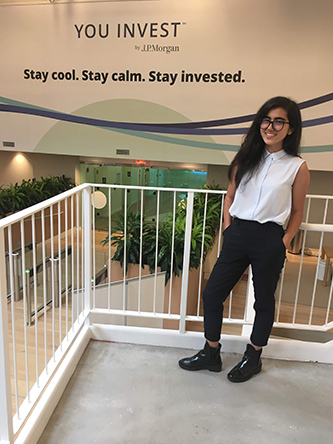 Davlatova was accepted to the Ambassador Program, and worked at NYC Tech Talent Pipe and Facebook. At JPMorgan, she programmed an internal web app using Django (a Python web framework) and front-end technologies such as HTML, CSS, and JQuery on a team with four other interns. "We also worked with a designer to understand the decisions that allow the user to seamlessly absorb a lot of information without overwhelming them," she says. "JPMorgan challenged me. Every challenge comes with an opportunity to grow and I'm grateful for that opportunity. Through that program, I learned my way around the professional world and was inspired to aim higher in all my goals."
It was Leonid Bystrik '98 who introduced the idea of building a long-term student campus recruitment relationship between Brooklyn College and JPMorgan back in 2015. "I have a strong desire to give back to the school where I earned my education, as well as give to my current place of employment, which I hold in high regard," says Bystrik, who earned his master's in information systems at Brooklyn College and worked at that time as a lead application developer at JPMorgan. He has returned to the college several times over the years to speak on Magner Career Center panels.
"Shahzoda is an example of what we wish all students would do," says Natalia Guarin-Klein, director of the Magner Career Center. "She started using the center as a freshman and took advantage of all of those resources. That has helped her have clarity on her career goals and she has built herself a strong resume."
Originally from Uzbekistan, Davlatova came to New York when she was nine.  "When I was in high school, I had to take care of my siblings. Going anywhere further than Brooklyn College did not seem like a viable option for me. But, attending Brooklyn College has been absolutely amazing," she says with praise for her professors and the campus community. "At this point in my life, I feel so much passion and drive for attaining knowledge and growth," she said. "I know I can do more! I really aspire to become an expert in my field." 
Back to BC News