/web/new_2011news/111121_TepeyacGala_94x84.jpg
Director of CAASS Receives Tepeyac Award for Raising College Education Awareness Among Immigrants
Nov. 21, 2011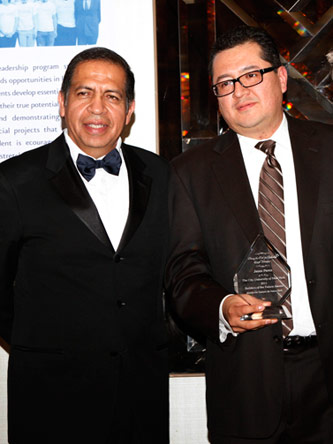 Asociación Tepeyac has honored Jesús Pérez '95, director of the Center for Academic Advisement and Student Success at Brooklyn College, with its 2011 Builders of the Future Award for his role as executive director of the CUNY Working Task Force on Strengthening Educational Opportunities for the Mexican and Mexican-American Community.
Asociación Tepeyac of New York is a nonprofit community organization devoted to organizing Latino immigrants and opening opportunities for education so that they can make contributions to their communities and the country.
"Jesús has shown commitment to empower his fellow immigrants and has promoted opportunities among our youth to go to college," said Tepeyac's Executive Director Joel Magallán during the Oct. 20 gala at the Helmsley Park Lane Hotel. "He has made a difference in many people's lives. His support to our mission, in particular to our campaign 'Paving the Path for Leadership through Education,' is crucial."
A proud founding member of the Mexican American Student Alliance, Pérez came to the United States with his parents, who provided him with an education. "This recognition is about leadership — about developing the next generation of leaders for this country," said Pérez, who has a B.A. in psychology from Brooklyn College. "Thanks to my parents, I felt motivated to go to college and have a chance at the American Dream. My role in the community is to promote higher education and give CUNY a presence in this mission because CUNY colleges provide a key to a better life."
According to CUNY Senior Vice Chancellor for University Relations Jay Hershenson, the task force that Pérez chairs has helped CUNY triple its enrollment of Mexican and Mexican-American college students since 2000, from 1,159 to 3,657.
"Jesús has dedicated his life to promoting higher education access for Latino youth, in particular for the Mexican community," Hershenson said. "He is a true educational advocate and helps spread the word that without education, development is limited. Because Jesús comes from a similar background as some of the students he helps, his compassion and understanding of their struggles keeps him motivated and always ready to help any organization or individual obtain what they want or need at CUNY."
According to Pérez, CUNY's College Now initiative allows the university to reach tens of thousands of high school students who are not familiar with the college application process and are unaware of the tools available to them. Seventeen of the 24 CUNY colleges offer eligible students ways to improve their high school performance and get a head start on college, including earning up to 30 college credits before they finish high school.
"Our goal is to do the right thing for our youth — immigrant and otherwise," said Pérez. "Kids need to know what it takes to get a higher education. We either help them fulfill the dream and become productive members of this nation, or they drop out and live in the shadows."
Back to BC News