African American students show that African culture is more diverse than one might think.
/web/new_2012news/120306_FittingCloseToBlackHistoryMonth_94x84.jpg
Fitting Close to Black History Month
March 6, 2012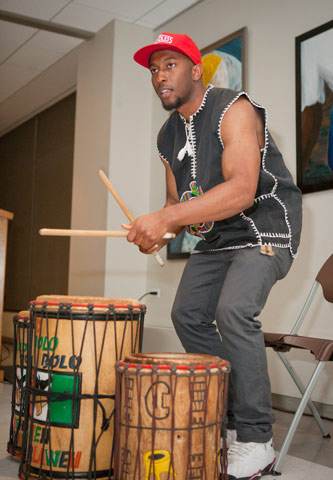 Dressed in traditional African vests and wearing various African head wraps, Brooklyn College students displayed the diversity and richness of the African American culture during the closing ceremony of the college's Black History Month activities.
"Africa has over hundreds and hundreds of languages," said Jamelia Philips, the president of the Black History Month Committee. "I've been to Ghana, and I saw different cultural variations in just one country. It's so ignorant to think that African culture is monotonous."
The celebrations in February that accent diversity among African Americans are a great reminder of the importance of diversity on the campus: Brooklyn College is an educational home to students from 136 countries who speak almost 100 different languages.
The theme of this year's Black History Month was the African diaspora and diversity of African culture, which has influence all over the world. Students thought that the best way to showcase African diversity is through various African dishes. The dinner table at the event was divided into three African cultures: continental African, Afro-American and Afro-Caribbean.

"The food is the same, but it is prepared differently," explained Philips. "You can tell that it comes from the same continent. You see the unity in the diversity."
The program also featured a musical selection by freshman Khaleema Cox and a drum concert by special guest David Williams, who encouraged students to dance to the rhythm of the drums.
"I am African, and I like that I can express that by singing," said Cox, who sang "Swing Low, Sweet Chariot." "It makes me feel proud of my culture."
Back to BC News