Basketball coach and advocate for women's rights are among four alumnae honored during Women's History Month.
/web/new_2012news/120405_AlumnaeCitedforExtraordinaryService_94x84.jpg
Alumnae Cited for "Extraordinary" Service by Kings County District Attorney
April 5, 2012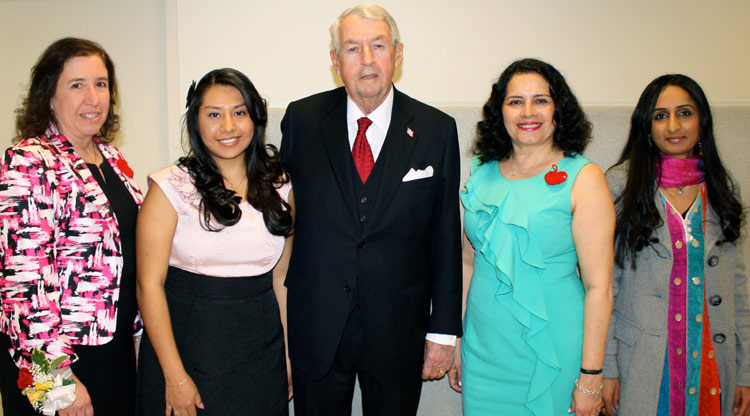 Brooklyn College is an academic powerhouse when it comes to preparing women for leadership, and National Women's History Month provided multiple opportunities to celebrate this legacy.
On the heels of honors from the National Council for Research on Women, a symposium on the power of women in the theater featuring several alumnae and the announcement of a $450,000 grant from the National Science Foundation for Stacey Brenner-Moyer, Kings County District Attorney Charles Hynes has cited four alumnae as "Brooklyn's Extraordinary Women" for providing exemplary service to their Brooklyn communities. The graduates are among 33 women from around the borough who were honored during an awards ceremony at the Kings County Supreme Court on March 27. It is the sixth consecutive year that the district attorney has made such a selection during March, which is National Women's History Month.
"These exceptional women serve as role models because of their selflessness, dedication and compassion," Hynes said in a statement. "They give back to the community, trying to make life better for others. It is an honor for me to recognize these women for their outstanding work, which benefits the people of Brooklyn."
Joyce Verderosa '96, '00 M.S. of Marine Park received an associate's degree from Kingsborough Community College and then enrolled at Brooklyn College, where she earned a bachelor of science in education in 1996 and a master of science in education in 2000. She now teaches fifth grade at PS 277 in Gerritson Park and is a representative for the United Federation of Teachers.
Verderosa has spent decades helping to organize and coach boys and girls basketball teams in the athletic program at Holy Trinity Lutheran Church. She was nominated for this year's award by the daughter of a friend. Two years ago the younger woman was nominated for her efforts on behalf of Operation Fairy Dust, a program she designed to help high school girls to afford prom dresses, and thought that Verderosa deserved a similar honor.
"I never did any of this for gain, so to be honored in this way makes me feel humble, very humbled," Verderosa says.
Matilde Pedrero '10 M.A. is a native of Mexico who grew up in Brooklyn. She has served as a role model for younger residents in Sunset Park, displaying a strong sense of community and working to enhance her neighborhood.
As an undergraduate at Brooklyn College, she earned a dual degree in psychology and Puerto Rican and Latino studies (PRLS), making the Dean's List four consecutive semesters. She also received the PRLS department's Latino Award. In 2010, Pedrero completed her graduate studies in mental health counseling.
"I'm overjoyed to have been chosen," she says. "It's a real honor."
Sonia Valentin Fernandez '08, '10 M.A. of Bensonhurst attended Kingsborough Community College before transferring to Brooklyn College, where she earned a bachelor's degree in journalism. She has been a volunteer and community activist for more than 30 years and is the mother of two daughters who have followed in her footsteps by becoming community activists themselves.
"As a matter of fact," she says, "one of my daughters nominated me for this honor. I'm really humbled to be recognized for doing something that I wholeheartedly love. Helping others fills my soul."
Rukhsana Liaqat '08 of Coney Island is co-founder of the American Council of Minority Women, which works for the empowerment, development, protection and promotion of human rights of women in the United States, particularly in the state of New York. Working for the organization gave her incentive to help minorities, especially women. She became aware of psychological and social issues these women were facing and has encouraged them to bring a change in their lives with the light of education.
Having earned her bachelor's degree in 2008 from Brooklyn College, she is currently studying for her qualifying exam as a certified public accountant and plans to start working toward a master's degree in accountancy and taxation in September.
Back to BC News