The Princeton Review highlights how eco-friendly Brooklyn College is taking steps to reduce its carbon footprint.
/web/new_2012news/120522_GreenCollegesPrincetonReview_94x84.jpg
Brooklyn College Ranks Among the Top 322 Green Colleges in the United States
May 22, 2012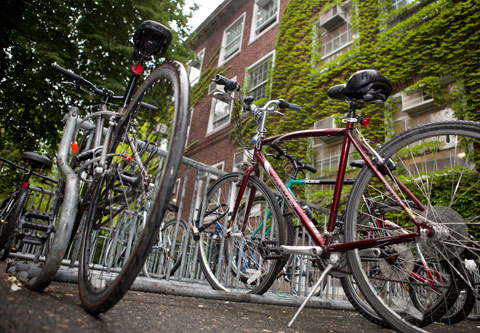 Brooklyn College is on track to reducing its carbon footprint by 30 percent by 2017, which is one of the many reasons why the college has once again earned a spot in the Princeton Review's Guide to 322 Green Colleges. The annual report, compiled in partnership with the U.S. Green Building Council, highlights the colleges and universities that demonstrate a superior commitment to environmental sustainability.
The carbon-reduction drive is one element of the college's 10-year sustainability plan, part of a university-wide effort in response to Mayor Bloomberg's call for all CUNY institutions to decrease the amount of carbon they emit during any single year. Released by numerous sources, carbon dioxide gas is the primary source responsible for global warming and the resulting changes in our climate.
The Princeton Review notes a variety of steps the college is taking to modify its operations in pursuit of sustainability: "energy; water; transportation; waste management and recycling; procurement; food, health and nutrition; education and outreach; and buildings and grounds." The college has also established a formal sustainability committee, structured changes to firm up environmental standards for new construction, and implemented environmental studies degrees. The Leonard & Claire Tow Center for the Performing Arts, scheduled to open in 2014, will be the college's first LEED-certified building.
Aldo Orlando, the college's environmental health and safety officer and co-chair of the sustainability council, says the college's inclusion in the green guide is "timely and accurate."
"The college is moving steadily toward becoming a more sustainable campus," he notes. "This is a collaborative effort involving administrators, facilities managers, staff, faculty and students, throughout the college and the entire university community."
Some of those efforts have resulted in impressive statistics that helped the college earn a place in the guide:
5 percent of the college's food budget is spent on local/organic food,
10 percent of the college's energy is derived from renewable sources,
30 percent of the college grounds are maintained organically, and
80 percent of the college's cleaning products are green certified.
The Princeton Review also notes that Brooklyn College "was the first CUNY institution to introduce energy reduction measures during peak usage periods." Since 2002, the college has participated in the peak load power management program with the New York Power Authority. In times of high electric usage, the college introduces tactics to minimize its electric load in order to take the strain off the citywide electric system.
The rating company explained that it publishes these annual guides to green colleges to help students decide which college best suits their academic goals "as well as some personal pursuits."
Back to BC News