Ann-Marie Adams hosts event about Caribbean identity at the New York Times headquarters.
/web/new_2012news/120703_AdamsCaribbean_94x84.jpg
Controversial Facebook Comments Spur Alumna to Take Action
July 3, 2012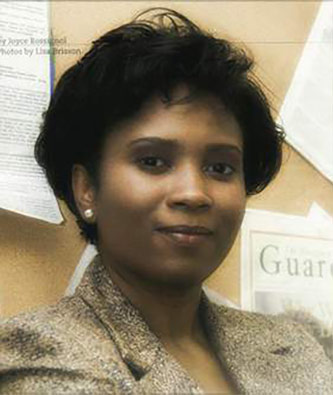 "Drop a bomb and wipe them all out" is not exactly the type of public comment one would expect to hear about Brooklyn's festive West Indian American Day Parade. So, when the New York Times exposed NYPD officers who posted remarks like this on Facebook, Ann-Marie Adams '99 decided to take action.
Last month, Adams organized a two-day conference about Caribbean identity in the New York Times building on Times Square. Reporters, editors and community members attended the event, which Adams says was important because "it gives visibility to the invisible.  In this economically distressed environment suffused with nativism, Caribbean Americans are forced to claim a space in this democracy and shout out loud: 'We, too, sing America.'"
The third biannual meeting, coordinated by the National Association of Caribbean-American Journalists, which was founded by Adams, focused on the issues raised in the Times article. Although the controversial article shocked many readers, it had a familiar ring to the Caribbean community.
"When I saw the article, I smiled because there was nothing new for me," said panelist Herman Hall, editor and publisher of Everybody's Caribbean American magazine. "It didn't surprise anybody in the community."
The conference included workshops conducted by New York Times reporters. Students and journalists learned how to track information across international borders and how to get information — key documents, data and websites — from the government. They also discussed the ways they can use social media for better reporting.
"Journalists often don't have access to this kind of information," said Adams. "I think this event is very helpful to them."
Adams said that people need to be educated about the richness of Carribean history and tradition, because Caribbean Americans, most of whom are of African descent, are still marginalized.
"And they are now, more so than before, mobilizing to fight this kind of xenophobia in their communities, especially in the African American community," she adds.
The issues are particularly important to Adams, who migrated from Jamaica to the West Indian community in Hartford, Conn., when she was 17. She then moved to New York to attend Brooklyn College. Before earning a bachelor's degree in journalism, she worked as the first black editor of the Kingsman and assistant editor of the Excelsior, the college's two student newspapers.
Adams is now an award-winning journalist and the editor and publisher of the Hartford Guardian magazine. She is also a postdoctoral fellow at Rutgers University, where she teaches 20th-century U.S. history. She is currently revising her dissertation for her first book, Silent Cries: The Story of Sheff v. O'Neill.
"I'm happy I went to Brooklyn College," she said. "The secret needs to be told: Brooklyn College is one of the best decisions I made in my life."
Back to BC News