College community comes together to aid in relief and recovery after Hurricane Sandy.
/web/new_2012news/121108_Hurricane-Sandy_Kalinin_94x84.jpg
Weathering the Storm
Nov. 8, 2012
Hurricane Sandy battered the East Coast and caused unprecedented damage to New York City and much of the eastern seaboard. Few will forget the images of floating vehicles, darkened skyscrapers and destroyed homes as well as the tremendous loss suffered by those whose loved ones have perished. But the storm didn't wash away the resilience and spirit of giving at Brooklyn College. Members of the college community came together to offer support to those in need and help the campus return to a sense of normalcy in the days following the hurricane.
"Volunteering for the cause was great," says junior Duke Nagrampa, a psychology major. "Brooklyn College is a place of community, especially during times like this, because we created a goal: to help those in need." He, along with 38 other students and staff, coordinated a food drive, based at the Brooklyn College Student Center and at Beach 95 Street in Far Rockaway, over the weekend of Nov. 3 and 4. 
At the Student Center, students and members of the surrounding community were able to receive a hot meal, catch up with studies, and access the Internet. The college also extended library and Library Café hours, made showers available to all those with Brooklyn College IDs, and provided personal counseling.
Sixteen Brooklyn College students saw their homes completely destroyed by the hurricane. The Office of Student Assistance and Referral has been providing $10 cafeteria meal vouchers and Target store vouchers for emergency food and clothing. Funds up to $500 have been made available through the Carroll and Milton Petrie Student Emergency Grant Fund; the Student Disaster Relief Fund, established last week by the Brooklyn College Foundation, which has already generated more than $10,000 in donations from alumni and friends; and contributions from CLAS student government to replace books damaged during the hurricane. CLAS also organized a canned food drive to deliver food to those in need.
Brian P. Sowers, a lecturer in the Department of Classics, was so moved after hearing about the devastation that he organized a team of 25 faculty members, students and community residents to help with clean-up efforts on Nov. 6. When Evangelos Bourlotos, a classics major pursuing his second bachelor's degree, learned about these efforts, he opened up his Bay Ridge diner to provide hot meals for affected community residents and volunteers. And when James Eaton, director of academic administration in the Office of the Associate Provost for Faculty and Administration, learned via Facebook that volunteers couldn't find a way to transport food to Coney Island because of gas shortages, he offered the use of his car.
Avigail Margolis '12, who is currently pursuing her doctorate at Long Island University, offered her help to a Coney Island soup kitchen. "We made 3,000 meals a day for shelters and the different places on Long Island and near the Brooklyn shore that were hit by the hurricane," she says.
Remembering What Matters
While the physical campus suffered minimal damage during the hurricane, with a few fallen trees and dislodged siding on some buildings, many faculty, students and staff saw their cherished possessions wash away with flood waters or go up in flames. Still, members of the college community were willing to look past the losses and lend a helping hand to those in their immediate communities.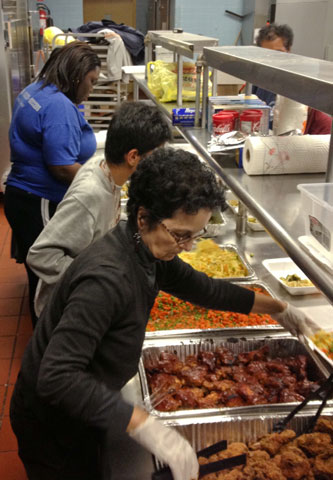 Anna Groysman, a junior in the Coordinated B.A.-M.D. Program and a Brighton Beach resident, was stuck with her family in their apartment building, which took in waist-high water in the lobby during the storm. She lost her car and, for a while, electricity and heat, but she gained an appreciation for pulling together to help others when she ended up volunteering with the Tanger Hillel at Brooklyn College.
Groysman joined a team that went door to door to check on residents in apartment buildings with large numbers older residents, reporting the needs of those residents to New York City officials.
"Some people say that the bigger help is emotional, knowing that there are people worried about them," she says. "They were running out of food, and many were without water  and had no water to flush the toilets."
Karen Dinerman stayed with her daughter in Bay Ridge on the night of the storm, but not because she expected any major damage to her home in the Rockaways. The administrative assistant in the college's Conservatory of Music figured there would be some flooding, and she wanted to save her car.
"Funny how things work out," she says now, able to laugh about it. "I lost my house but hey, I saved my car."
Water flooded the basement and first floor of Dinerman's home, the force of it rupturing her heating oil tank.
"My house is covered in oil and water," she says, adding that she's currently staying with a friend on Long Island. "It's going to be months before I can get back in."
Because she always knew her house was susceptible to flooding, she kept her most valuable possessions — photographs and family heirlooms — on the second floor, or high enough on the first floor to prevent damage.
"I can buy a new fridge and a new couch, but I can't replace the dishes my grandmother gave me when I got married," she says. "I can't replace my family. So honestly, I feel very fortunate. I'm probably better off than 80 percent of the people who were really affected by this storm."
A Community in Mourning
Jacob Vogelman was not as fortunate. The M.F.A. theater design student was among more than 40 New Yorkers to fall victim to Hurricane Sandy. Vogelman, a Brooklyn resident, was killed during the height of the storm on the evening of Oct. 29. He and longtime friend, teacher and Hunter College student Jessie Streich-Kest, were crushed beneath a falling tree as they walked Streich-Kest's dog in Ditmas Park.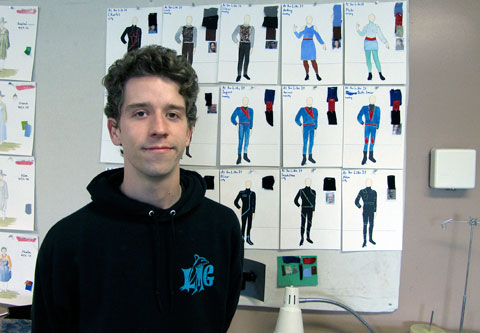 Vogelman, who was known as "Jake" to his friends and family, received his bachelor's degree from SUNY Buffalo and was in his second year of study at Brooklyn College.
"Jake was a positive and upbeat student," says Kip Marsh, chair of the Department of Theater. "He always had a smile on his face and enjoyed his studies and Brooklyn College."
"He brought people together," says Mary Beth Easley, one of Vogelman's theater professors. "He was willing to show and teach others. Everybody knew him."
Easley also notes that Vogelman had served as lighting designer for the play "The Altruists," by Nicky Silver, and was scheduled to fill the same role for Rajiv Joseph's "Gruesome Playground Injuries" later this year.
"We had only had a few rehearsals of 'Gruesome Playground Injuries' before the storm, the first of which Jacob attended," says fellow graduate theater student Gretchen Van Lente. "He presented his ideas for the lighting concept for the show and was keen to answer questions from the other designers and actors. He spoke at the rehearsal about how he was very excited for the challenge. I will miss his smile. He was always smiling."
The production of "Gruesome Playground Injuries" will be dedicated to Vogelman's memory. The Graduate Theater Organization is also working on ways to memorialize Vogelman.
Brooklyn College continues to offer assistance to members of the college community affected by Hurricane Sandy. Our alerts and information page contains regular updates as well as ways in which people can continue to help.
Back to BC News