On the 100th anniversary of Rosa Parks' birth, Brooklyn College professor publishes the first scholarly text on the life of the civil rights icon.
/web/new_2013news/130116_ParksTheoharis_94x92.jpg
A Famous Life Remembered and Rediscovered
Jan. 28, 2013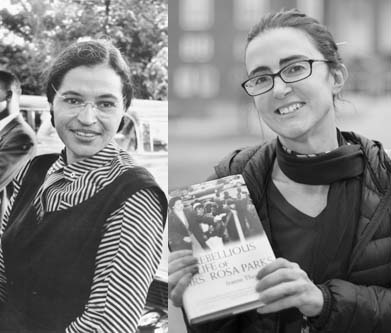 Jeanne Theoharis was as surprised as anyone to learn that Rosa Parks' work as civil rights activist extended far beyond that fateful day in 1955 when she refused to give up her seat on a Montgomery, Ala. bus. But when Parks died nearly seven years ago, Theoharis started doing some digging and discovered that there was much more to Parks' story.
Forced to leave Montgomery in 1957 because of death threats and the inability to find work after the bus boycott, Parks spent the second half of her political life in Detroit battling the racism of the North. And yet, in all the public tributes to Parks, there was little mention of this half century of activism.
"Bizarrely, the story hadn't been told," says Theoharis, a professor in the Department of Political Science, who has penned several books and articles on the Civil Rights and Black Power movements. "She is one of the most famous women of the 21st Century and there was no scholarly biography."
Theoharis says the reason for this is threefold. "Because Parks was so famous, many of us assume we know everything about her. Also, a lot of people with progressive or radical politics tend to be in your face; Parks didn't have that kind of personality." Finally, Theoharis adds, Parks' personal papers have been tied up in legal disputes over her estate, which presents an obstacle to any scholar hoping to embark on a comprehensive biography.
But Theoharis wasn't deterred. She poured over old newspapers, magazines, and the archives of the National Association for the Advancement of Colored People (NAACP) and other civil rights organizations. She also interviewed family members and those who worked with Parks.
Theoharis' research eventually turned into The Rebellious Life of Mrs. Rosa Parks (Beacon, 2013), a revealing book about a life that was devoted to helping end segregation and injustice way before that day on the Montgomery bus. The book will be released on January 29, in time for what would have been Parks' 100th birthday on February 4.
Theoharis structures the text chronologically, starting with Parks' childhood in Alabama, followed by her marriage, a decade of work with the Montgomery branch of the NAACP—a chapter that was considered radical at the time—and then on to her bus arrest, the boycott, and what Theoharis calls "the decade of suffering that ensued," which included health problems, death threats, and financial insecurity.
The book also chronicles Parks' life after the boycott, when she moved to Detroit with her husband and eventually found work with a young Rep. John Conyers, who had recently been elected to the U.S. Congress. The Rebellious Life of Mrs. Rosa Parks also explores the civil rights icon's later work as a picket-line protestor and featured rally speaker with the anti-Vietnam and anti-Apartheid movements.
"There's no doubt her act that day in Montgomery was courageous. It just wasn't the first time she had done this kind of thing," says Theoharis, who adds that Parks had routinely refused to pay her fare in the front of the bus and enter in the back, as was the law at the time, and had been kicked off the bus before. She had also refused to use the "colored" drinking fountain.
"She knew full well how dangerous it was to do what she was doing," says Theoharis. "There was a real threat of violence and no sense that one might possibly accomplish anything for it. She had no idea that this would galvanize a movement."
But Parks was just the right mix of working-class woman with a "middle-class demeanor," as Theoharis describes it, that the NAACP leadership could work with. Her history of activism gave the organization faith that she wouldn't flinch under pressure and that she was perfect person to see through a court case challenging the legality of racial segregation.
The work Parks would go on to do, like participating in the Poor People's Campaign after Martin Luther King, Jr. was assassinated, would touch on some of the biggest civil and human rights campaigns of the last century.
"Her story is almost like the movie 'Forrest Gump' in that she ends up taking part in all these historical events," says Theoharis. "She had this huge political lifespan and yet what we know about her too often focuses on this one day."
There's no doubt Parks is seen as an icon, but if history told a more complete story, Theoharis thinks she would be much more relatable, and useful, to young people.
"If we look at the real substance of her politics, it provides a deep challenge to us in terms of what individual courage looks like," she says. "And it becomes much easier to see how we work for social change today."
Back to BC News