Stacyann Chin talks feminism with students, in honor of Women's History Month.
/web/new_2013news/Stacyann_Chin_thumbnail.jpg
Renowned Poet and Activist Up Close
March 22, 2013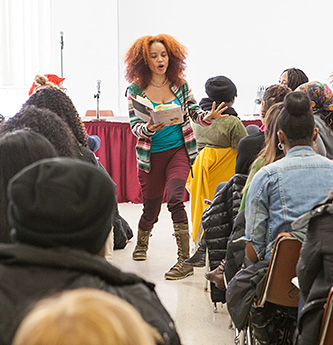 Poet and activist Staceyann Chin isn't big on formalities, so after she was introduced to a group of students who had come to hear her speak at the Student Center earlier this month, she ditched the table and chair that was set up for her in the front of the room, and got close to her audience, moving to the center aisle. 
The Jamaican-born Chin, who has co-written and performed in the Tony-nominated Russell Simmons Def Poetry Jam on Broadway, took the audience from female sexual self-discovery to LGBT rights, for which Chin has been a tireless activist.
"Jamaica has been tagged with the brutality of homophobia, but really it is no more homophobic than Alabama or West Virginia," Chin said in response to a question about gay rights in her native country. "It's just in the news more. The difference is that in Jamaica, the laws don't protect people."
Chin, whose style of poetry and feminism is as raw as her subject matter is revealing, has been a regular at the famed Nuyorican Poets Café. She has also appeared in one-woman shows off-Broadway, and has taught writing workshops and performed her work around the world.
Her memoir, The Other Side of Paradise, (Scribner, 2009), recounts her life as an abandoned child, raised by her grandmother. The book also speaks of how she navigated life in her homophobic homeland before migrating to the U.S. 
The event was sponsored by the Women's History Month committee and the Brooklyn College Women's Center.
Back to BC News