Brigid O'Keeffe's first book, New Soviet Gypsies: Nationality, Performance, and Selfhood in the Early Soviet Union, will be released this summer.
/web/new_2013news/20130403_okeeffebook_94x84.jpg
History Professor Receives CUNY Award for Emerging Scholars
April 3, 2013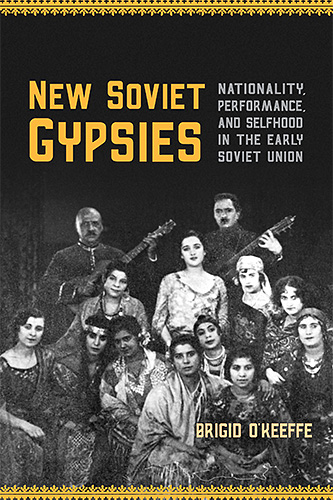 Brigid O'Keeffe, an assistant professor in the Department of History, has recently received the Feliks Gross Endowment Award. She is one of four CUNY professors to receive the esteemed accolade this year. She will receive a plaque and $700. The annual award is considered to be the university's most important for junior faculty members.
O'Keeffe was "profoundly honored" when she got the news. "I found out about the award just a few days before heading abroad for a research trip," she says. "I boarded my flight to Europe with an extra dose of inspiration."
The scholar of Russian history is currently in Moscow working on a book that will bridge the late imperial and early Soviet periods of Russian history. Her first book, New Soviet Gypsies: Nationality, Performance, and Selfhood in the Early Soviet Union (University of Toronto Press), will be released this summer. Her research spans the social, cultural, and intellectual history of late imperial Russia and the Soviet Union.
O'Keeffe's interest in Russian history and culture was sparked when she was a teenager growing up in Ohio. She began studying the Russian language and history as a college student and studied abroad in Moscow as an undergraduate. She so enjoyed the experience that she decided to pursue a career in Russian history. She earned a Ph.D. in European history and has traveled to Russia regularly for the past 13 years to study and conduct research. In addition to Moscow and St. Petersburg, O'Keeffe has conducted research in Smolensk, Krasnodar, Volgograd, and Orel.
David Troyansky, chairman of the history department, said the award was an "indication of the importance of her scholarship," noting that O'Keeffe, who joined the faculty in 2009, is also a Whiting Fellow. "She is equally accomplished as a scholar and a teacher, and she's a wonderful colleague," Troyansky says.
Back to BC News