Emeritus Professor Louis S. Asekoff and Associate Professor Ben Lerner awarded for poetry, and playwright and Lecturer Erin Courtney '03 M.F.A. receives award in drama and performance art.
/web/new_2013news/130416_Guggenheim_Fellows_41_94x84.jpg
Three Brooklyn College English Faculty Win 2013 Guggenheim Fellowships
April 18, 2013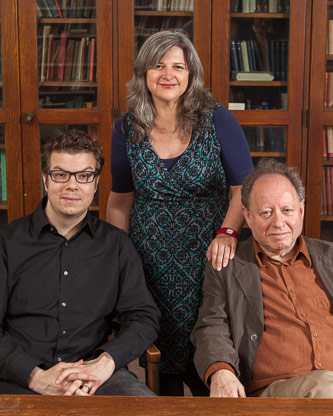 Three faculty members in the Brooklyn College Department of English have been selected from nearly 3,000 applicants for the John Simon Guggenheim Memorial Foundation Fellowship. Emeritus Professor Louis S. Asekoff and Associate Professor Ben Lerner received awards in the Poetry category, while playwright and Lecturer Erin Courtney '03 M.F.A. received an award in the Drama & Performance Art category.
"This is a well-deserved honor for our talented faculty and underscores the high level of scholarship and dedication to craft that they bring to this institution," said Brooklyn College President Karen L. Gould.
Lerner and Courtney currently teach in the M.F.A. in Creative Writing program, which was ranked fifteenth in the nation by Poets & Writers magazine in 2011 and boasts such award-winning alumni as Young Jean Lee '06, Sapphire '97, and Helen Phillips '07.
"I am pleased to see that the Guggenheim has awarded fellowships, not only to a ghostly Brooklyn emeritus, but also to two younger, living Brooklyn College writers," said Asekoff, who last year was named a Witter Bynner Fellow of the Library of Congress.
Asekoff was a member of the Brooklyn College faculty for forty-two years and has served as a faculty associate of college's Wolfe Institute for the Humanities, as well as a coordinator of the poetry division of the M.F.A. in Creative Writing Program. He is the author of four books of poetry: Dreams of a Work (1994), North Star (1997), The Gate of Horn (2010), and the verse-novella Freedom Hill (2011). His poems have appeared in such magazines as The New Yorker, American Poetry Review, and Ninth Letter, and he has received awards from the New York Foundation for the Arts, the National Endowment for the Arts, and the Fund for Poetry. Now a Clermont, New York resident, Asekoff is currently working on Clermont, a book of poems and prose poems culled from his journals, and a book-length poem, The Vanishing Hand.
Ben Lerner, a Topeka, Kansas native earned a B.A. in political science and M.F.A. in creative writing from Brown University. A former Howard Foundation fellow, he is the author of three books of poetry: The Lichtenberg Figures (2004), Angle of Yaw (2006), and Mean Free Path (2010). Lerner was a finalist for the National Book Award in poetry and was a 2003 Fulbright scholar in Spain, where he wrote Angle of Yaw, which several critics considered to be one of the most important books of the decade. In 2011, he became the first American to win the Preis der Stadt Münster für Internationale Poesie for the German translation of The Lichtenberg Figures.
"It is a particular honor to receive the Guggenheim this year, along with two of my colleagues," said Lerner. "I feel lucky to be in such company."
In 2011, Lerner released his first novel, Leaving the Atocha Station, which has won The Believer Book Award and was named one of the best books of the year by The New Yorker, The Guardian, The New Statesman, The Boston Globe, The Wall Street Journal, The New Republic, and New York Magazine, among others. Last week, the Jewish Book Council, awarded Lerner $25,000 as the runner-up for the Sammy Rohr Prize. His recent essays and criticism have appeared in Art in America, boundary 2, Frieze, Harper's, and the Los Angeles Review of Books. Lerner's second novel is forthcoming from Faber/FSG.
"Being a part of the Brooklyn College M.F.A. community has been pivotal to my development as a writer," said Courtney. "The critical thinking, the innovative writing, and the support that this M.F.A. program provides are like no other in country." 
Courtney's play, A Map of Virtue, produced by 13P and directed by Ken Rus Schmoll, was awarded an Obie and described as "one of the most terrifying plays of the past decade" by the New York Times. Her other plays include Honey Drop, Black Cat Lost, Alice the Magnet, Quiver and Twitch, and Demon Baby. Courtney's work has been produced and developed by Clubbed Thumb, The Flea, New York Stage and Film, Adhesive Theater, Soho Rep, The Vineyard, and The Public. She has collaborated with Elizabeth Swados on the opera Kaspar Hauser and is starting work on a new musical with Swados on the life of Isabelle Eberhardt.
A member of New Dramatists, Courtney has been a resident at the MacDowell Colony, a recipient of a NYSCA grant and two MAP Fund grants from the Rockefeller Foundation. Demon Baby is published in two anthologies: New Downtown Now (2006), edited by Mac Wellman and Young Jean Lee, and Funny, Strange, Provocative: Seven Plays by Clubbed Thumb (2007), edited by Maria Striar and Erin Detrick. Courtney is a co-founder of Brooklyn Writers Space.
This is not the first time the English Department's faculty has received multiple Guggenheims, with Professors Ernesto Mestre and Susan Choi receiving awards in 2004. Brooklyn College faculty members, including past President Robert Lee Hess, have garnered more than 15 Guggenheim awards.
The Guggenheim Board of Trustees granted 175 of fellowships this year "on the basis of prior achievement and exceptional promise." Grants are given to selected individuals for a minimum of six months and a maximum of twelve months.
"It's unique — and a huge honor for Brooklyn College — to have three individuals receive a fellowship in the same year in the same program," said Richard Hatter, a spokesman for the John Simon Guggenheim Memorial Foundation.

The award seeks to provide fellows with blocks of time in which they can work with as much creative freedom as possible. Established in 1925 by former United States Senator and Mrs. Simon Guggenheim, in memory of seventeen-year-old John Simon Guggenheim, the Foundation has sought to add to the educational, literary, artistic, and scientific power of this country, and provide for the cause of better international understanding.
Back to BC News