Brooklyn College faculty member has been recognized for her exceptional work as a librarian and information specialist.  
/web/new_2013news/130708_JaneCramer_94x84.jpg
Brooklyn College Librarian Honored with Prestigious Award
July 8, 2013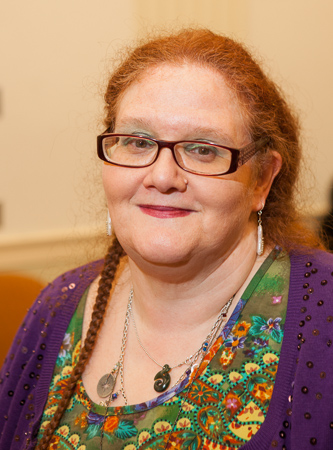 Brooklyn College faculty member Jane Cramer has been recognized for her exceptional work as a librarian and information specialist. Cramer, an associate professor and government information specialist at Brooklyn College Library, received the New York Library Association Government Information Roundtable (NYLA/GIRT) Mildred Lowe prize for her continuing leadership and professionalism in her field, as well as the positive impact it has had on government information users and service providers. "I was very humbled when the president [of NYLA/GIRT], Rosemary LaSala, contacted me last fall to tell me I was receiving the award," says Cramer. "I was surprised and grateful to be recognized by my peers for what we are doing at Brooklyn College."
Much of Cramer's work includes overseeing the print and microform collections, and online resources for the federal, New York State, and New York City governments. A librarian at the college since 1990, Cramer continues to provide statistical, demographic, and other related material from the school's vast document archive to CUNY students, faculty, staff, grant writers, small business owners, and the broader community.
Cramer hosts one to two interns a year at the library, and with the college's education librarian, Assistant Professor Matthew Harrick, introduces high school students to the government documents collection in a cooperative program with Brooklyn College Academy and Science, Technology, and Research (STAR) Early College High School at Erasmus. She also mentors new documents librarians and library school students, and co-chairs the Metropolitan New York Library Council (METRO) and Government Documents Special Interest Group (GoDIG).
Named in memory of Mildred Lowe, the director of the Division of Library and Information Science at St. John's University and a tireless champion of public access to government information, the prize honors librarians who have made significant contributions to government documents librarianship, access to government information, and the encouragement of document use in New York State libraries and archives.
Back to BC News