A Brooklyn College junior discusses how hands-on experiences in India are helping her to realize her career goals.
/web/new_2013news/131127_India_94x84.jpg
Brooklyn International: A Semester in Bangalore
Nov. 27, 2013
November is CUNY Month and International Education Month at Brooklyn College. This six-part series focuses on Brooklyn College's global engagement, from visiting professors, to international students and internships.
There are currently over 1.2 billion people living in India. According to the People's Linguistic Survey of India, over 750 languages are spoken in the country. It is one of the oldest civilizations on Earth and is at an interesting moment in its history as traditional values and progressive ideas are being debated in its institutions. That current tension between antiquity and modernity is what made Brooklyn College junior Rebecca Echevarria decide to study there this fall.
"I believed that it would be an interesting time to experience India and speak to the young people about current cultural shifts," she says.
Echevarria—a native of Pleasantville, New York, who is majoring in environmental sustainability and social justice, a unique major she created herself though the City University of New York Baccalaureate Program for Unique and Interdisciplinary Studies (CUNY BA)—was introduced to the idea of studying abroad by the CUNY BA Senior Academic Adviser Kate McPherson.
Says Echevarria, "I believe social justice and sustainability issues are inherently connected because the exploitation of the environment commonly affects underrepresented groups the most.
Echevarria did her own research and determined that the semester-long University Studies Abroad Consortium (USAC) program in Bangalore, India offered courses that were in line with her academic goals.
"I looked for courses that addressed relevant social issues. In particular, I was attracted to the India program since it included a service learning component."
Service learning provides students the opportunity to participate in hands-on community service, gain civic knowledge, and make a cultural analysis, in addition to traditional in-class study. As a part of her own service learning, Echevarria volunteers at a day care center in Bangalore, where she teaches English to impoverished children, and is able to see, up close, the impact poverty has on them.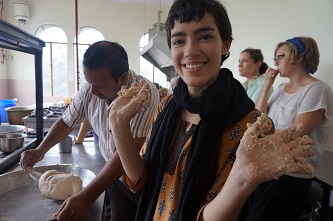 Living in India has reaffirmed her desire to pursue a career of law in an effort to reduce environmental harm and improve social conditions. She has completely immersed herself in the experience, one that was made possible through a generous fellowship from the Roy L. Furman '60 Furman Fellows Program. And while she is focused on helping underprivileged populations there, she is clear that poverty is not the defining feature of India, and that it is merely, like in any other country, one aspect of it. She feels privileged to have been able to familiarize herself with many different facets of what is a very diverse nation.
"I enjoy the fast-paced nature of the city and revel in the communal nature of the society. I have tried to take advantage of the abundance of cultural activities that Bangalore has to offer and explore different neighborhoods of the city. In particular, since I am here during festival season, I have been able to travel all over South India and experience the celebrations for holidays such as Ganesha Chathuri and Dasara."
Echeverria hopes that her experiences in India will help her to be more flexible and communicative in her academic life. She also has big career plans post-graduation.
"I plan to attend law school and study public interest or environmental law. I would like to work in places such as the United Nations Secretariat or National Oceanic and Atmospheric Administration in a legal capacity."
She returns to Brooklyn in December.
Back to BC News