When Anthropology Professor Stephen Chester takes a group of Brooklyn College students to the mountains out West, they gain new perspective on humanity's place in time and space. 
/web/new_2016news/160804_chestergroup_94x84.jpeg
Brooklyn College Students Dig Their Studies in the 'Valley of the Dinosaurs'
Aug. 04, 2016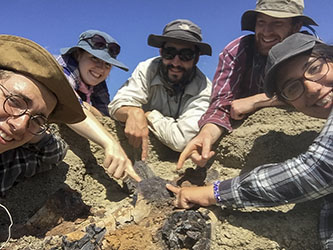 Four New York City students find themselves in the mountain states of Wyoming, Montana, and North Dakota. They are mostly camping in the open plains. There's brutal summer heat and very little shade, but plenty of peanut butter and jelly sandwiches, and instant coffee. No trains, no bodegas, and hardly any people. Just an eerie quiet, horned toads, snakes, and a dusty wind that left them, as one student put it, "looking like coal miners." 
It was the third summer that Assistant Professor Stephen Chester took students from his anthropological fieldwork class out to a region essentially known as the paleontological mecca of the West to dig for primate fossils from 66 million years ago. The students all agreed that it was one of the most incredible experiences of their college careers. 
Junior Henry Ermer, a biology major, wrote in a blog post that he was taken by the "surreal and sometimes unfathomable ability to travel into deep time." 
Senior Lindsey Cibelli, an anthropology major, was also in awe "watching millions of years pass us by."
Alec Reed, another senior majoring in anthropology, who funded his trip with his Rosen Fellowship, said the trip gave him "a new perspective on humanity's place in the grand scheme of time and space." 
And second year doctoral student Andrea De Renzis, who's planning a career in biological anthropology and works in Chester's lab, says one of the bonuses for her was digging for dinosaur fossils. 
"It's really exciting to be able to bring students out west to experience many things they have never encountered before," says Chester, a professor in the Anthropology and Archaeology department who has been conducting fieldwork for more than a decade. "I sometimes forget how amazing it is to find a fossil but when I bring students along, I get to rediscover the work through their eyes."
The Brooklyn College group is joined by Chester's scientific collaborators and their students from the Denver Museum of Nature and Science, The Smithsonian's National Museum of Natural History, the Yale Peabody Museum, the Royal Ontario Museum, and the Marmarth Research Foundation. 
This year, their work is featured in a project called Valley of the Last Dinosaurs, an interactive website funded by the Howard Hughes Medical Institute that includes blogs from most of the contributors—including the Brooklyn College students—video logs, question and answer sessions, and other content from researchers from across the country who are conducting fieldwork in the region this summer.
This year's field study group recently posted two videos chronicling their research on the trip, where in addition to 50 million-year-old primate, horse, and rodent fossils, they also found 66 million-year-old mammal remains and those belonging to the duckbill, ceratopsian, and theropod dinosaurs that came before them. 
Chester, a member of the CUNY doctoral faculty whose research concerns the evolution of primates and other mammals, estimates that the group probably gathered around 300 to 500 mammal fossils, an impressive yield.
"When you're out in the field, there's the possibility of discovery around every hill," says 
Chester. "It's this sense of discovery that drives you, the idea that you can unearth a specimen or even a new species that hasn't seen the light of the sun in millions of years. To be able to share that with my students is really amazing."
Back to BC News