Author Pam Laskin leads staged reading of her recent book Ronit & Jamil at Brooklyn College as part of its We Stand Against Hate program.
/web/new_2017news/170504_RonitJamal_94x84.jpg
Modern Telling of Romeo and Juliet Seeks to Build Bridges and Dismantle Walls
May 4, 2017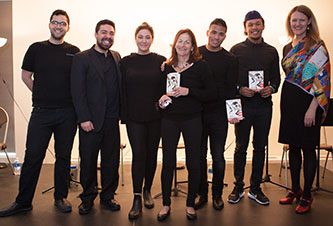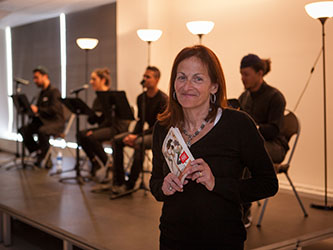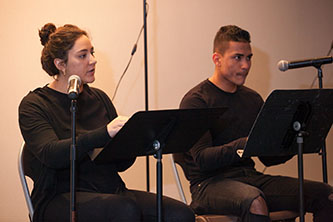 City College English Lecturer Pam Laskin says she wants to "build bridges and dismantle walls" with her newest book Ronit & Jamil (Katherine Tegan Books 2017), a retelling of Shakespeare's Romeo and Juliet that transports the star-crossed lovers to the modern-day Israel-Palestine conflict. She, along with four City College theater students, visited the Brooklyn College campus on April 24 to present a staged reading of the book, which National Book Award-winner Jacqueline Woodson has hailed as "supremely specific and stunningly universal."
"The book is so significant during these times because of the political landscape, which is uncomfortably dangerous," says Laskin. "What the book offers is peace as a possibility, especially among young people. I wanted to perform this at Brooklyn College because there is such a diverse student population, and since I will be performing it again in the fall, I am hoping that the Jewish and Islamic student organizations will get involved. This is also a book about communication, how we make stories come alive—an important message for students everywhere.
Actors included Marissa Alejandre, Brandon Lewis Torres, Chris Laing, and Bibin Shrestha.
The We Stand Against Hate: Enhancing Understanding and Compassion initiative at Brooklyn College was launched in spring 2017 with a series of lectures, panel discussions, workshops, concerts, art exhibitions, and other special events across campus. The series aims to elevate the discourse around challenging political issues and foster inclusiveness on campus.
Click here for a complete listing of WSAH events, and keep current with events at Brooklyn College on Facebook and Twitter.
Back to BC News