The documentary, envisioned as a new musical anthem for Black America, probes the question, "What have you done with your freedom?"
/web/new_2018news/Mustapha_Khan_94x84.jpg
Award-winning Director and Lecturer Mustapha Khan Previews His New Film "Song for Our People" at Brooklyn College on Feb. 15
Feb. 9, 2018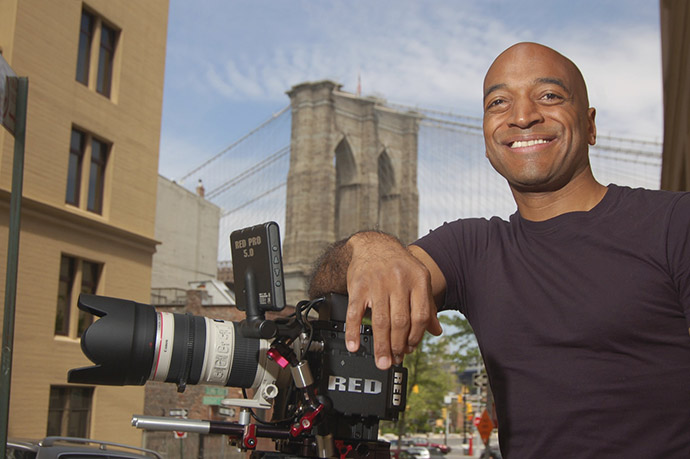 The classroom is dark. A large white screen is pulled down over the chalkboard and an image of musicians is projected onto it. Department of Film lecturer and Emmy Award-winning director Mustapha Khan stands behind a podium and presses play on his Mac. He hurries to the back of the room and remains silent as the production begins. The image comes to life and Funk music, recalling greats like Earth, Wind & Fire, the Commodores, and Chaka Khan & Rufus, blasts from the sound system as musicians are seen on the screen, jamming to a song that Khan himself wrote. The process of putting the music together, as well as gathering the community of performers to help him record it, is what his latest film, Song for Our People, is all about.
"I wanted to write a song that really mattered to me," says Khan. "I had a couple of friends who died during this time, fairly young. One of those friends, Jeff, who was a musician, died of a terrible neurological illness. Before he passed, I asked him what meaning, if any, he took from his debilitating experience. And he said, 'You know, Mustapha, whatever you want to do, whatever you want to say to the world, do it now because tomorrow is not promised.'"
Khan adds that what he had the gifts and resources to do right now, and do properly, and with purpose, was record a song. He focused on a statement he wanted to make to the world and also thought about his own legacy.
"I had written my own father's obituary and eulogy, as well as those for other people in family; as the family's writer, that sort of responsibility is often turned over to me," he says. "And I thought, 'Gosh, what would my own obituary/eulogy say?' If I wanted to make a statement that was about our community and what I really wanted to say about our community—and specifically our children, what would I say?"
"Another thing I thought about was 'Lift Every Voice And Sing' and how amazing it would be to create a song that inspires and is sung generation after generation—and speaks about us and our experiences as black people in America. A few years ago, I heard a black preacher once ask her congregation, 'When we die and go to heaven, it's not St. Peter who is going to greet us at the pearly gates. Rather, it's going to be a group of our ancestors who were formerly enslaved. They're going to have one question and one question only for each of us: 'What have you done with your freedom?' So I built a song around that concept and that's what 'Song for Our People' is."
The film not only documents Khan's journey in recording the song, but also includes testimonies from each of artists who lent their talents to the making of the song, explaining what the song means to them, what legacies they wish to leave behind, and what their ancestors mean to them.
Khan generously agreed to exclusively preview his new film on Thursday, February 15 in the Brooklyn College Library's Woody Tanger Auditorium at 6 p.m., as part of a Black History Month celebration organized by Black Faculty and Staff @ Brooklyn College (BFS@BC).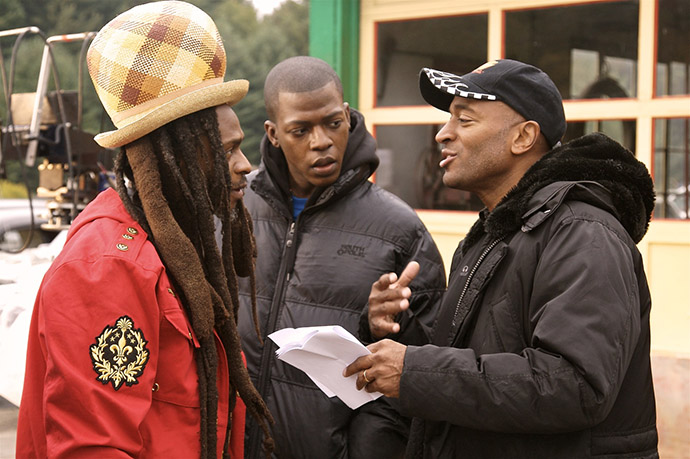 Khan's African-American mother was a nurse from Philadelphia and his father a Trinidadian physician. His father's family descended from East Indian indentured laborers brought to the Caribbean by the British in the late 1800s as a means to continue sugar cane production on the island in the wake of the abolition of slavery. Khan's father was the first person in his family to leave the island and come to the United States to attend college. He attended Howard University where he met Khan's mother, and they both settled in Camden, New Jersey, where Khan, the youngest of five children, was born.
Following in the footsteps of his eldest brother, Ricardo—who chose theater directing over a career in medicine, and casting his four other siblings as actors in his productions—Khan followed his artistic calling. He previously studied comparative religion and developmental psychology at Harvard University and won a Rotary Graduate Fellowship, which took him to East Africa to live with the Maasai, among others. He wished to document his experiences on the continent to share with others, and wanted his African subjects to speak for themselves. This desire is what sparked his interest in creating documentaries.
Eager to learn the fundamentals of filmmaking, Khan took film courses at New York University. Later, he had a chance encounter with Susan L. Taylor, former editor-in-chief of Essence magazine, who read a few of Khan's published articles about the black male urban experience in America, and asked him to consult with Essence on the subject. He met with Taylor at her office, had a great discussion, and as he was leaving, he ran into Spike Lee, who was on his way to meeting with Taylor himself. Taylor introduced the two and when Khan expressed his film aspirations, Lee offered him a job as production assistant on the classic Spike Lee Joint, School Daze.
"I worked in the transportation department, which was a fancy way of saying that I got to drive around celebrities like Giancarlo Esposito, Samuel L. Jackson, Tisha Campbell, and Laurence Fishburne," he says. "On the set, because I already knew how to do certain things, I got to work as an assistant camera person, as a secondary sound technician, and post-production assistant editor. That experience gave me the best education in filmmaking."
Moving on to working on commercials, Khan honed his directorial skills and became a sought-after artisan, winning an Addy Award for his work. His big television break came when director Reginald Hudlin, a former schoolmate of Khan's, recommended him for work on the iconic television show Sesame Street. Khan would go on to win a Daytime Emmy Award for Outstanding Directing, and his Emmy-nominated Sesame Street's 25th Anniversary: A Musical Celebration became one of the best-selling home videos in the history of the show.
But Khan's heart lies with amplifying the experiences of those in black communities. His first documentary, 1989's Reflections of a Native Son, garnered him great acclaim and gave him the space to delve deeper into the subject matter. In 1999, he directed House on Fire, a film commissioned by the NAACP about the AIDS epidemic in black communities. The film won the Best Documentary Award at the 2000 Houston International Film Festival. 2010's Rocksteady, "a coming-of-age drama set in the world of stock-car dirt-track racing, against a heavy reggae soundscape," won the Best Picture Award at both the 2011 Litchfield Hills Film Festival and the 2011 Jamaica Reggae Film Festival, where Khan also won the Best Director Award.
The key to Khan's success is his ability to elevate the subject matter from just pathological interrogations of blackness and black culture to convey incredibly human stories of tragedy, survival, and triumph. This ability to use media to take a nuanced and humane approach to presenting marginalized groups is a skill that Khan hopes to impart upon his students at the college. Excited by the new technologies and platforms that make filmmaking a much more accessible medium than it was when he first started out, Khan is also inspired by his students.
"I love teaching here," Khan says. "It feels so natural. It's so much fun. What's really special about the students here is that there's no sense of entitlement. They're very appreciative of the time you spend with them. My job is to help them tell their stories better, not to tell someone else's story, not to make gangster films, etc. But to tell the story of their growing up in, say, Haiti or Eastern Europe, and how they escaped something. Talk about what life is like as a young Pakistani kid who is gay but hasn't yet come out to their parents. That kind of capsulizes what it's all about for me. I can tangibly observe how to make a difference in their lives, to inspire them, to give them the tools to become really good storytellers in the cinematic medium, but also to trust the story within them and try to clear out all the other stuff getting in the way of them listening to that creative voice inside them."
To learn more about Mustapha Khan and his projects, please visit his website.
Back to BC News