Her recent book, Opinionated: The World View of a Jewish Woman, examines Judaism and Jewish culture through a feminist lens.
/web/new_2018news/Reguer_Book_94x84.jpg
Professor Sara Reguer's 'Opinionated' Perspective Illuminates the Struggles and Victories of Jewish Women
Mar. 15. 2018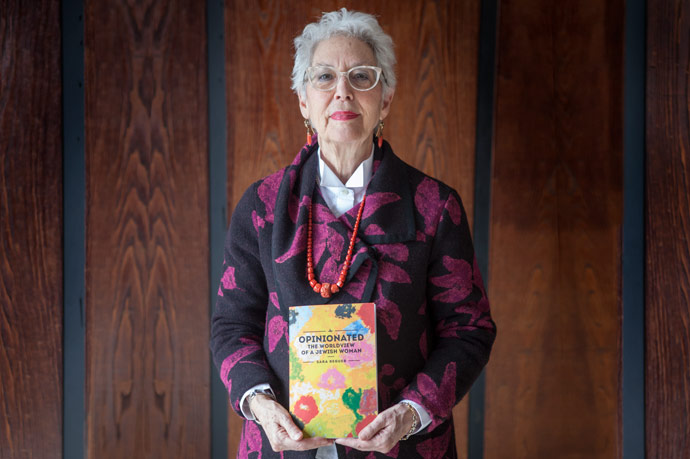 Judaic Studies Chair Sara Reguer elicits laughter and nods of agreement from the packed room at the Brooklyn College Student Center, where she read excerpts from her latest book, Opinionated: The World View of a Jewish Woman (Academic Studies Press 2017) on March 8. The book is a collection of her articles and essays originally printed in a biweekly column in The Jewish Press over the past 20 years.
The reading was the second in a series of lectures sponsored by the Women's and Gender Studies Program, highlighting the scholarship of accomplished women in a wide range of fields for Women's History Month. The event was co-sponsored by the Department of Africana Studies, Department of Film, Department of History, Department of Judaic Studies, Department of Political Science, Department of Sociology, the Ethyle R. Wolfe Institute for the Humanities, the School of Education, the Shirley Chisholm Project on Brooklyn Women's Activism, and the Women's Center.
"Over 30 years ago, when I was scholar-in-residence at the Homowack Lodge, I was approached by a smiling older woman who complimented me on the lecture I had just delivered on the Biblical women," Reguer recalls, discussing the origins of Opinionated. "'Let me introduce myself,' she said. 'My name is Irene Klass. My husband and I own The Jewish Press, and I would like you to write a column for us.'"
Reguer was taken aback by the offer, realizing that The Jewish Press is what she describes as a "right-wing, conservative publication," and she is a "Modern Orthodox Jewish feminist with an educated Litvak (Eastern European rationalist) approach to Judaism." However, the Klasses insisted, reserving the right to choose not to publish any articles that they thought might have been too radical for print. Reguer, herself, reserved the right to guarantee that whichever articles they did choose to publish would leave her progressive ideology intact. Both parties agreed to the terms.
"Over the years, there were only five columns—five, okay?—that were totally rejected. Four of which I included in Opinionated," Reguer says as the audience laughs.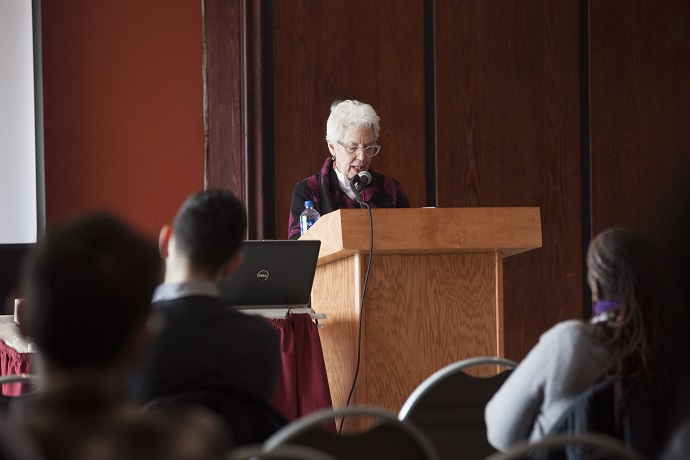 Reguer's strong take on issues relating to Jewish politics are informed by her upbringing. Her father was from Jewish Lithuania, which is modern-day Belarus, and a graduate of one of the leading Yeshiva academies in Eastern Europe. He was almost killed during World War I, a matter that Reguer examines in detail in her book, My Father's Journey: A Memoir of Lost Lithuanian Jewish Worlds (Academic Studies Press 2015). After receiving permission from Reguer's rabbi grandfather, her father traveled to Mandate Palestine (which refers to the British mandate that created this territory in 1922) for study, and then eventually immigrated to the United States in 1929—just in time for the Great Depression.

Her mother was born in Poland and grew up in Montreal after her father sent for her and the rest of her family, following his migration. Her parents met and married in 1936 in Brooklyn, where Reguer was born. Her father returned to Europe once to visit his family during this time, and it was the last time her family members saw these relative because in 1939, Adolf Hitler came into power. Reguer's grandfather, and all of her aunts, uncles, and cousins were murdered by Hitler's forces during the Shoah, which is the Hebrew word for "catastrophe" meant to describe the horrors of the Holocaust.

Reguer attended the Ramaz School, a "coeducational Jewish Modern Orthodox Day School," on scholarship, an hour away from her home in Washington Heights, where her family lived at the time. She recalls that it was a school for rich children. "I had a chip on my shoulder right from the start," she says. "Everyone went to Florida or the Bahamas for the Chanukah holiday. I was lucky if I got a new coat!"
After graduating, attended City College, where she studied pre-med and pre-law, and received her Bachelor of Arts, with honors, in history and political science; Yeshiva University, where she received her Bachelor of Religious Education; and Columbia University, where she received a certificate from the Middle East Institute, a Master of Arts in Middle East history, and a Ph.D. in history. Reguer's father, a professor of biblical studies, encouraged her to become an educator.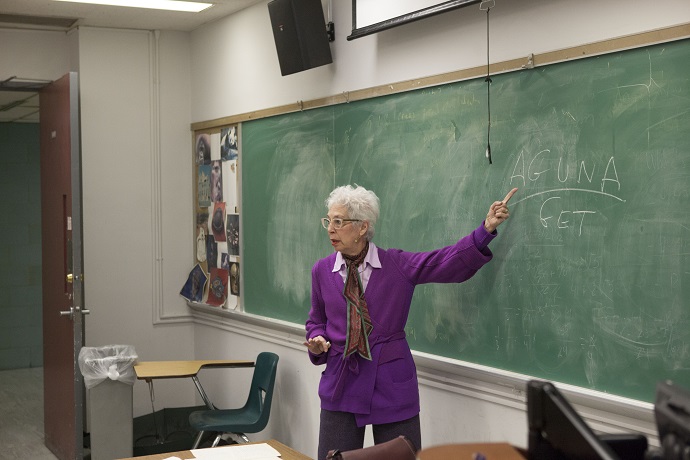 Having served as head of Judaic studies for almost 32 years, Reguer is Brooklyn College's longest standing chair. It is a labor borne of love, but also one borne of a profound sense of commitment and duty. Behind her stands a story of catastrophe and triumph, which she tries to preserve even as there are present-day attempts to erase the testimonies documenting the great violence that was inflicted upon her people from the annals of history.
Reguer, a Tow Foundation Fellow, is a renowned expert in Mandate Palestine/modern Israel, the history of Jewish women, Italian Jewry, and the Jews of the Middle East and North Africa. One of the most crucial aspects of Reguer's work is illuminating the fact that Jewish people are not a monolith, that there are as many opinions and positions within Jewish societies about politics and religion as there are people within those societies. In her course, "The Jewish Woman," Reguer examines Judaism from a feminist point of view, noting that while there are still some ways in the religion that are unfair with regard to the rights of a woman's sovereignty, such as in the case of divorces, where women are not permitted to petition for divorce, but men are, Judaism is one of the few religions that permitted women to run their own businesses, earn and keep their own money and use it in the manner they chose, and inherit, own, and bequeath property.
"When I read the Bible, I look at what the text actually says," she shares, "and not what later commentators, who were all men, who lived 1,000 years later, have to say about it. I feel very strongly that a lot of things that happened in Jewish societies to hold women down were done sort of subconsciously by the male scholars and leaders trying to work out how to survive as a minority group, surrounded by people who didn't particularly like us, and perhaps inadvertently came to the conclusion that women should be in the home. What they didn't realize when they did this was that women would become the leading economic force in every single community—until fairly modern times. So that kind of counterbalanced the social issues that limited women's autonomy."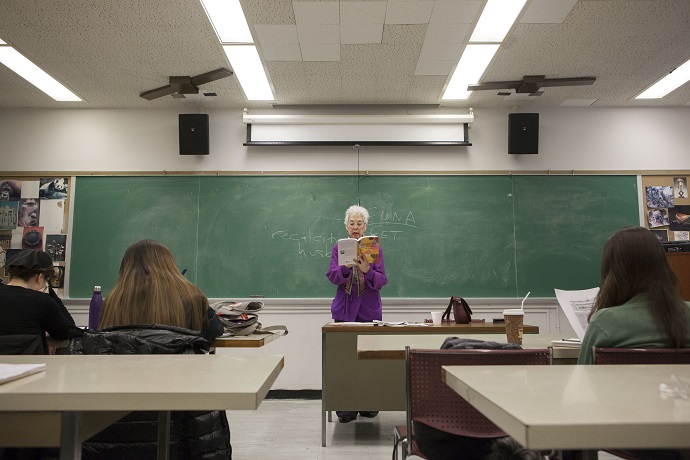 Judaic studies is smaller now than it once was at the college, and Reguer works to raise the profile and resources of the department because she believes it is one of the most vital areas of study, particularly in these fraught sociopolitical times.
"Judaic studies is one of the most interdisciplinary fields that you can find," she says. "Some of us are trained as historians; others are in religious studies; others teach Hebrew literatures and Jewish languages. We cross over into philosophy, political science, sociology, psychology, economics, anthropology, music, and the arts. We practically invented the film industry! We are all over the world. The Jewish diaspora is in just about every geographic location, taking on the characteristics of the larger culture while maintaining our own identities and traditions—which means that we can serve as an example for how a minority group can recreate itself and survive."
Back to BC News