The pioneering disability rights activist will also be the keynote speaker at the event on May 31 at the Barclays Center.
/web/new_2018news/Heumann_94x84.jpg
Brooklyn College to Award Judy Heumann Honorary Doctorate at Its 2018 Commencement Ceremony
Mar. 27, 2018
Judith E. "Judy" Heumann, a disability rights activist whose social justice leadership is recognized globally, will receive an Honorary Doctor of Humane Letters at the 2018 Brooklyn College Commencement Ceremony held on May 31 at the Barclays Center. She will also be the keynote speaker at the event.
Known as the "mother of the independent living disability rights movement," her work has had a significant impact on the implementation of legislation and policies that benefit and protect people with disabilities. For over 45 years, her pioneering efforts in the nonprofit sector, with the World Bank, and the Bill Clinton and Barack Obama administrations, led the charge for the mainstream recognition of disability rights.
Born in 1947, Heumann grew up in Brooklyn, New York. Her parents were German Jewish refugees who came to the United States in the 1930s. In 1949, Heumann contracted polio, resulting in her being a quadriplegic and using a wheelchair for mobility. At five years old, she and her family began to experience a world that did not intend to allow her to be an equal citizen. When her mother took her to enroll in P.S. 197 in East Flatbush, she was shocked and dismayed that the school could deny her daughter admission solely based on her inability to walk. The New York City Board of Education deemed it sufficient to provide Heumann with only 2.5 hours a week of home education until the 4th grade, at which time she was allowed to go to P.S. 219 special education classes.
Her mother, a community activist, would not stop advocating for her daughter's right to public education. Heumann's mother and other mothers banded together to force New York City's Department of Education to make some of their high schools accessible so that students like Heumann, who rode in a wheelchair, would not have to go back to home instruction. Judy went on to be enrolled in Sheepshead Bay High School because it was a newly constructed, accessible school.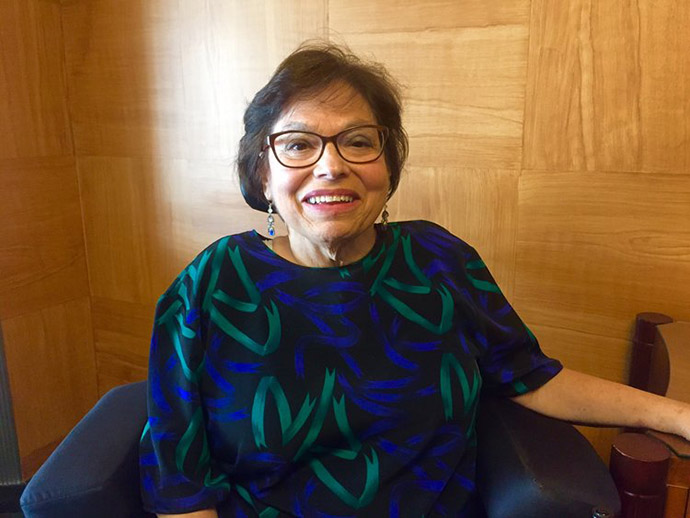 Heumann attended Long Island University (LIU), graduating in 1969. The 1960s created an opportunity for disabled people with all types of disabilities to learn from the civil rights movement which had been gaining momentum. She learned the importance of activism and bringing the voices of disabled people together to demand revolutionary changes. She and other students worked with LIU to establish a disabled students services office. After graduating from LIU with a bachelor's degree in speech and a minor in education, she founded Disabled in Action with Brooklyn College disability activists and alumni Fred Francis, founder of the Student Organization for Every Disability United for Progress (S.O.F.E.D.U.P.), and Pat Figueroa, which sought to end discrimination against people with disabilities.
When Heumann applied to become a teacher in the New York City public school system, she was denied a teacher's license due to "paralysis of both lower extremities." She filed a lawsuit against the Board of Education and was fortunate to have Constance Baker Motley as her judge. Motley directed that Heumann be given another medical exam resulting in her obtaining a license. At the time the suit was settled in 1970, Heumann became the first public school teacher in the New York City system to use a wheelchair. The book, The Disability Rights Movement: From Charity to Confrontation, by Doris Fleischer and Frieda Zames, details Heumann's activism and discusses how important her lawsuit was in ensuring that disabled people had a right to education in the United States.
Heumann taught at P.S. 219 for three years before being recruited in 1973 to attend the University of California at Berkeley School of Public Health. There, she helped establish the Berkeley Center for Independent Living, now the CIL of Berkeley. The CIL was the first of its kind in the world, empowering the voices of disabled people, intergenerationally and across disabilities, through advocacy, public policy, and direct services.
She co-founded the World Institute on Disability with Ed Roberts and Joan Leon and served as it's deputy from 1981 through 1993. During the Clinton presidency, Heumann served as assistant secretary of the Office of Special Education and Rehabilitation Services in the Department of Education. She then was named the World Bank's first adviser on disability and development, and was also the director for the Department on Disability Services for the District of Columbia.  In the Obama administration, she was appointed as the very first special adviser for International Disability Rights in the U.S. State Department, serving from 2010 to 2017.
Heumann continues to advocate on behalf of disabled people globally, participating in protests and giving lectures, including a popular TED Talk titled "Our Fight for Disability Rights and Why We're Not Done Yet." Heumann frequently lectures at universities, discussing her belief that disabled people need to become more proactive in the field of education, particularly higher education, in order to become fully integrated into the fabric of society.
In 2017, she was named a Ford Foundation Senior Fellow. As such, she works to advance the inclusion of people with disabilities in both traditional and new media platforms. She also founded The Heumann Perspective, a social media project intended to deepen and widen discussions of disability rights.
Heumann was the first recipient of the Henry B. Betts Award in 1990, in recognition of her efforts to significantly improve the quality of life for people with disabilities. She is also the recipient of the Max Starkloff Lifetime Achievement Award and the InterAction Disability Inclusion Award. Heumann credits her upbringing in Brooklyn because with instilling in her the strong fighting spirit that would allow her to challenge and break down the obstacles that she and disabled people in the United States and around the world continue to face.
Back to BC News