Nina Daro and Salma Mohamed will receive three prestigious internships and more than $20,000 in stipends.
/web/new_2018news/180420_Watson_94x84.jpg
Two Students Win Jeanette K. Watson Fellowships
April 20, 2018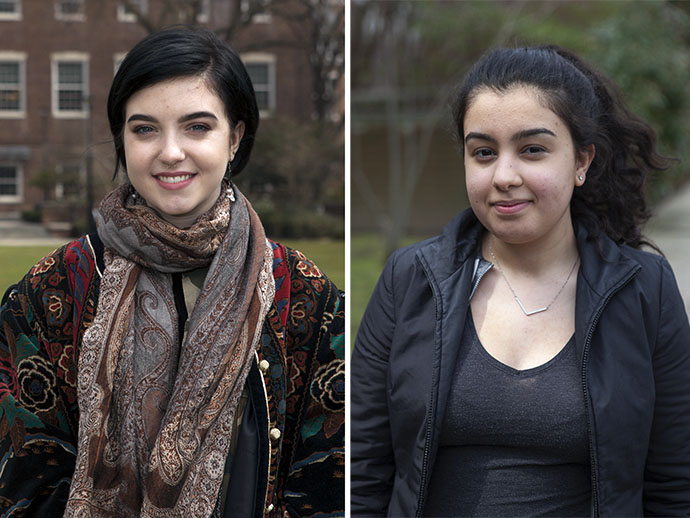 Two students, sophomore Nina Daro and freshman Salma Mohamed, have been chosen as Jeanette K. Watson fellows, an honor that will afford them three summer internships—one of which is served abroad—and more than $20,000 in stipends.
"I'm really focused on being an independent student and having my own personal journey," says Daro, a sociology major from Oklahoma who wants to be an activist but hasn't quite honed in on what direction that will take her. "What I like about this fellowship is that it is big on challenging you on what you think you want to do with your life. I will gain a lot of different experiences through this award."
The Thomas J. Watson Foundation, which funds and administers the fellowship, has partnered with some of the leading corporate, non-profit, and government organizations to pair the students with a diverse array of internship experiences. The fellows are selected from among 12 New York City colleges and universities and are nominated by their school. They also participate in weekly summer seminars and cultural events, and receive mentoring from industry professionals and the fellowship's older students and alumni.
Mohamed has not declared a major, but she'd like to create her own program of study through the CUNY BA program. She ultimately would like to be a lawyer focusing on civil liberties or civil rights law, but also wants to make sure she has a variety of experiences during her undergraduate years.
"When I heard about the fellowship, I thought it would be perfect for me," she says. "I love that it sets you up with internships that don't necessarily have to do with your career."
The fellowship program was founded in 1999 to honor the wife of Thomas J. Watson, founder of IBM. This year, 12 of the 15 fellows are CUNY students. Fellows are represented in America's top graduate programs across many disciplines, including law, medicine, public policy, business and the arts.
Back to BC News