Sponsored by LaborArts.org and the Shelley and Donald Rubin Foundation, the competition aims to expand the way student artists think about labor history.
/web/new_2018news/180511_Labor_94x84.gif
Annual Contest Makes the Way We Work a Subject for Artists
May 11, 2018
On April 18, the 2018 Labor Arts awards ceremony was held at the Graduate Center for Worker Education in Manhattan. Students from across CUNY earned accolades in poetry, nonfiction, fiction, and the visual arts, with works on the state of labor and the lives of workers in New York, from fast-food wage-earners to handcrafts laborers to homecare attendants.
Sophomore Vicky Lee, a production major at Brooklyn College's film department, won the top prize in poetry with the moving "I Knew Him By the Night," chronicling her father's late nights at the restaurant he works in order to provide for his children. Grayson Wolf, an English major who will graduate from Hunter College next month, took the second prize with his incantatory poem "Synoptic." Yocheved Friedman, a junior at the Macaulay Honors program at Queens College, came in third with "Life-sized Harp in Metal and Ink," inspired by Eugene de Salignac's iconic and dizzying photograph of workers holding on to the cables on the Brooklyn Bridge. Friedman is studying to become a neuroscientist and is set to graduate in May 2019.
In the nonfiction category, senior Jasmine Toledo a history major at Brooklyn College, earned first prize for "Documenting the Undocumented," an essay about the Latino immigrant experience and the immigrants' journey and travails in their new land. Jessica Alort, a first-year radiology student at the NYC College of Technology took second place with "Counterparts," an essay about her becoming a teacher's aide, while Linda Henry, a home care attendant and a student of human services professional at the same college, delivered a powerful reading of her essay, "Hidden from Outsiders," about her clients' challenging and difficult lives and her efforts on their behalf.
Queens College political science major Frances Raybaud, received the top prize in fiction for her short story "Stigma," while senior Zeus Sumra the news managing editor at Brooklyn College's The Kingsman newspaper and a major in psychology, took second place with his "Pyramid." Jovon Pryce of Hunter College came in third with, "Packed Trains and Empty Shelves."
In the visual arts category, Fatma Elgohary took the first prize with a photo of a Mennonite woman sewing a traditional bonnet.
"The picture was part of a broader project of photographing traditional and religious women in various faith communities," said Elgohary, who is pursuing a B.F.A. in photography at Hunter College. She graduates in May.
Second-prize winner, junior Jacqueline Gallo, a psychology major at Brooklyn College, created a canvas made of old paystubs from Taco Bell—where she worked for three years—with text and images divided in quadrants that resembled a comic book or a fanzine. Third place went to Shuki Hasson, a student of graphic art design at the Borough of Manhattan Community College. An Arab Israeli immigrant, Hasson chose to create a sign in gold and black resembling those used in construction warnings, with the word 'falafel' printed on it in Arabic, Hebrew, and English. "I wanted to pay tribute to our New York culture," he said.
Assistant Dean Lucas Rubin of the Graduate Center for Worker Education welcomed participants and guests. Patrick Kavanagh presented the awards and Rachel Bernstein of Labor Arts.org gave concluding remarks.
LaborArts was founded in 2000 on the premise that art can be a powerful way to communicate. The organizations mission is to bring a broad audience to the sustaining power of the artistic and cultural heritage of workers. The LaborArts website will feature this year's winners at LaborArts.org/contest.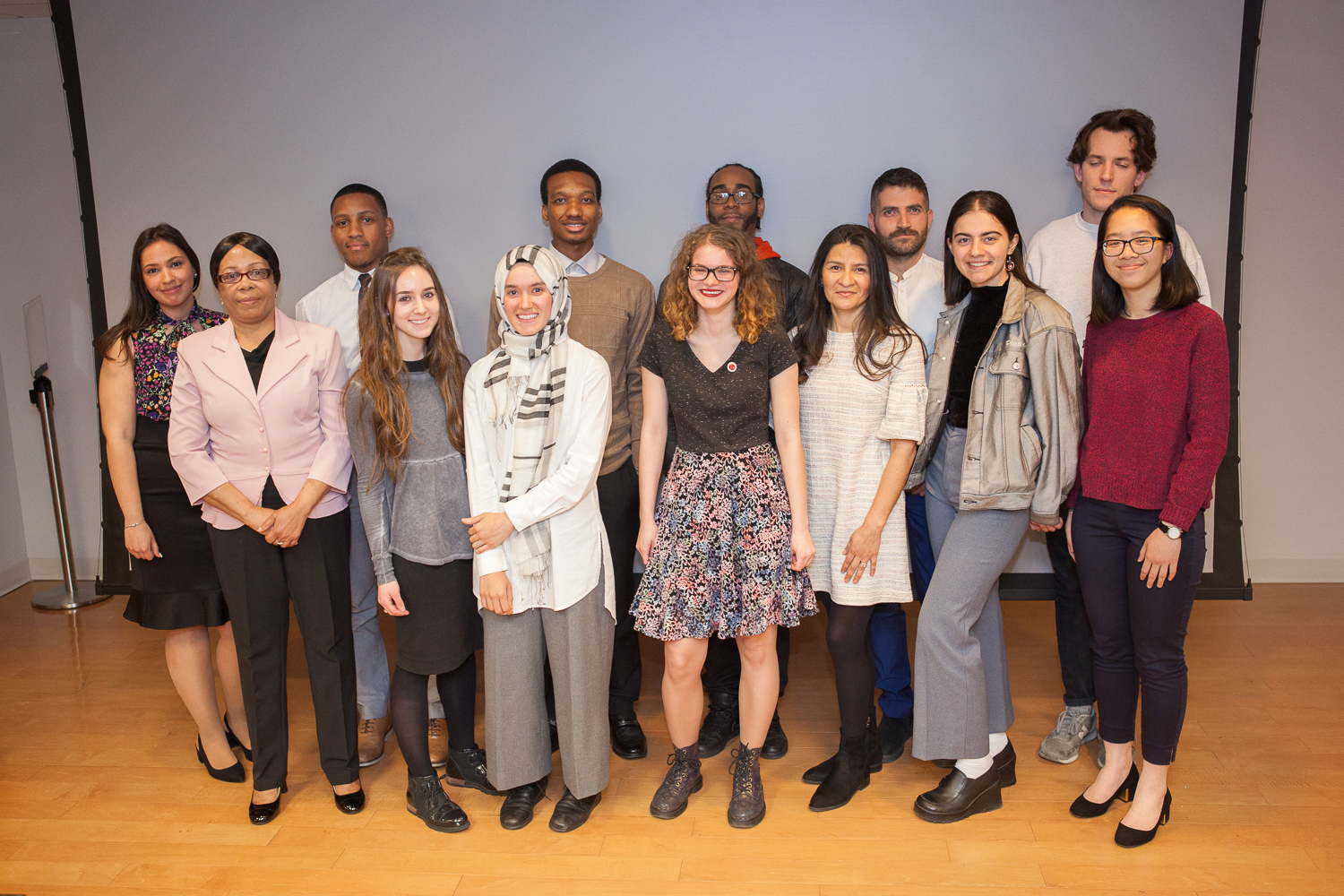 Back to BC News