Looking to become a high school biology teacher, Ly finds particular techniques that establish equity in a public school setting.
/web/new_2018news/Cynthia_Ly_94x84.jpg
Graduating Senior Cynthia Ly Uses Interesting Classroom Strategies to Ensure a Well-Rounded Education for a Diverse Student Body
May 15, 2018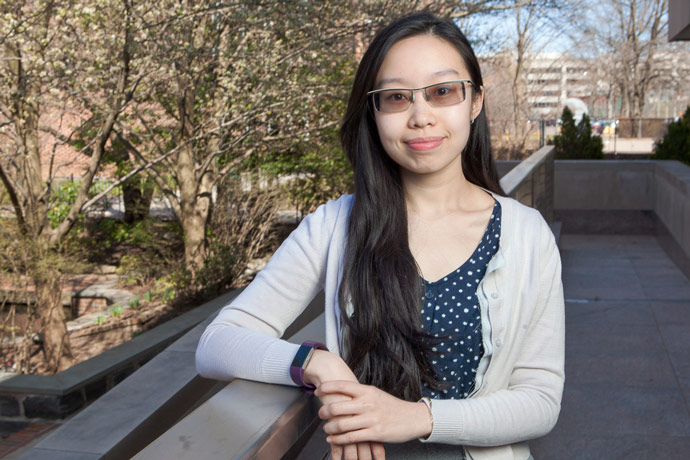 As they prepare for the next stages of their lives, members of the Brooklyn College Class of 2018 share their thoughts on some of the more complex and challenging aspects of their areas of study. For more on this year's commencement, visit our Facebook, Instagram, and Twitter pages. Use the #BCGrad2018 hashtag to join the conversation.
Cynthia Ly is a member of the Class of 2018, graduating with a bachelor of arts in biology education (grades 7–12). Ly was born and raised in Brooklyn to Taiwanese and Vietnamese immigrants. When she was 11 years old, she published an essay about her father's escape from the Viet Cong, and though terrified of public speaking, read the essay before an audience to rousing applause. Ly selected Brooklyn College for its affordability and proximity to her home, as well as its closeness to the institution at which she wishes to become a full-time teacher, Midwood High School. She is a Zicklin Summer Fellow, New York City Men Teach Fellow, and a writer for Stuck in the Library, a creative magazine that aims to cultivate a thriving literary community on the Brooklyn College campus.
Ly shared her perspective about how some of the institutional obstacles surrounding public education might be surmounted.
"We would solve the problem of inequality in the public education system by having supports for a different kind of instruction. It's tiring for the students to hear teachers lecture for 45 minutes every single day. I'm currently a student-teacher at Midwood High School, and I teach young people from diverse cultural and educational backgrounds. Students all learn differently, and I'm always experimenting with my lesson plans to try to make the best of it all. I usually incorporate memes, gifs, and other pop-culture references to grab my students' attention and keep them focused throughout class. Of course, I alter the memes and gifs to correlate to the particular science lesson. Also, having students work in groups, and encouraging them to discuss their responses with their peers, helps. When I walk around the classroom after my mini-lesson and observe the groups, I witness the amazing atmosphere that has taken over: students exchanging ideas and relating the lesson to their own cultures. Students start noticing the similarities among themselves, rather than pointing out the differences. I love asking my students 'scaffolding questions.' A scaffolding question is when an instructor asks a series of questions to ultimately get the majority of the class to respond in a detailed manner. The students get to participate and ask scaffolding questions as well. I tell my students all the time that all questions are acceptable because I don't want anyone to feel like their questions are 'stupid.' When I was in high school, I felt like I was limited in resources and confidence because of the lack of questions I asked. I don't want my students to make the same mistakes I made, and enforcing these small teaching strategies helps provide me every child I instruct a full and well-rounded education."
Back to BC News