Daniel W. Smith '18 M.A. finds his voice and shares it as part of a commencement campaign celebrating the Brooklyn College Class of 2018.
/web/new_2018news/Dan_Smith_94x84.jpg
A Feirstein Cinema School Graduate Talks Diversity in the Film Industry
May 17, 2018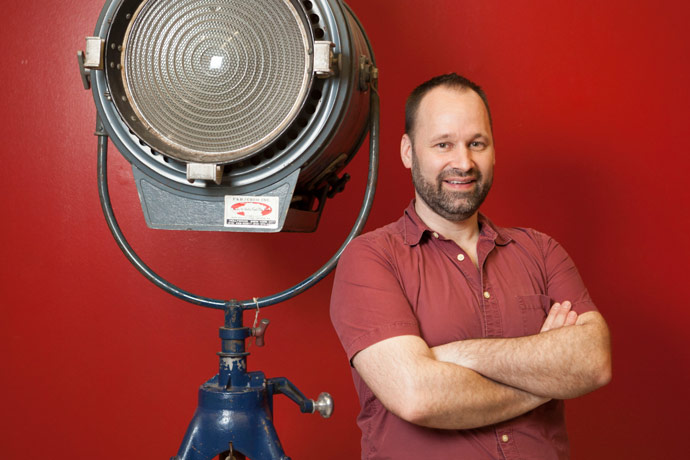 As they prepare for the next stages of their lives, members of the Brooklyn College Class of 2018 share their thoughts on some of the more complex and fraught aspects of their areas of study. Find more student commencement profiles and videos on our Facebook, Instagram, and Twitter pages. Use the #BCGrad2018 hashtag to join the conversation.
Daniel "Dan" W. Smith is a member of the Class of 2018, graduating with his master of arts in screen studies from Brooklyn College's Barry R. Feirstein Graduate School of Cinema. Smith financed his education with a scholarship he won from the New York City Office of the Mayor. He is a part of Feirstein's first official graduating class. The cinema school is dedicated to cultivating new and emerging voices in cinema in a diverse and inclusive learning environment.
A Las Vegas native, Spider-Man aficionado, and singer in the New York City Gay Men's Chorus, Smith came to Brooklyn in the hopes of refining his career as an educator. Currently a high school teacher, his ultimate goal is to become a college professor and he believes his academic experiences at Brooklyn College have prepared him to pursue a Ph.D. in media studies.
When asked about the state of Hollywood, media production, and diversity, particularly in the United States, Smith had this to say.
"While Hollywood has definitely made progress in presenting more diverse narratives in film and media, many of them lauded for their attempts at representation, these attempts are often superficial because the majority of the producers behind them are still white males. For example, Wonder Woman was directed by a woman who did the best she could with a film written and produced by men and that battle of perspectives plays out in the final product. So, while women, queer people, people of color, and other marginalized demographics are out there creating media in an attempt at real diversity, it is a slow-going process. Many of us who find ourselves in marginalized and underrepresented communities want a revolutionary change, but I feel that with a system so sexist, homophobic, and, quite frankly, racist, this change will not happen overnight."
"A film like Love, Simon (a coming-of-age story of a gay teenager) could never have been made a generation ago because of the mindset of Hollywood and the nation as a whole. What is fortunate is that not just the people behind the creation of the film, but people who understood the importance of the film advocated for its showing across the nation even in small towns where queer-themed films could still be controversial."
"Black Panther is an example of a film that is on the right track as well. With a predominately black cast and crew, it certainly broke molds within the Hollywood paradigm, particularly because it was made by Marvel Entertainment, but also because it was made to target a general audience, not to exploit a marginalized one. What it comes down to is Hollywood wants to make money, but that is largely based on public consumption trends and I believe that those trends are shifting toward more diverse narratives in Hollywood as well as television and other media. Eventually, that will bring about change rather than simply superficial fixes."
Back to BC News