Launched in 2015 with the generous support of Martin D. Sass '63, Brooklyn College's M.D. Sass Investment Institute has ensured that students gain the real-world financial experience and access to Wall Street movers and shakers that give them an edge in the job market.
/web/new_2018news/Martin_Sass_94x84.jpg
Invested in Student Success
May 30, 2018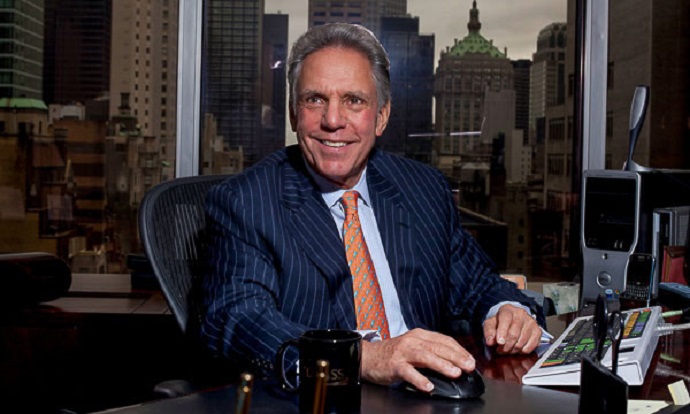 M.D. Sass, which manages over $7 billion in assets, has been a leading name in investment strategy and innovation for 42 years. Martin D. Sass '63, the company's founder, chairman, and CEO, has been a stalwart supporter of his alma mater, committed to helping its students gain opportunities to follow in his footsteps. His generous donation to Brooklyn College to found the M.D. Sass Investment Institute (MDSII) is helping students to get closer to achieving their professional goals.
"Brooklyn College has opened doors to highly successful careers for many students who, like me, came from humble backgrounds," said Sass, just before the MDSII was established in 2015. Currently serving as vice chair of the Brooklyn College Foundation (BCF) Board of Trustees, Sass began his career at the Wall Street brokerage firm Ira Haupt & Co. after graduating from Brooklyn College with a bachelor of science in accounting. He founded M.D. Sass in 1972.
"My hope is that the institute will help keep those doors open for tomorrow's Brooklyn College students by providing them the chance to learn, grow, and succeed in a business environment, through hands-on financial and investment experiences, invaluable mentoring, and Wall Street connections."
That dream is being realized.
Today, MDSII, which is a part of the college's Murray Koppelman School of Business, operates as a student-involved hedge fund where students "manage funds for the Brooklyn College Foundation," says Associate Professor Hyuna Park, who is the Herbert Kurz '41 Endowed Chair in Finance and Risk Management, and faculty adviser for MDSII.
"Normally, students learn theory in classrooms. But with MDSII, they gain real-world experience by applying the theories of capital investment in real time. They get to buy stock, sell short stock, and help analyze stock. They conduct research and evaluate risk. They regularly make presentations before the investment panel. So not only do students help the foundation perform better financially, they also receive feedback from the industry leaders on their work."
That last part, Park says, is what differentiates MDSII from business programs at other colleges, as most students do not receive that sort of direct feedback from industry professionals. Additionally, the institute's curriculum is highly rigorous. Students must complete courses in introductory accounting, economics, statistics, principles of financial management and investments to participate in the program. It requires a great deal of the students' time as well as their peak intellectual and analytical skills. If this sounds demanding, it is because of how high the stakes are and how priceless an opportunity participation in the program is.
Judging by the outstanding performances and successes of MDSII students, the return on Sass' investment has been immediate.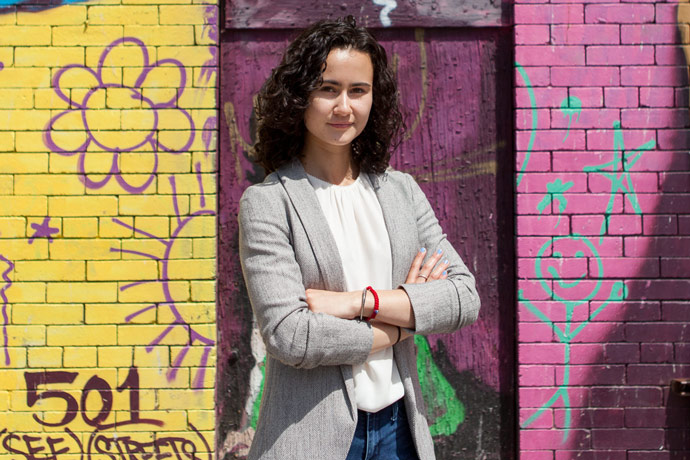 Take Kelly Alvarez, who will be graduating with the Class of 2018 on May 31. In spring 2017, Alvarez was the first recipient of the MDSII Security Analysis Program Award. Her analysis of Liberty Latin America Ltd Class C (LILAK) stock earned her $2,000 and certificate of achievement.
"I remember working that entire semester on that stock and initially doubting myself and my research, says Alvarez, who is majoring in finance. "And then getting into that room to present—a room, frankly, full of men. It was intimidating. There's still so much to be done in finance for women to be equally represented. But I think even something as small as my winning that award—it means a lot. I didn't think I could do it and then I did. I hope that's the message other women looking to participate in the program get."
For that reason and others, the victory was quite sweet for Alvarez, a Brooklyn native of Cuban descent and the second person in her family to attend Brooklyn College (her brother Daniel graduated from the college last year and participated in the Journey to Commencement campaign video). She admits to not living up to her true potential in high school at first, and, as a result, did not initially gain admission to Brooklyn College.
"I spoke with my guidance counselor and advocated for myself. I believed that just because I had figured out high school late, didn't mean I wasn't a good fit for college. After making a strong case for myself, I was accepted to BC. So there was a little bit of adversity in that respect, but it has been amazing experience since. How many 21-year olds can say they presented in front of a hedge fund manager who oversees more than $7 billion? You're not going to have that opportunity anywhere else."
Given that opportunity, Alvarez has thrived. She will be graduating magna cum laude with a bachelor of business administration (B.B.A.). She is co-president of the Murray Koppelman Student Leadership Council, whose goals are to enrich the campus experience of Murray Koppelman School of Business students, promote student involvement in on-campus activities, and increase the visibility of the School of Business itself. She was also a participant in the Summer Financial Careers Academy, a program at Brooklyn College's 25 Broadway campus. The program provides an understanding of the financial services industry, the largest industry in New York City. It also includes career development activities and workshops through the Brooklyn College Magner Career Center, founded by BCF Foundation Trustee Marge Magner '69. Additionally, Alvarez is the recipient of the Anthony R. Castellanos '85 Scholarship and the Financial Careers Academy Scholarship. She was also the subject of the winning 2015–2016 CUNY Student Photo Challenge.
Alvarez is grateful for the education and experiences she received in the M.D. Sass Investment Institute, the sought-after paid internships at PricewaterhouseCoopers (PwC) and JPMorgan Chase & Co. she scored with help from the Magner Center and its director Natalia Guarin-Klein, and valuable connections to alumni like Sass, and BCF Trustee Anthony R. Castellanos '85, global accounts lead partner and industry leader for KPMG US. She has already secured a position with the global finance and business management team at JPMorgan Chase & Co., which she begins in August.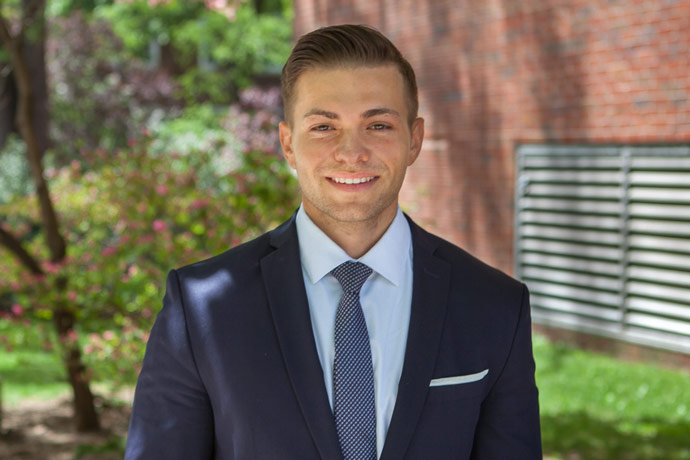 "I knew coming into college I had the desire to pursue finance and declared my major during sophomore year, as soon as I was able," says graduating senior Sebastian Komuda, who is double majoring in finance and business management, and minoring in financial planning. His reasons are quite personal.
"When I was a little kid, my dad invested in the stock market. I was probably in the sixth grade when he gave me $100, a list of stocks, and said: 'Put your money in any of these companies.'" Komuda was unfamiliar with the stock market and the companies his father instructed him to invest in, and picked one randomly. At the end of junior high school, Komuda's father returned to him. "He said, 'Look. Your $100 is now $180!' I didn't understand how it got to $180 and my father explained: 'That's what happens when you invest in a good company.'"
Komuda is the recipient of a Financial Careers Academy Scholarship. He is also the winner of the spring 2018 MDSII Security Analysis Program Award for his astute research on B&G Foods, Inc. (BGS) and GSV Capital Corporation (GSVC), which he presented to the investment panel headed by Sass himself.
"It was nerve-racking," he recalls. "But once you get the hang of it, it's basically like talking to anyone else. Mr. Sass, Mr. Ante Basic, Mr. Tanner Coyle, and the entire panel are very accepting of you. They like to see you thrive on the knowledge that you're gaining. They're constructively critical, genuinely seeking to improve their knowledge of these companies, and interested in how your research might help do that."
Komuda credits Professor Park's rigorous instruction, as well as guidance from Professor and Department of Finance Chair Sunil Mohanty, for preparing him to participate at his highest level in MDSII. "What feels great," Komuda added, "is when you present your research and the investment panel's theses align with your own."
Like Alvarez, Komuda's older brother, also named Daniel, graduated from Brooklyn College, too. Komuda says his brother is the reason he decided to attend the college. "He told me that Brooklyn College was extraordinary; that the professors really cared about the students; and the classrooms weren't overcrowded, particularly in the majors."
Komuda works part-time at his uncle's restaurant, attends college full-time, and also participated in paid internships at Vision Financial Services, New York Life Insurance Company, and HSBC. He secured the last two internships through the Magner Center.
"At HSBC, my primary focus was networking efficiently, this resulted in an opportunity to assist various teams on the trading floor, which is one of the biggest deals in banking."
Komuda has quite a few interviews lined up with companies like Morgan Stanley and UBS, which he said he scored because of the inclusion of MDSII on his resume and a letter of recommendation from Sass. While all of this is very exciting for Komuda, he has something else he wishes to accomplish as well.
"I'm definitely pursuing a master's degree in finance. I know many people don't find grad school intriguing. But I enjoy school, so it's not a problem for me. And it will better position me for the job market as well."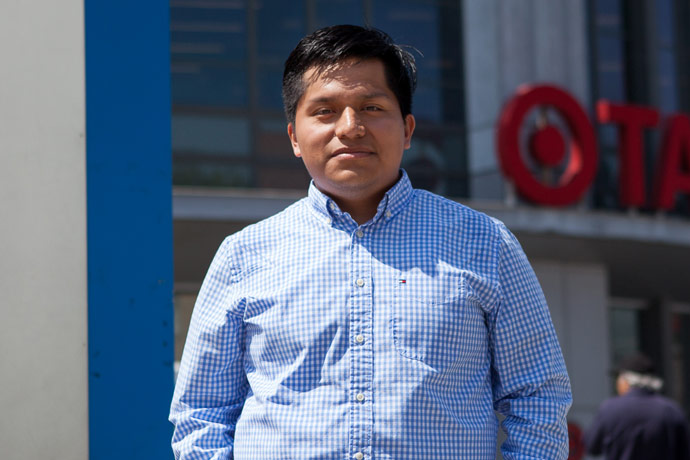 While he does not currently have plans to attend graduate school, senior Luiz Cazares does want to take the exam to become a certified public accountant (CPA). 
Born in Brooklyn to Mexican immigrant parents and raised in Queens, Cazares is only the second person in his family to attend college and will be the first to graduate. He was enrolled at another school before attending Brooklyn College, but says that none of its resources or services were a match for those of Brooklyn College.
"The courses I took, people I met, faculty I spoke to, and even the career center I sought out—none were up to the standards I have since become accustomed to at Brooklyn College," Cazares says. "One of my dad's friends, who sadly passed away a year after I came to the college, received his master's degree here. He was someone who pushed me toward this college, informing me that it was one of the top CUNY schools. At that point I thought, 'I have to go now because he went and he's really great.' So, I followed his route and I think it paid off."
Cazares is double majoring in accounting and finance and has received the Dean's List honor multiple times. He has been attending school full-time, taking a minimum of 15 credits each semester, while working full-time as a reservations manager at U-Haul. He says that he found the will and the drive to put in this kind of effort because of his mother, whose dream it is for him to attain a level of success that she and his father were unable to.
Cazares is most proud of his honorable placement in the MDSII Security Analysis Program Awards. "That recognition did not come easy. There were times when I spent the entire night trying to discover what it is I needed to do, especially as a person who had no significant finance background. What that award said to me was that all I had to do was try to do my best."
He has completed paid internships at Union Bank of Switzerland (UBS), where BCF Trustee Lorraine Levy Laighold '64, founder of Brooklyn College's Lorraine Laighold Summer Leadership Academy, is senior vice president and wealth management financial adviser, and at PwC, where he says he was inspired to employ critical thinking and develop the ability to be proactive, rather than reactive, in problem-solving. For both opportunities, Cazares has nothing but gratitude for both MDSII and the Magner Center.
"These were the most important and vital things for me: the college's career services, especially Andre Fontenelle and Natalia Guarin-Klein—my two favorite people even though they might not know it. Natalia introduced me to Ms. Laighold, who interviewed me for the UBS internship. Additionally, having MDSII on my resume helped tremendously. Employers are eager to find candidates who have real-world experience, and MDSII ensures we have that—even before we receive our degrees."
In January, Cazares begins working at PwC as an auditor in the alternative investments group.
The M.D. Sass Investment Institute and the Magner Career Center are able to provide students like Kelly Alvarez, Sebastian Komuda, and Luiz Cazares the assistance, skills, values, and opportunities that are essential to fulfilling their career aspirations thanks to the generous support of alumni and friends received through the Brooklyn College Foundation. There are many ways donors can support Brooklyn College and its students: Make a planned gift through a will, trust, or retirement plan; designate gifts for specific purposes, such as scholarships, awards, prizes, internships, travel funds, research fellowships, or departmental discretionary funds; join the Boylan Society, a monthly sustainer program; purchase a Commemorative Brick and leave behind a lasting legacy at Brooklyn College; or make a one-time gift online. The Brooklyn College Foundation, Inc. was established in 1958 to encourage and promote the academic purposes of Brooklyn College of The City University of New York and the educational welfare of students, faculty, alumni, and the community. Through a full spectrum of fundraising programs, the foundation provides resources that advance the mission of Brooklyn College.

Back to BC News