Brooklyn College's first queer prom offers a do-over of the high school ritual for members of the campus LGBTQIA community.
/web/new_2018news/QueerPromthumb94x84.jpg
Prom Redux: Pride Edition
June 25, 2018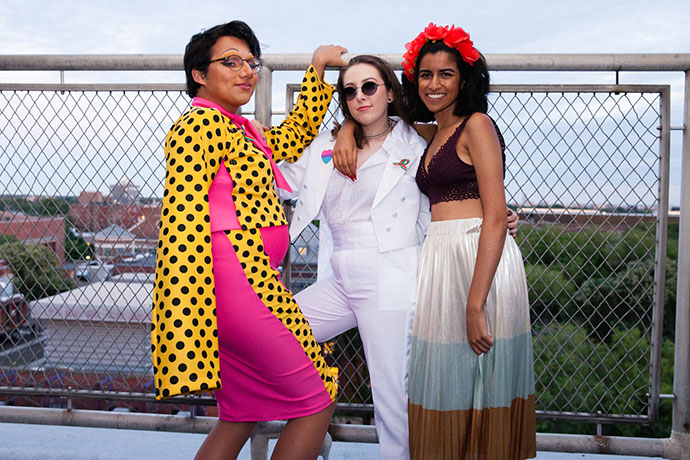 There's a convivial kind of energy in the air as sophomore Daniel Vázquez Sanabria dashes back and forth between a bathroom vanity and the adjacent bedroom. Ariana Grande radio is playing softly on an iPhone's Spotify app, and Sanabria is grabbing an assortment of ointments and powders that he is using to beat back the lustrous pair of eyebrows that stand in the way of the broad palette he'll need for his eye shadow tonight.
Settling in front of a bedroom window to finish his face, the art history major exhales, grabs his compact mirror, and says to no one in particular that, "it's been a stressful week."
But now it's Friday afternoon, and he's pre-party primping with his homies—sophomores Dena Bhagalia, a history major, and Nerea Blanco, another art history major whose Flatbush walkup is hosting the gathering.
With eyebrows temporarily turned purple from the glue that will hold them flush to his face, Sanabria, who is exploring his drag persona, explains that he learned everything he knows about applying makeup from watching videos on YouTube and Instagram.
"Actually, he learned it from stealing our makeup," Blanco chides before grabbing a box from the small table upon which Sanabria has placed an elaborate spread of cosmetics.
This threesome, close friends since they met last year at the Residence Hall at Brooklyn College, is stepping out tonight, and to be sure, they've got three tickets on Blanco's nightstand and a "Buffy the Vampire Slayer" calendar on the wall that has this day highlighted with the words "Queer Prom." To emphasize the excitement, there are hearts colored in with red sharpie.
As National Pride month hits its halfway mark, tonight is the night that the Lesbian Gay Bisexual Transgender Alliance at Brooklyn College, a student group, and the LGBTQ Resource Center hold the campus' first queer prom. It is an event some three years in the making and designed as a do-over of sorts for those who couldn't be themselves in high school, or who skipped the teenage rite of passage altogether. It also provides a safe party space for students who are too young for gay bars and nightclubs.
Members of the student group, which has more than 600 Facebook subscribers and even more on their email list—making it one of the largest on campus—had been talking about doing it for years, says Sami Binder '18, the office manager at the resource center and the outgoing president of the student alliance. When the momentum finally built up last fall, the students secured two grants from CLAS and got vendors like the DJ and decorator to offer discounted rates.
"A lot of people believe in what we are doing," Binder said, before the event. "Especially at a time when there are a lot more outspoken bigots, an increase in the suicide rate, and a high number of issues going on in the LGBT community. Having a positive event and being surrounded by people who are either like you or who are allies is going to be a very encouraging thing and will allow people not to have to think about those issues for the night."
Sanabria did go to his high school prom at the arts school he attended in Puerto Rico, where he grew up. And though he had already come out to most of his friends—first as bisexual because he thought it sounded "at least partly normal," then as gay when he grew more confident—a large number of parents insisted on coming ("they were paying for it," he says) to the dismay of many students of all stripes. "They were all just looking at us," Sanabria says.
It wasn't until he moved to New York that he started more wholly living his queer life. He is now in his first long-term relationship and wears a full face to work at Walgreens, an effort that requires him to wake up with the roosters.
As it is, Cinnamon Xandra (pronounced Sandra), his drag alter ego who's coming out tonight for this prom, takes two hours in the makeup chair.
This is only Cinnamon's third or fourth outing, and Sanabria is a little nervous. Not because he has any shame or embarrassment about Cinnamon—"I gave up caring what people thought a while ago," he says. Quite the contrary, he delights in pushing people's notions about gender expectations. But his queen is still a work in progress, just like with a not-fully-realized piece, the artist is a bit shy about sharing his creation with the world.
Still, "I'm here for it," Sanabria says, sounding like he's partly explaining and partly pep-talking himself. "I have to do it. Drag queens are the front runners of the community. They are the ones who are always advocating for everyone so why not honor them in this way?"
After they declare themselves ready—Sanabria brilliantly gender-bending in a hot pink dress with voluminous mustard yellow and black polka dot sleeves (which he spent the week sewing, his first major creation), nude pantyhose, black combat boots, cotton candy pink nails, and a face beat, as the slang goes, for the Gods—the crew make the trek to their ride.
On this crisp early summer evening, the Brooklyn block that provides Cinnamon's first runway outside the apartment is lined with a horde of hyper-masculine energy.
"Can I get an autograph?" a man shouts just before Sanabria disappears into the car, hands shaking.
No worries, assures Bhagalia, a featherweight whose heart far exceeds her size. She was ready to fight if she had to.
"I didn't feel in danger, I just felt a little exposed, something you try not to do as a gay man," Sanabria explains later. Cinnamon is his "test to society's perceptions of gender or sexuality."
He's glad to bring her out more, but he wants to do so in spaces he can control. "Like the prom," he says.
So, after a quick stop at Prospect Park to snap pictures, Sanabria and his crew head to the penthouse floor of the Brooklyn College Student Center, where they and roughly 80 other guests are greeted with painted Chinese lanterns, streamers, and rainbow glow sticks illuminating the ceiling, a nod to the evening's space theme.
After hors d'oeuvres, there's a sit-down dinner in the Gold and Maroon Room, lots of conversation, and sunset selfies on the rooftop. A photo booth with a space helmet prop just off the dance floor also proves popular.
"It's so nice to party and celebrate our queerness," says Maya Garcia, a junior and double major in English and Puerto Rican and Latino Studies. "It just feels good."
Much like high school, there's a lot of banter about the prom court, but this one will feature a king, queen, prince, princess and ruler of the galaxy, with each title—and the white domed and burgundy padded seats that will hold its royal subjects—being open to all genders.
Binder, who uses the pronoun they, claims and proceeds to fully own the ruler of the galaxy throne, an announcement that is greeted with hearty whoot-whoots from the party crowd as they are crowned by David P. McKay '93, the director of the campus resource center, and Palma Dellaporta, the associate director of enrollment advocacy and a big supporter of the center and the students' activities.
Sensing it's time to get turned up, the DJ plays Beyonce's "Love on Top," Bruno Mars' "Trippin' in Finesse," and Janelle Monae's "Pynk," something of an anthem the artist has billed as a celebration of her own sexual fluidity. The floor gets more crowded.
Sanabria is bobbing his head and has grabbed a few glow sticks. "Now I see the light," he jokes with his friends. "Gay God is that you?"
They laugh. And then go dance to Cardi B's "I Like It" before the fete is over at 10. They end the night at a small after-party at Binder's place, just talking.
"I enjoyed it a lot because I finally had a break from being stressed all the time," Sanabria says, before adding: "It was nice seeing everybody being their own queer, gay self."
Back to BC News