Okwui Okpokwasilli is on a roll as she is honored with one of the country's most prestigious awards.
/web/aca_centers_lgi/Okpokwasili_2018_94x84.jpeg
Choreographer and Performer Who Had Brooklyn College Residency Wins MacArthur 'Genius' Award
Oct. 17, 2018
Okwui Okpokwasilli is on a roll as she is honored with one of the country's most prestigious awards.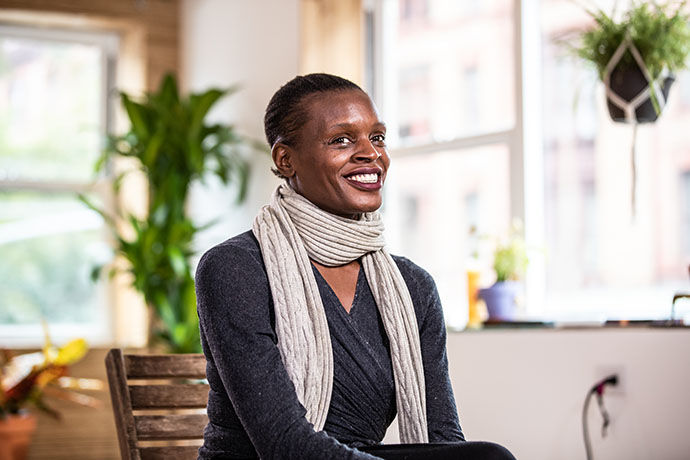 Twenty-eighteen has been good to Okwui Okpokwasilli, a choreographer and performer who was in residence at Brooklyn College this summer. She started the year off as a USA Fellow, a prominent award given to artists in many fields. In May, she received the Herb Alpert Award in Dance. June brought the Doris Duke Artist Award, a prestigious honor that supports virtuosos in jazz, theater, and dance. Most performers don't get so much in a lifetime.
So Okpokwasilli says she was "thrilled and incredibly overwhelmed" earlier this month when she was named one of 25 geniuses by the MacArthur Foundation when they honored her with the $625,000 no-strings-attached MacArthur Fellowship. "I was already feeling supported," she says. "I was feeling heard. So to get this award on top of it feels amazing."
Okpokwasilli had the keys to the dance room in the West Quad building all to herself. For two weeks in July, she worked there on some of her upcoming performance pieces. The arrangement was facilitated by a partnership between the Brooklyn College Theater Department and The Public Theater that gives artists workspace on campus in exchange for leading workshops and master classes with Brooklyn College students. Okpokwasilli taught a master class in late August in the new Leonard and Claire Tow Center for the Performing Arts.
"Brooklyn College has been incredible for artists," she says, adding that she was very grateful to have the rehearsal space on campus. "From playwrights to performers, a lot of the work that has come out of Brooklyn College has been really critical and timely. There's a real effort to build bridges between the students and the artists working in New York City and that has opened up opportunities all around."
The admiration is mutual.
"We were extremely excited to learn that Okwui was a recipient of the MacArthur fellowship," says Kip Marsh, chair of the Theater Department. "Based on her interactions with our students in the master class that she held, we are both in awe of her talents and not surprised at all that she was chosen for such an honor."
In giving her the award The MacArthur Foundation cited Okpokwasilli's Bronx Gothic, a widely lauded 2014 one-woman show in which she reads letters from two black girls navigating adolescence in the 1980s and Poor People's TV Room, a piece that tackles the legacy of oppression and collective resistance in Nigeria, where Okpokwasilli's parents were born and raised.
The MacArthur Foundation credited her with "making visible the interior lives of women whose stories of resistance and resilience have been left out of dominant cultural narratives."
Back to BC News