One of an impressive cohort of 2018 Rosen Fellows who worked on dynamic projects, McGregor used her award to travel to The Bahamas to conduct research at the Bimini Biological Field Station.
/web/new_2018news/RosensTorilead94x84.jpg
Swimming With Sharks Helped Senior Tori McGregor Uncover Her Strengths
Nov. 8, 2018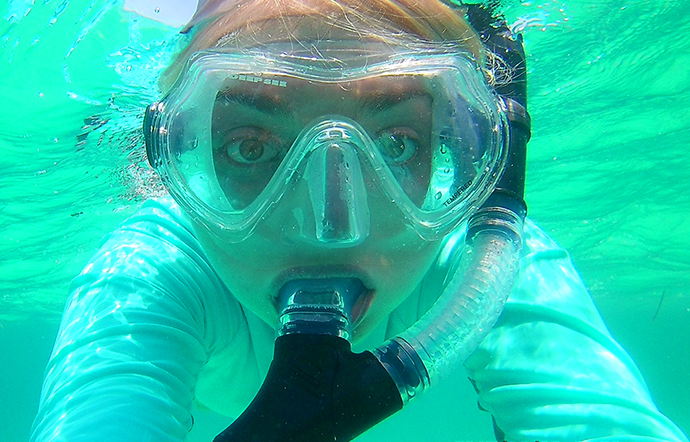 On the first day of her internship, senior Tori McGregor found herself so close to a shark that she could reach out and touch it. She'd never been on a dive before nor seen a shark so up close and personal.
"Having a chance to see them in their natural habitat," the Brooklyn native says, "is something that's hard to put into words. For me, it was calming."
And so began McGregor's summer internship at the Bimini Biological Field Station Foundation—known as the Shark Lab—located about 50 miles east of Miami in South Bimini, Bahamas. The locale, abundant with mangroves, was where Ernest Hemingway wrote Islands in the Stream and where Martin Luther King, Jr. wrote both his Nobel Prize acceptance speech and his famous "I've been to the mountaintop" sanitation workers speech.
For McGregor, an urban sustainability major who is planning a career in marine conservation, her time there was similarly inspiring.
She had been keeping up with the lab ever since a former professor mentioned doing his Ph.D. work there. When she went looking for an internship for the summer, she applied and was accepted, along with five other interns, who assisted in data collection on the health status and movement patterns of elasmobranches—largely sharks and stingrays.
To help pay for her expenses, McGregor applied for a Rosen Fellowship, a Brooklyn College award funded by Florence Rosen '59, which provides a stipend of up to $5,000 to finance a student project. McGregor was one of 10 students in this year's cohort, who took on varied enterprises from shadowing a pediatrician in Uzbekistan, to researching the cult of Asclepius in Rome and Greece, and curating a display of African adornment in Brooklyn.
McGregor used the $4,050 she received to pay for her airfare, room and board, and to purchase some dive equipment for the two-month stay. No two days were the same, she says. One some days, she'd work aboard a 22-foot catamaran, setting long lines and catching three-meter tiger sharks for a workup that included tagging them, drawing blood and taking several body measurements along with a fin clip so that they could conduct DNA and isotope analysis. (Their skin feels like teeth, she says, and the team definitely got their share of cuts or "shark burn"). Other times, she'd be on a skiff, fishing for bait or fixing gill nets, or long line equipment.
"Most people watch shows like what comes on during The Discovery Channel's Shark Week, where scientists automatically catch a shark and conduct a workup," she says. "But that's not how science works. There are hours and days of hard work that go into catching a shark. My time at the lab gave me an appreciation for all the aspects of the field."
On her birthday, McGregor was invited to go shark fishing with a tiger shark researcher and the lab's staff. The group ended up catching a female tiger shark that had recently given birth. In the middle of their workup, a thunderstorm came pouring down and the team knew lightning wouldn't be far behind.
"It reminded me of a scene from the movie The Perfect Storm," she says. "We had to keep working and as fast as possible. I don't know how we did it with rain that felt like hail when it hit your skin but we did it while laughing at our circumstances. It was an awesome day."
For McGregor, the secretary of the college's Sustainability Club, it was the internship of a lifetime. After graduation next spring, she plans to take a year off, when she hopes to have another internship before entering graduate school for marine biology conservation. She'd like to focus on endangered marine apex predators for her career because "they protect the ecosystem," she says. "I want to make sure they receive the protections they need, and I can achieve that through research."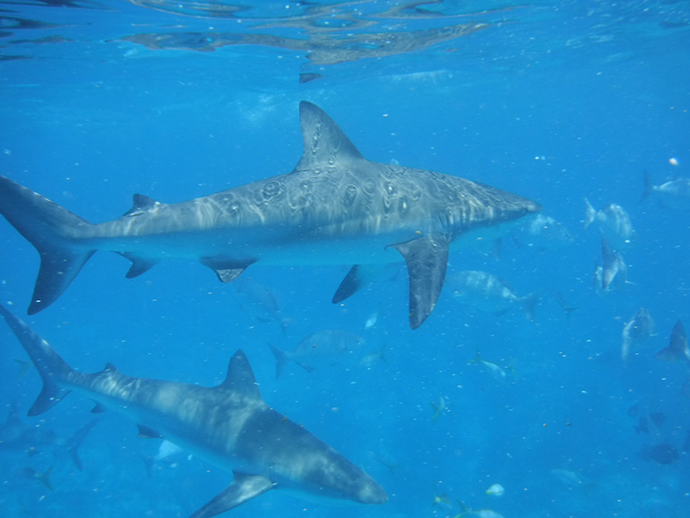 The Rosen Fellowship grants undergraduate students the possibility to create an out-of-classroom experience that will promote creative or career advancement. Each year, the program supports students who might not otherwise be able to afford such opportunities and who exhibit extraordinary creativity, determination and promise in articulating and pursuing their career and life goals.
Back to BC News