In nearly 10 years, The Rosen Fellowship has funded a diverse array of out-of-classroom adventures, featuring everything from well-behaved chickens, to full-moon ceremonies, to lindy hopping. 
/web/new_2019news/florencerosen_94x84.jpg
A Fellowship Off the Beaten Path
Nov. 15, 2019
Florence Cohen Rosen '59 always felt she received a good education at Brooklyn College, and what's more, the tuition was free. When Rosen decided she wanted to pay that forward, she created a fellowship that gives students "worldly experience and insights into things they probably would not have run across until later into their careers," she says.
In 2011, she founded the Rosen Fellowship, which provides a stipend of up to $5,000 to Brooklyn College sophomores and juniors who self-design an experience or project that will promote their creative or career advancement. 
As a businesswoman—she founded and is president of Rosen Associates Management Corp., one of the country's leading shopping center managers, investors, and developers—Rosen knows a thing or two about what it takes to make it, and she delights in helping to support students with potential. 
In less than a decade, the Rosen Fellowship has funded the out-of-classroom adventures of 84 student projects, which have included such diverse endeavors as training to become an international instructor of the vintage jazz-based dance, the lindy hop, conducting an ethnographic study of adolescent HIV patients in Mumbai, India, hiking the Appalachian Trail for artistic inspiration, and logging 10,000 travel miles visiting urban farms across the country to better understand best practices for developing urban agriculture.
Rosen says that when she sees their work, her "faith is renewed in the future of America."
Here's a look at some of the Rosen Fellows past and present, who reflect on the impact that the fellowship has had on their lives:
2019 Rosen Fellows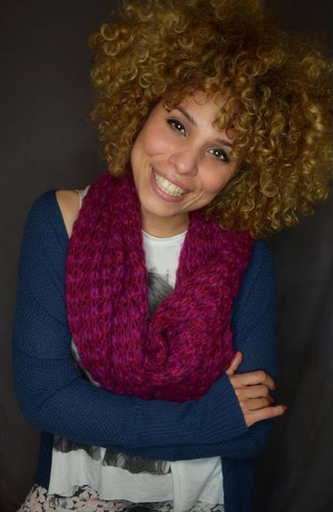 Irma Cadiz
Now that her kids are all grown up, senior Irma Cadiz is going for the dream she deferred to parenthood. She convinced the Rosen committee that not only was her proposal worthy of funding for tuition for a summer at Manhattan's The Acting Studio in order to further her training as a thespian, but also that she would use part of the stipend to get some head shots and to help pay her bills while she took a break from working as a cosmetologist to attend the acting program full time.
"Especially at my stage in life, when you tell someone you want to be an actor, they look at you with dismissal," says Cadiz, who is majoring in the journalism and media arts program. "I was shocked and humbled that this fellowship was willing to invest in me."
Cadiz spent an intense six weeks last summer studying the Meisner technique, which encourages actors to engage instinctively with their surrounding environment.
"The experience jump-started me right back into actively auditioning again. I established a lifelong relationship with a school that I would not have been able to afford, and I gained another family," Cadiz says of her time at The Acting Studio. 
"I'm a nontraditional student who didn't want to do a big scholarly research project. I want to be a working actress. That's my dream," says Cadiz, who is graduating in June and applying for internships in the television industry, in addition to auditioning for roles. "The Rosen Fellowship funded my dream."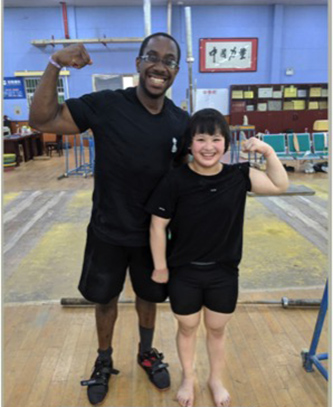 Deshwan Fairbain
"Chinese weightlifters have an unbroken streak in weightlifting and, ultimately, longevity. Could it be that they work harder than Americans, or is there more?" wondered senior Deshawn Fairbain. A weightlifting enthusiast, Fairbain traveled to the Hunan province of China to learn about the biomechanics and culture behind the sport there, to determine how much they affect performance. "I believe it's important in the field of exercise science to always learn more and look to the best." 
Fairbain, a kinesiology major, researched disparities in the concept of relative strength, which is how strong you are for your size. He hung out with Chinese weightlifters and gathered data on their force output, speed, agility, and the culture surrounding their training programs.
"I've grown a deeper fondness for Chinese people and  I've learned to become even more humble," he says.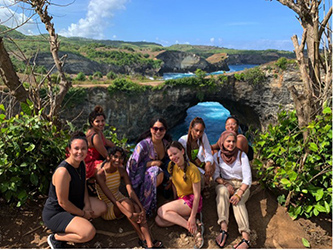 Hafsa Fatima
Sophomore Hafsa Fatima traveled to Bali, Indonesia, for a study abroad program during which she studied Balinese Hindu and animist spiritual beliefs. 
"I was interested in Eastern medicine, traditional healing, and how it connects to psychopathology," says Fatima, a psychology major who conducted research in which she interviewed Indonesians about emotions, stigmas, gender, and sexual health.
The study abroad group also took part in cultural ceremonies, such as those for a full moon or cremation. "Being a part of these ceremonies allowed me to actively learn and experience the emotions, interact with natives, and be part of a community."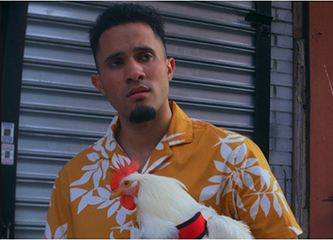 Timothy Rivera
Senior film student Timothy Rivera had always had an idea of shooting a scene of himself walking a chicken on a leash through Harlem. He'd never even been next to a fowl. The Rosen Fellowship committee saw his vision.
"I wanted to challenge myself and write out a story with two characters stuck with a chicken in Harlem for the night," he says. "What surprised me was how well-behaved the chicken was."
Still, the shoot ended up being "the most challenging film ever for me," says Rivera, who housed and ultimately grew attached to the bird. "Although this idea was bizarre, I was determined and stuck with my goals. I completed everything I said I was going to do."
Rivera says that he plans to submit his film to the Latino Film Festival and the Student Academy Awards, and he will pursue a career in the industry after graduating in June.
"I have evolved as a filmmaker," he says. "This project showed me that anything I put my mind to, I can complete." 
Rosen Fellows from previous years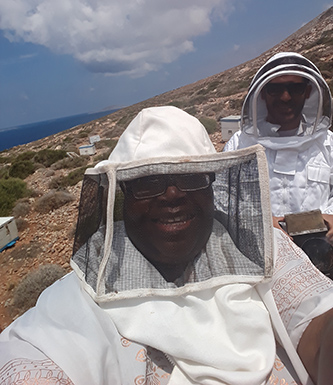 Deborah Alves
Senior Deborah Alves, an earth and environmental sciences major, traveled to Kasos, Greece, in the summer of 2018 to learn how to build a bee cooperative. It is "a barren island with only one plant that the bees would pollinate—a type of wild thyme with beautiful purple flower," says Alves.
Alves, who comes from a beekeeping family in her native Trinidad, says that being in Greece was an eye-opening experience: "There are many similarities between someone born in the Caribbean and someone born in Greece," says Alves. "Island life is island life." Still, the highlight of the trip was researching beekeeping, which in some cases goes back centuries in Greek families, and where, unlike other places in the world, bees are thriving.
Ultimately, Alves would like to bring set up a cooperative in Brooklyn. "I'm grateful to the Rosen Fellowship for allowing me the opportunity to go on that trip. It was truly life-changing. I was fired up when I came back, focused more on school and what I want to achieve."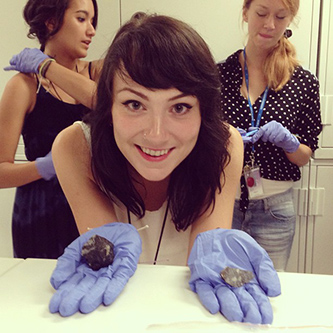 Caitlin Boas '14
Former geology student Caitlin Boas '14 says she took a bit of a winding path to get to where she is today. But she draws a direct line from her Rosen Fellowship to much of her current success.
She used her funding to head to the gulf coast of Mississippi to study the 65-million-year-old meteorite collision that brought about the end of dinosaurs.
"Being among world-renowned researchers while digging up fossils, I was exposed to how scientific debate occurs and realized this isn't necessarily something the public gets to see," says Boas, who went on to present her research from the fellowship at several conferences. "I saw the disconnect and knew that I wanted to work to empower the public to understand these issues enough to make important decisions."
She is currently the program coordinator at Science in the Living City, a program that is the result of a partnership between multiple state and federal agencies, where she works with scientists to develop programs to help convey their work to the public. After she completed her studies at Brooklyn College, she went on to pursue a doctorate at The University of California, Berkeley—with a full scholarship—and then came back to New York to complete a master's degree in science education at Columbia University.
"Many of the things I did along the way would never have happened without the Rosen," she says. "It was a door opener for me." 
Jessica E. Khaimova '16
Jessica E. Khaimova '16 used the award's funding to take a trip to Scotland, where she researched with Christiane Helling, a professor at the University of St. Andrews. Helling was studying the atmosphere of two planets outside of our solar system. While in Scotland, Khaimova collaborated on a research paper that was published in a peer-reviewed journal.
"This was a transformative experience for me as it solidified my decision to study exoplanetary atmospheres for my Ph.D.," says Khaimova, who was a student in the CUNY Baccalaureate for Unique and Interdisciplinary Studies program, where she majored in fiction writing and atmospheric and environmental science. "The research I did in St. Andrews, thanks to the Rosen Fellowship, led me to where I am today, and I am immensely grateful to have been given the opportunity to embark on this life-changing experience."
Khaimova is now in the second year of a Ph.D. program at the University of Göttingen in Germany and is studying exoplanetary atmospheres and also doing some science outreach. She has set up an Instagram page, @girlgonegalactic, devoted to women in science.
Additionally, after she completed the research for her Rosen Fellowship, she spent the next two weeks traveling solo through the Scottish highlands. She realized she could make Europe her home.
"I never traveled alone before this," she says. "Since then, I have visited 14 other countries in Europe and have made traveling and photography a hobby of mine. It has also been inspiring for my writing. I have the Rosen Fellowship to thank for bringing these interests into my life as well." 
Back to BC News