Late Supreme Court Justice Honored Through Music 
/web/201210_JeffreyBiegel_94x84px.jpg
Piano Professor Jeffrey Biegel Pens Musical Tribute to Ruth Bader Ginsburg
Dec. 10, 2020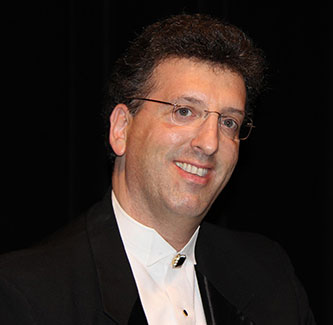 When Supreme Court Justice Ruth Bader Ginsburg passed away on September 18, it sent shockwaves around the world, impacting people in many ways.
For Brooklyn College adjunct piano professor Jeffrey Biegel, it was a loss that touched him on many levels. Coming from a law enforcement family—his father was the youngest captain in the NYPD in the 1970s, serving in three precincts, while his grandfather was a lieutenant before that—he was raised with a healthy respect for justice that Ginsburg dedicated her life to.  
Ginsburg also loved music. So Biegel, a world-renowned concert pianist and composer who teaches in the School of Visual, Media and Performing Arts, found the most fitting way to honor the woman whom he deeply admired. "Reflection of Justice: An Ode to Ruth Bader Ginsburg" is a solo piano composition and homage he composed over several days in October to immortalize the legendary Supreme Court Justice who did so much for so many. 
"I deeply reflected after she passed, thinking that Ruth Bader Ginsburg deserved her own 'Lincoln Portrait,' Aaron Copland's narrated orchestral work. I wanted to do something that reflects her life through music."
But struggling with how to translate such a remarkable life onto the black and white keys of a piano was a struggle, at first. Biegel finally decided to use the letters of her name and her famous "RBG" initials as notes, as well as her nickname, "Kiki." He added a quote from "The Star Spangled Banner" and other nods through notes to Ginsburg.
The result is a powerful piece that takes a few twists and turns, probably like the life he honored. Biegel received approval from the Ginsburg family and government officials to get this project off the ground. 
"It was important to receive the family's blessing and permission to create musical projects based on the life of Justice Ginsburg. They had lost so much already. Having them on board is truly endearing and very special," Biegel said.
Biegel first performed the piece at Vermont's Sonata Piano Camp, an international piano camp for adults in Bennington, now being held in a virtual setting. He was slightly nervous how it would be received, but fellow noted artists, including musician and composer David Foster and singer-songwriter Melissa Manchester, were in the audience and gave it two thumbs-up. That performance is available on Biegel's Instagram page.
Other celebrated musicians and artists have lent their support to the project as well. Author David Topel said of the piece: "Jeffrey Biegel has created an experience worthy of a legacy that will endure the ages. For me, the piece is as strong as it is vulnerable, with an authenticity that indeed reflects the incomparable integrity, grit, and brilliance of our beloved RBG."
Biegel also shared the piece with celebrated Broadway actress Betty Buckley, who said the piece made her cry.
On November 17, Biegel appeared on the program "Stars in the House," hosted by Seth Rudetsky and James Wesley, to discuss the musical memorial. The daily livestream program was launched during the coronavirus pandemic to support the Actors Fund and its services.
Biegel has been busy making music for the masses during this difficult time. He composed two "Waltzes of Hope" in March and April and a "Sonatina (Homage to Clementi)," and he has been hosting weekly Saturday night concerts from his home through his YouTube channel.
Back to BC News