An alumna searching for answers to some big questions travels to Rome for a unique master's degree program that feeds her desires to affect change. 
/web/new_2021news/DanielaAlbaRamirez_94x84.jpg
She Goes in Peace
Nov. 15, 2021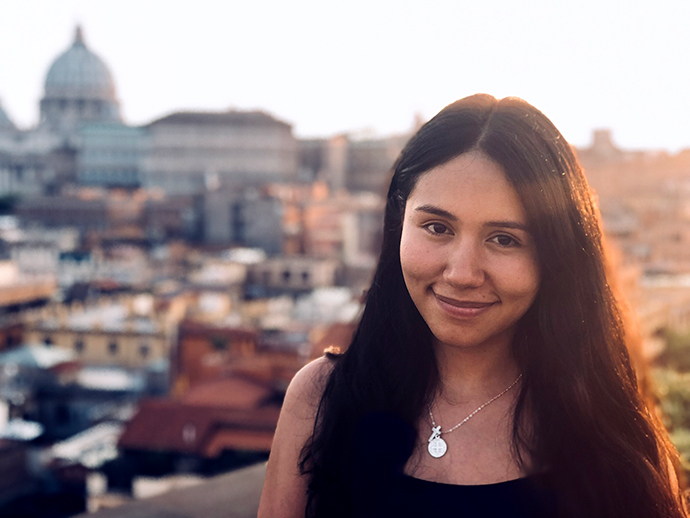 Daniela Alba Ramirez '21 has some deep questions tugging at her. How did she land in "a privileged spot in the hierarchy of immigrant experiences" (she's a U.S. citizen)? What should she do with that privilege? Why is it so easy for many of us to turn a blind eye to suffering? Why do some people have "unwarranted wealth" while others are doomed to a life of working twice as hard for a fraction of the rewards?
"These are things I've always questioned heavily in my heart," says the Colombian-born former philosophy major who is now in a master's degree program in peace studies at The American University of Rome.
Reared in the United States, Alba Ramirez has traveled the globe and worked in jobs she had no intention of staying in—from the service industry to the corporate world—to check out the view from different vantage points.
Now she's doing a deep dive into the political economy of peace and war, from both a religious and nonreligious context. She's looking at everything from critical race theory to the role of women in the Roman Catholic Church and studying ecclesiastical law so that she can push for changes to it.
She was inspired to pursue the program after meeting Pope Francis at an audience for a youth group where he spoke about the importance of incorporating more women into the institution of the church.
"I was very moved by his words," Alba Ramirez says, noting that she's a lifelong Catholic who wants to push the church to accept people from all walks and all lifestyles. "I want to look at what part of our moral and ethical code relies heavily on outdated aspects of religious law and tenets that forbid us, and the institution of the church, from progressing and adapting to modern times."
She had been thinking about becoming a canon lawyer and working for the Vatican. Now she says she's leaning more toward working with nongovernment organizations on the ground. Up until she left for Rome in August, she had been working as an administrative assistant at St. Michael's Roman Catholic Church in Sunset Park, Brooklyn, helping the undocumented community there respond to the pandemic by providing various services and acquiring basic goods.
She realized that nothing compares to "the feeling of coming home and saying, 'I did my part,'" and that she doesn't want to divorce herself from realities on the ground.
"I enjoy working one-on-one with real people on a daily basis," she says. "With all of the privileges that I have been given, I just want to be of service. This feels like a natural path for me."
Back to BC News