The Magner Center's Joselyn Marroquin '14 says that getting to see the growth in students is the best reward for her. 
/web/new_2022news/JoselynM_94x84.jpg
Best of BC Staff Spotlight: Service With a Smile
April 11, 2022
The Magner Center's Joselyn Marroquin '14 says that getting to see the growth in students is the best reward for her.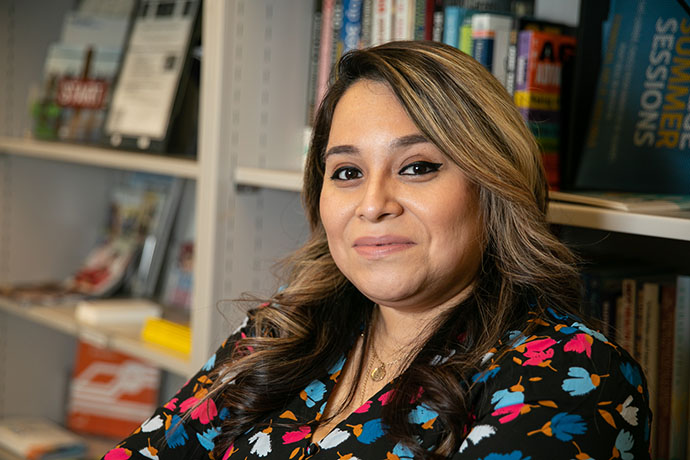 Since Joselyn Marroquin '14, the career services and recruitment coordinator at the Magner Career Center, teamed with her colleague to work on the annual intern/job fair, employer turnout has increased by 50%. When Marroquin headed a search for interns last summer for a large, city-funded economic recovery program that was announced at the last minute, the goal was to hire 175 Brooklyn College students. Marroquin found 300 to place in offices around the campus and in non-profit organizations—one of the highest rates across CUNY—bringing in $35,000 for the Magner Center in the process, which went to conference room upgrades to host virtual events, new seating, and a television for the office.
"Simply put, Joselyn is a rock star," says Director Natalia Guarin-Klein, who first hired Marroquin to work at the center when she was an undergraduate business management major 10 years ago. "She is dedicated to the mission of helping students with their careers and does it always with a smile."
The Bensonhurst native who started on administrative tasks now is responsible for hiring, mentoring, and training the center's student staff—which outnumbers the full-timers—in addition to working on the job fairs, where she has streamlined the process for employers and helped to collect payments due.
"As long as you love what you do, you do not feel the pressure from the workload," says Marroquin, who is now working on a master's in higher education administration at Baruch College (CUNY).
She gushes over her staff, Guarin-Klein, and her colleague, Andre Fontenelle, calling them mentors. "The best thing isn't the job itself; it is who I work with," she says.
Her co-workers say the feeling is mutual. Fontenelle, the associate director for internships and employer relations, says he once told her to thank her parents for having her.
"Long hours, weekends, and still she was smiling," he says, recalling working with her on the virtual job fair during the pandemic lockdown, for which the pair decided on an ambitious approach that wasn't sure to pay off. "It was so rewarding to have pulled off a highly successful event that was made so enjoyable working alongside her."
The mother of two says that when she was a student, the Magner Center was a second home for her, and one of her goals is for the students she works with to see it that way as well.
Alex Euceda, one of her student workers, says she has succeeded in that. "I've never met someone as straightforward and equally considerate of others," he says.
That constant smile? Marroquin credits it to the work that she does, noting that nothing moves her more than witnessing the growth of students.
"No one is perfect. We all have failures in life,'' she says. "But that is the time we need to decide whether we are going to let our fear bring us down or push us to create a victory."
Back to BC News