Named to The Hollywood Reporter's annual list of Top 25 American Film Schools for the second straight year, Feirstein is getting guidance from notable industry veterans, including acclaimed actor-director John Turturro and executive David Linde, the CEO of renowned film production company Participant.
/web/new_2022news/220808_Feirstein_94x84.jpg
Brooklyn College's Feirstein Graduate School of Cinema is Building on its Relationships with Leaders in the Media Industry
August 8, 2022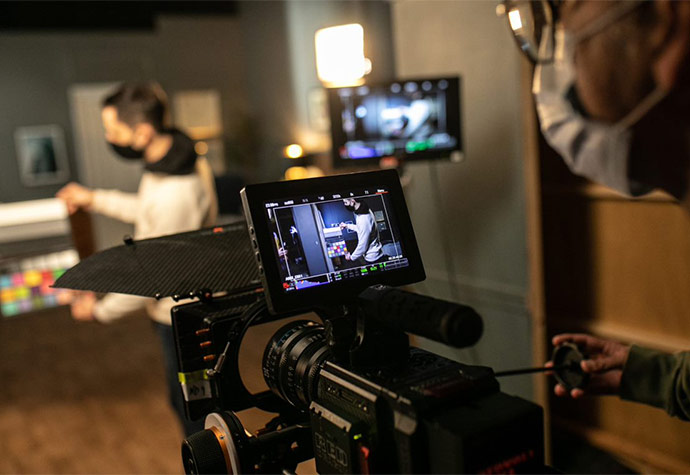 When Brooklyn College's Feirstein Graduate School of Cinema hired film industry veteran and Academy Award-nominated producer Richard N. Gladstein as its new executive director in the summer of 2020, it knew it was getting someone with valuable experience.
Gladstein joined an accomplished team of faculty and staff at Feirstein, and the team is more committed than ever to connecting students to the industry and the industry to students. This engagement has come in the form of a growing list of award-winning filmmakers and veteran industry executives who have joined Feirstein's Advisory Council and Mentorship Program, which provide counsel to Gladstein and the faculty, as well as direct mentorship to students on their thesis film projects.
The formula is working. For the second straight year, Feirstein was named to The Hollywood Reporter's list of "Top 25 American Film Schools." Feirstein is in its seventh year and is located in Steiner Studios, making it the only film school in the US on a working film lot.
Brooklyn's own John Turturro recently joined the Advisory Council in June. The legendary actor/director—who recently earned an Emmy nomination for his role in Severance—offered a master class on May 25 where he talked about his distinguished career to a packed theater of students.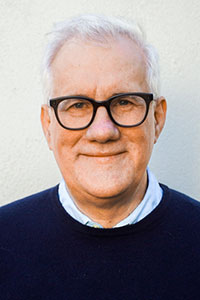 Another key member of the advisory council is David Linde, CEO of Participant, the leading global media company dedicated to entertainment that stands at the intersection of art and activism. Noteworthy films from Participant include Academy Award-winners such as Spotlight; American Factory, CITIZENFOUR, Roma, An Inconvenient Truth, and others. Linde's background also spans production, global distribution, and building multiple companies from the ground up. He has served as chairman of Universal Pictures, co-founder of acclaimed specialty film studio Focus Features, and CEO and owner of Lava Bear Films. Linde currently serves on the Board of Governors of the Academy of Motion Picture Arts and Sciences and the Board of Directors of Film Independent.
"The Feirstein Graduate School of Cinema has quickly proven itself as an important home for nurturing film students from diverse backgrounds, and I am proud to be part of the Advisory Council as the group engages in new ways to support that mission," Linde said.
As impressive as the list of advisors is, its members are equally impressed with the growing school.
Longtime Advisory Council member and Oscar-winning director Steven Soderbergh said of the school in an interview with Worth magazine: "it's one of the best facilities I have ever walked in to. I certainly never set foot in anything like that until I started working for studios."
Other established Advisory Council members include Neema Barnette, herself a CUNY graduate and Emmy Award-winner who was the first Black woman to direct a primetime sitcom; Emmy Award-winning music supervisor Randall Poster, a frequent collaborator of Martin Scorsese and Wes Anderson who most recently worked on The Tiger King and The Irishman; and the first female Academy Award-nominated cinematographer, Rachel Morrison, among others. 
The Mentorship Program offers a team of 20 standout film veterans who offer guidance and counsel to students as they prepare, shoot, and edit their thesis films. It is a distinct component of the Feirstein experience. The two latest additions to the mentoring effort are celebrated cinematographer Stuart Dryburgh—who offered a master class for students at the school on April 7 and served as a Filmmaker-in-Residence during the Spring 2022 semester—and acclaimed writer and producer Galt Niederhoffer.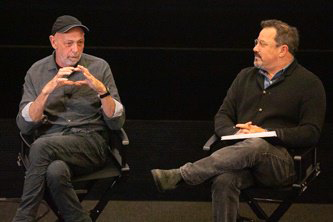 Dryburgh's resume includes an Academy Award nomination for Best Cinematography for his work on the 1993 film, The Piano, as well as being Emmy nominated for his work on the Boardwalk Empire pilot. Niederhoffer has produced over 30 independent films, 12 of which were selections and award-winners at the Sundance Film Festival, including films that won the Audience Award, Screenwriting Award, Directors Award, and Cinematography Award at Sundance. 
Other mentors include Academy Award-nominated film editor Kevin Tent, who has been Alexander Payne's go-to film editor on such films as Nebraska, The Descendants, Sideways, and Election; Academy Award-nominated filmmaker Ross Katz, who has produced such films as In the Bedroom and Lost in Translation; and Kelley Robins Hicks, an actress and producer, known for Random Acts of Flyness, Queen of Glory, among others. 
Gladstein himself serves as a resource for students and the faculty. His films have earned a total of 27 Academy-Award nominations, including two for himself for producing Best Picture nominees The Cider House Rules and Finding Neverland. His other films include The Bourne Identity, She's All That, Hurlyburly, Mr. Magorium's Wonder Emporium, The Nanny Diaries, and 54. He also enjoys a longtime collaboration with writer/director Quentin Tarantino, serving as executive producer on Reservoir Dogs, Pulp Fiction, Jackie Brown, and most recently, as producer, on The Hateful Eight.  
"We take great pride in offering our talented and diverse students unique opportunities to learn directly from celebrated and accomplished cinematic storytellers," Gladstein said. "These interactions demystify the industry and help students realize that their dreams are realistic and attainable."
Back to BC News