Leading senior CUNY campus selected to help address antisemitism globally, locally, and on campuses across the country.
/web/new_2022news/220929_Hillel_94x84.jpg
Brooklyn College Joins New Hillel International's Campus Climate Initiative
Sept. 29, 2022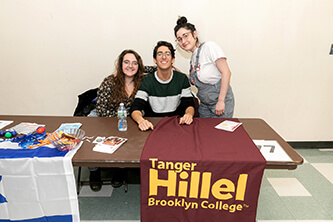 Leading senior CUNY campus selected to help address antisemitism globally, locally, and on campuses across the country.
Brooklyn College is proud to announce that it has joined six other CUNY campuses selected for Hillel International's expansion of its national Campus Climate Initiative (CCI). The announcement is part of an ongoing series of measures to confront the uptick in antisemitism globally, locally, and on campuses across the country.
"As an anchor institution in one of the most diverse regions of the country, we are proud to join Hillel International's Campus Climate Initiative and our fellow CUNY campuses working together to fight antisemitism and support our Jewish students, faculty, and staff," said Brooklyn College President Michelle J. Anderson.
Tanger Hillel at Brooklyn College is helping to lead this partnership with President Anderson, the college's Division of Student Affairs and the Office of Diversity and Equity Programs. Tanger Hillel is the largest Hillel facility at a New York campus that serves a diverse population of students, including Russian-speaking Jews, Israeli, Kavkazi, Bukharin, Orthodox, and American students.
Joining Hillel International will allow Brooklyn College and CUNY to be key partners in:
incorporating antisemitism in diversity, equity, and inclusion (DEI) and campus-based trainings;
expanding DEI training for staff, administrators, and student leaders to help them understand and recognize the various forms of antisemitism and utilizing educational tools such as the International Holocaust Remembrance Alliance (IHRA) definition of antisemitism for these efforts;
developing a system-wide web page for reporting campus incidents, including antisemitism, to facilitate and standardize reporting. This central page will connect to the individual campus reporting sites. It will also be shared with the college president or dean, who will be required to report on these cases on a semi-annual basis and develop policy and training as needed;
allocating $750,000 in new funding for events and programs that counter antisemitism and other forms of religious or ethnic bigotry, or for the expansion of DEI training incorporating antisemitism.
Currently in its third year, CCI works proactively with campuses to foster a positive campus climate in which Jewish students feel comfortable expressing their identity and values, free of antisemitism, harassment, or marginalization.
This new collaboration with Hillel International is one core component of a broad action plan to address antisemitism, as arrests for antisemitic crimes are up 45% in New York this year. Other CUNY campuses selected for this CCI expansion include Baruch College, The City College of New York, College of Staten Island, Hunter College, John Jay College of Criminal Justice, and Queens College.
The effort follows the JCRC-NY Scholars as Bridge Builders' visit to Israel in late April, when President Anderson was invited by CUNY Chancellor Félix V. Matos Rodríguez to join a delegation of 12 CUNY college presidents and deans to Israel and the West Bank to participate in a weeklong study tour of the country's cities, historic sites, and higher education institutions that included meetings with academics, activists, and public officials.
"I am so proud of the partnerships we have developed with dozens of colleges and universities who are deeply committed to improving the experiences of Jewish students as part of their DEI commitments for all students," said Mark Rotenberg, Hillel's vice president for University Initiatives & Legal Affairs. "The challenges of antisemitic hate, harassment, and marginalization on campus require awareness and commitment to change by university leaders, and the CCI program's dramatic growth from eight schools to 40 in two years shows that those leaders are out there."
Back to BC News