Fast Facts
Brooklyn College's Tradition of Excellence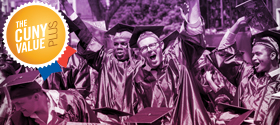 Since its founding in 1930, the college has been proud to provide an exceptional academic experience.
President
Michelle Anderson is the tenth president of Brooklyn College, having assumed the office in August 2016.
Location
2900 Bedford Avenue at Avenue H in the Midwood section of Brooklyn
Mission Statement
Brooklyn College of the City University of New York transforms lives by providing access to outstanding undergraduate and graduate programs in the arts and sciences, business, education, and a vibrant Core Curriculum in the liberal arts. We are an urban, public institution, proudly situated in one of the most dynamic and diverse communities in the country. We are committed to student success and to our historic mission to provide an affordable, high-quality education to students of all backgrounds. We seek to develop knowledgeable students who are engaged in the life of the college and our community, and are prepared to think critically, lead responsibly, act ethically, and contribute globally.
Undergraduate Tuition
New York State Residents
$3,165 per semester for full-time students
$275 per credit for part-time students
$400 per credit for nondegree resident students
Nonresidents
$560 per credit for full- and part-time students
$840 per credit for nondegree students
Graduate Tuition
New York State Residents
$5,065 per semester for full-time students
$425 per credit for part-time students
$210 for maintenance of matriculation for resident full-time students
Nonresidents
$780 per credit for full- and part-time students
$340 for maintenance of matriculation
A Brooklyn College Degree
A Brooklyn College degree is an essential tool for jump-starting your career. The most recent six-year graduation rate for a cohort of first-time freshmen enrolling at Brooklyn College is 51.2 percent. For entering transfer students, our six-year graduation rate is 56.4 percent. A 2013 tracking survey of Brooklyn College graduates who earned their bachelor's degree in 2010 showed that:
79.9 percent were employed, and 50.3 percent of those graduates have a job related to their studies at Brooklyn College.
25.9 percent reported that they were currently employed in a supervisory role.
20.4 percent have earned an additional degree since graduation.
35.4 percent are currently enrolled in a graduate degree program, 74.1 percent of whom are pursuing a master's degree, 7.4 percent are pursuing a doctoral degree, and 18.5 percent are pursuing a professional degree, such as a D.D.S., J.D., or M.D.
90.2 percent reported that Brooklyn College had helped prepare them for their current job.
The most common occupations in which they were employed were related to business and financial operations, architecture and engineering, and education. 
A college degree is a major step toward achieving your dreams. Nationally, a person with a bachelor's degree earns more than double what one with only a high school diploma earns.
Our 2012–13 survey of recent graduates (pdf) shows that three-quarters of bachelor's recipients and one-half of master's recipients plan to continue with their formal education.
Degrees
Brooklyn College offers 83 undergraduate programs and 71 graduate programs as well as certificates and advanced certificates and diplomas in the humanities, sciences, performing arts, social sciences, education, and pre-professional and professional studies. We award the following degrees:
Bachelor of Arts
Bachelor of Business Administration
Bachelor of Fine Arts
Bachelor of Music
Bachelor of Science
Master of Arts
Master of Arts in Teaching
Master of Fine Arts
Master of Music
Master of Public Health
Master of Science
Master of Science in Education
The college also offers Ph.D.-level courses through the City University of New York Graduate Center; a number of doctoral courses are also offered at Brooklyn College.
The college's Core Curriculum is aligned with CUNY's general education framework. It seeks to provide students with a well-rounded body of knowledge, a critical appreciation of diverse cultural and intellectual traditions, an interest in relating the past to the complex world in which students live today, and the ability to help society create a fresh and enlightened future. The framework allows students to explore knowledge from various perspectives and to develop their critical abilities to read, write, analyze, and use language and symbol systems effectively. It also develops students' intellectual curiosity and commitment to lifelong learning.
Divisions
Brooklyn College is structured into five schools: Murray Koppelman School of Business, School of Education, School of Humanities and Social Sciences, School of Natural and Behavioral Sciences, and School of Visual, Media and Performing Arts. The deans in the five schools have primary responsibility for administrative and academic oversight of undergraduate and graduate programs. The departments within the schools are listed below.
Murray Koppelman School of Business 
Accounting
Business Management 
Economics
Finance
School of Education
Childhood, Bilingual and Special Education
Early Childhood Education / Art Education
Secondary Education
School Psychology, Counseling and Leadership
School of Humanities and Social Sciences
Africana Studies
Classics
English
History
Judaic Studies
Library
Modern Languages and Literatures
Percy Ellis Sutton SEEK Program
Philosophy
Political Science
Puerto Rican and Latino Studies
Sociology
Speech Communication Arts and Sciences
American Studies (interdisciplinary program)
Caribbean Studies (interdisciplinary program)
Children and Youth Studies (interdisciplinary program)
Communication (interdisciplinary program)
Linguistics (interdisciplinary program)
Studies in Religion (interdisciplinary program)
Women's and Gender Studies (interdisciplinary program)
School of Natural and Behavioral Sciences
Anthropology and Archaeology
Biology
Chemistry
Computer and Information Science
Earth and Environmental Sciences
Health and Nutrition Sciences
Kinesiology 
Mathematics 
Physics
Psychology
Urban Sustainability (interdisciplinary program)
School of Visual, Media and Performing Arts  
Art
Conservatory of Music
Film
Television and Radio
Theater
Performance and Interactive Media Arts (interdisciplinary program)
Student Enrollment
Total fall 2015 enrollment was 17,410. There were 14,207 undergraduate and 3,203 graduate students.
Student Body
Brooklyn College reflects the diversity and vibrancy of the borough. For a detailed look at some characteristics of the student body, view our Enrollment Snapshot, updated each semester.
Enrollment Snapshot
Brooklyn College offers a wide variety of majors. For detailed facts and figures about academics at Brooklyn College, see our Fact Book.
Brooklyn College Fact Book
Student Diversity
Brooklyn College is a microcosm of the ethnically rich borough of Brooklyn it serves as well as a mirror of the wide diversity in New York City itself. A vibrant, intellectually engaged community, our student body comprises individuals from 150 countries, speaking 105 different languages, who share in the educational home our ample campus provides. Brooklyn College attracts bright, ambitious individuals and is particularly well suited to those who are eager to explore a wide range of academic disciplines.
Student Achievements and Activities
Brooklyn College students continue to receive recognition for their scholarly achievements.
Recent award winners include Jake Levin '16 and Ryan Merola '07, Harry S. Truman Scholarship; Zujaja Tauqeer '10, Rhodes Scholarship; Marina Malomud '09 and Rosemary Taveras '10, Jeannette K. Watson Fellowships, which provide internships and mentoring to promising undergraduates; Ana R. Rodriguez '08, New York City Urban Fellowship; Ghulam Dastgir '08 and Alex Pyronneau '08, Jonas E. Salk Scholarships for medical study; Christopher Browne '09 and Amy Iturres-Alomia '09, Gilman Awards for study abroad; Mary Pennisi '08 and Rhiannon Varmette '06, Fulbright Awards; and Terri Bennett '08, honorable mention from the National Science Foundation and Enhanced Chancellor's Award for graduate study in earth and environmental science.
There are more than 100 academic, special interest and social clubs at Brooklyn College; three student newspapers; and a student-run radio station, BCR, located at 1090 AM. The college participates in NCAA Division III athletics and offers an exciting and energetic intramurals sports program.
Facilities
The college comprises 13 buildings on a 35-acre, tree-lined campus. The Princeton Review consistently cites the college's "gorgeous" yet still urban campus as one of its major draws.
In keeping with a commitment to provide its students with a superior educational experience, Brooklyn College embarked, in 2002, on a major capital improvement program. In that year it completed an extensive renovation and expansion of the Brooklyn College Library, now the most technologically advanced in the City University of New York (CUNY) system. Holdings in the library include:
1.5 million volumes
45,000 serials
43,000 electronic serials
40,000 electronic books
The library's Woody Tanger Auditorium is a state-of-the-art facility capable of supporting video-conferencing and interactive meetings and workshops; a multimedia distribution system allows staff to broadcast high-quality streaming video throughout the building. The library also houses four computerized classrooms and a Faculty Training and Development Laboratory. The Morton and Angela Topfer Library Café is open 24 hours a day, seven days a week, for word processing, Internet access, data management, and quiet study.
The West Quad Project, begun in 2003, was completed in 2009. It encompasses a verdant quadrangle and a new campus building that houses student services and state-of-the-art physical education and athletic facilities under one roof. The college is constructing the $80 million Leonard & Claire Tow Center for the Performing Arts, which will serve the Conservatory of Music, the Department of Theater, and related disciplines when it opens in 2017.
Faculty
The faculty of Brooklyn College teach, mentor, and advise, and very often they become students' best career counselors. In and out of the classroom, students at Brooklyn College get to know and work side by side with leading academics, scientists, writers, and performers. In fall 2014 there were 545 full-time and 811 part-time faculty members.
Prominent faculty members include: world-renowned concert pianist Ursula Oppens; ASCAP Award–winning composer Tania León; Pulitzer Prize–winning journalist Paul Moses; computer theorist Rohit Parikh; audiologist Shlomo Silman; leading expert in microalgae biotechnology Juergen Polle; political scientist and author Corey Robin; and Obie Award–winning playwright Mac Wellman.
National Accolades
In 2016, the Princeton Review named Brooklyn College one of the best institutions in the country for undergraduate education in The Best 381 Colleges, and U.S. News & World Report ranked it among the top 25 public colleges in the United States and among the top 75 regional universities in the north. In 2015, Forbes included Brooklyn College in its list of top 20 best-value colleges in the United States. The Princeton Review included the college in its 332 Green Colleges (2014) and The Best Value Colleges (2012). Over the past decade, the college has also been named "best bang for the buck" college in the United States by Washington Monthly, and received a four-star ranking for its academics in the Fiske Guide to Colleges.
Grants
In 2013–14, Brooklyn College received awards totaling $10.5 million to support research, training, program development and institutional improvement. Among the many federal agencies, corporations and private foundations that have contributed support to the college are the National Science Foundation, National Institutes of Health, U.S. Department of Energy, U.S. Department of Education, U.S. Department of State, U.S. Department of Agriculture, NASA, New York State Education Department, New York State Higher Education Services Corporation, New York City Department of Education, New York City Department of Environmental Protection, New York City Department of Youth and Community Development, Environmental Protection Agency, Robert Bowne Foundation, Gordon & Betty Moore Foundation, TeraGanix Inc., Albert Einstein College of Medicine, Karlsruhe Institute of Technology and Heliae Development LLC.
Budget
The fiscal year 2015 initial operating budget is $116,070,600.
Endowment
As of December 2015, the Brooklyn College Foundation has more than $77 million under investment.
Accreditation
Brooklyn College is accredited by the Middle States Commission on Higher Education (3624 Market Street, Philadelphia, PA 19104; 267.284.5000; info@msche.org), the Council on Education for Public Health, the American Dietetic Association and the National Council for Accreditation of Teacher Education. The master's program in school counseling is accredited by the Council for Accreditation of Counseling and Related Educational Programs. The master's program in speech-language pathology is accredited by the Council on Academic Accreditation in Audiology and Speech-Language Pathology of the American Speech-Language-Hearing Association, and the Au.D. program in audiology at the CUNY Graduate Center is accredited by the Council on Academic Accreditation in Audiology and Speech-Language Pathology of the American Speech-Language-Hearing Association. The B.S. program in chemistry is accredited by the American Chemical Society. Brooklyn College's academic programs are registered by the New York State Department of Education.
Organization Membership
Brooklyn College is a member of the American Association for Higher Education, the American Association of State Colleges and Universities, the American Council on Education, the Association of American Colleges and Universities, the Council for Higher Education Accreditation and the Council for Opportunity in Education.
Alumni
Brooklyn College alumni make a difference in a wide variety of fields, including law, the sciences, the arts and politics — three candidates for president of the United States were Brooklyn College alumni.
Motto
Nil sine magno labore: "Nothing without great effort."