Sustainability
Virtual Career Opportunity Workshop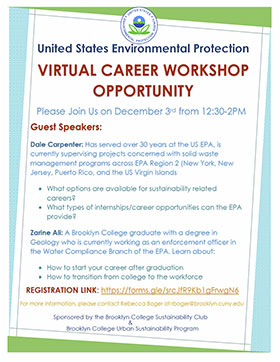 with
Dale Carpenter, U.S. EPA
Zarina Ali, U.S. EPA and Brooklyn College Alumnus
December 3, 2020
12:30-2 p.m.
Registraion Form
Flyer (pdf)
Dale Carpenter has served over 30 years at the US EPA, is currently supervising projects concerned with solid waste management programs across EPA Region 2 (New York, New Jersey, Puerto Rico, and the US Virgin Islands).
Zarine Ali is a Brooklyn College graduate with a degree in Geology who is currently working as an enforcement officer in the Water Compliance Branch of the EPA.
Learn about:
What options are available for sustainability related careers?
What types of internships/career opportunities can the EPA provide?
How to start your career after graduation
How to transition from college to the workforce
More Information
Rebecca Boger
rboger@brooklyn.cuny.edu
Sponsored by the Brooklyn College Sustainability Club and the Urban Sustainability Program
Brooklyn College Farm Share (Farm2Campus)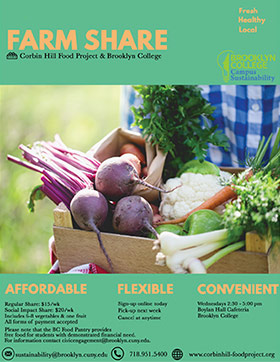 Corbin Hill Food Project and Brooklyn College: Flexible, Affordable, Convenient
Corbin Hill Food Project is hosting a Thanksgiving Farm Share! At this time on campus distributions are cancelled, anyone can sign-up and you do not have to be a member to participate in the Thanksgiving Share pick-up:

Dates: Saturday, November 21st, 2020 and Sunday, November 22nd, 2020  
Time: 10am to 2pm
Pick-ups location: Riverside Church  91 Claremont Avenue New York, New York 10027
Please check the Corbin hill Food Project website and this space for updates. Read our feature in The Brooklyn College Vanguard.
The mission of Brooklyn College's sustainability initiative is to create an overarching culture of sustainability throughout the entire campus community by raising awareness of, engagement in and commitment to reducing our carbon footprint through campus-based education, research, operations, community-based collaboration, and service. Our sustainability planning will take special recognition of the constraints, opportunities, and responsibilities attendant with our urban location in one of the most densely populated cities in the United States.
To advance this mission, in 2010 the college convened the Brooklyn College Sustainability Council and the Provost's Task Force on City-Based and Sustainability Education to evaluate sustainability on campus and make recommendations for improvements in seven pillar areas:
Waste Management and Recycling
Water
Energy
Procurement
Food and Nutrition
Transportation
Outreach and Education
Goals for advancement in each of these areas are included in Brooklyn College's 10-Year Sustainability Plan.
This plan guides the college's green initiatives, in conjunction with the CUNY Sustainability Initiative and PlaNYC and in partnership with businesses, government, regional and citywide organizations.
The Princeton Review's Green Colleges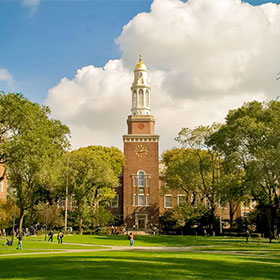 Brooklyn College makes the list of The Princeton Review's Green Colleges: 2021 Edition. Brooklyn College is also recognized in the Princeton Review's 2021 Best Colleges: Region by Region website as one of the 224 best colleges in the Northeast.
The Princeton Review Guide to Green Colleges present information on each school's use of renewable energy, its recycling and conservation programs, the availability of environmental studies in academic offerings, and career guidance for green jobs. The Princeton Review is an education services company known for its tutoring, test-prep, books, and other student resources. Headquartered in New York, NY, it is not affiliated with Princeton University.
REV Campus Challenge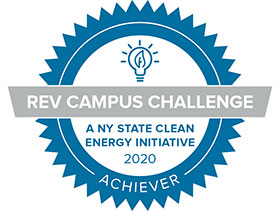 We are recognized as an Achiever member for the college's initiatives and efforts to improve energy efficiency and conservation by NYSERDA's REV Campus Challenge program.
See the Brooklyn College campus sustainability video series, winner of the 2018 CUNY Sustainability Competition!