Sustainability
Facts About Plastic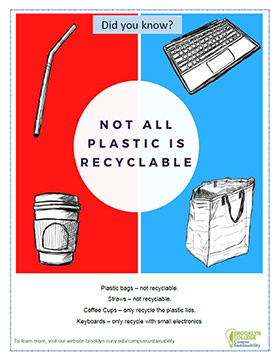 Did you know?
Not all plastic is recyclable. Plastics offer many conveniences, however, products like plastic bags and food wrappers, stay in the environment for hundreds of years. Most of the plastic trash in the oceans flows from land waste, once it goes in the ocean it is difficult to collect. We must prevent plastic waste from entering our water streams!
Plastic bags - not recyclable
Straws - not recyclable
Coffee cups - only recycle the plastic lids
Keyboards – only recycle with small electronics
Half of all plastics ever made have been produced in the last 15 years
Brooklyn College Farm Share (Farm2Campus)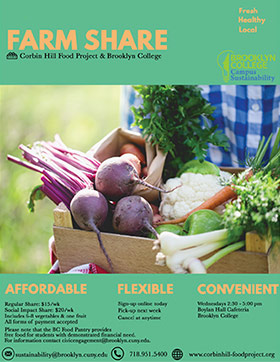 Corbin Hill Food Project and Brooklyn College: Flexible, Affordable, Convenient
Spring 2020 Distributions are cancelled, please check this space for updates.
Regular Share are only $10*! All shares include six to eight vegetables, one fruit, and popular locally sourced add-ons (organic eggs, fruit share, cheese, juice, etc). The Brooklyn College FarmShare program was featured in The Brooklyn College Vanguard.
* This price will last until funds are available.
The mission of Brooklyn College's sustainability initiative is to create an overarching culture of sustainability throughout the entire campus community by raising awareness of, engagement in and commitment to reducing our carbon footprint through campus-based education, research, operations, community-based collaboration, and service. Our sustainability planning will take special recognition of the constraints, opportunities, and responsibilities attendant with our urban location in one of the most densely populated cities in the United States.
To advance this mission, in 2010 the college convened the Brooklyn College Sustainability Council and the Provost's Task Force on City-Based and Sustainability Education to evaluate sustainability on campus and make recommendations for improvements in seven pillar areas:
Waste Management and Recycling
Water
Energy
Procurement
Food and Nutrition
Transportation
Outreach and Education
Goals for advancement in each of these areas are included in Brooklyn College's 10-Year Sustainability Plan.
This plan guides the college's green initiatives, in conjunction with the CUNY Sustainability Initiative and PlaNYC and in partnership with businesses, government, regional and citywide organizations.
REV Campus Challenge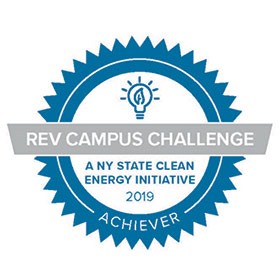 We are recognized as an Achiever member for the college's initiatives and efforts to improve energy efficiency and conservation by NYSERDA's REV Campus Challenge program.
See the Brooklyn College campus sustainability video series, winner of the 2018 CUNY Sustainability Competition!