Biking on Campus
New York City is home to the largest network of bicycle lanes in North America, with more than 1,000 miles of bike routes. Brooklyn College and Campus Sustainability are looking to decrease carbon emissions by promoting bicycling as well as bike safety education and other transportation alternatives. We will continue to raise awareness about the college's ongoing efforts to promote sustainable transportation to and from campus.
May is National Bike Month. Join cyclists across the country and participate in different biking events. Commute to work by bike, sign up for a bike share system, or get the bike smart guide to learn about biking laws and cycling safety.
In honor of Bike Month 2019, Brooklyn College and Campus Sustainability partnered with 511NY RideShare to provide great transportation choices. Join the college's new Student Travel Portal, bike days, and take advantage of the Bike Repair and Pump station located in the West Quad, between James Hall and the security gate.
Learn More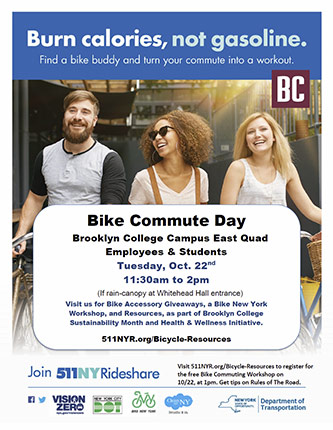 Bike Commute Days
511NY Rideshare and NYSDOT come and campus to give information about their transportation alternative programs, green transportation, travel resources, and information for bicycling, transit, walking, and other options.
Bike Commuting Workshop s are also available during Bike Commute Days. The workshop are presented by Bike NY. The instructors cover a variety of topics, from picking the right bike to how and where to lock your bike, and much more.
Stay tuned as we make updates to this page about any upcoming bike related events.