Compost Awareness Week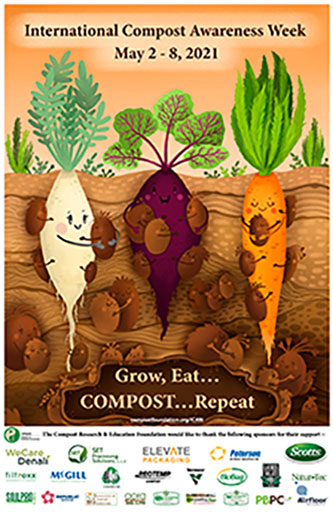 May 2–8, 2021
The theme for 2021in the United States is Grow, Eat... COMPOST... Repeat. This theme is based on the circular movement of the organics recycling process flowing from farm to table , back to the farm. The New York State Department of Environmental Conservation (DEC) issued a proclamation, announcing the week of May 2-8 as New York State Compost Awareness Week. This is to highlight the importance of compost for soil health, climate resiliency, and diverting food waste from landfills. Compost returns organic matter and nutrients to the soil, increases water holding capacity, and provides resistance to drought and disease, among other benefits.
One of the college's waste reduction and recycling action plan goals is to explore composting on campus to decrease the volume of organic matter disposed in the regular trash. At the moment you can collect fruit and vegetables scraps and drop these off at the Brooklyn College Community Garden to be turned into compost. To drop off your food scraps or volunteer with compost-related tasks, contact the garden coordinator via e-mail.
Composting at Home
Composting at home allows you to manage your organic material (yard trimmings and food scraps) right in your own backyard. Use your homemade compost to add valuable nutrients to your garden beds. Learn more about home composting and troubleshooting your pile.
New York City residents can compost household food waste simply by dropping kitchen scraps at one of 60 GrowNYC Food Scrap Drop-Off sites citywide, including Greenmarkets, Youthmarkets, Fresh Food Box, and On-the-Go locations. If you're interested in composting your food scraps but don't have the space to do it yourself, look for an organics collection service or food scraps drop-off spots in your community.
Find a Home Composting Workshop Near You!
The New York State Association for Reduction, Reuse and Recycling's Organics Council is promoting a series of events that will help you reduce wasted food and start composting at home. Find a home composting workshop near you!