Pollution Prevention (P2)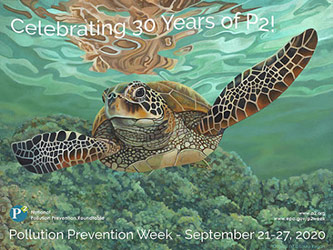 Where Sustainable Practices Begin
Pollution Prevention (P2) is any practice that reduces, eliminates, or prevents pollution at its source. P2, also known as "source reduction," is a prevention approach to reduce the amount of pollution produced. Less pollution means less waste to control, treat, and dispose of, and fewer hazards posed to public health and the environment. During Pollution Prevention Week, industry and citizens are recognized for the progress they made. Organizations also renew their P2 efforts and continue to spread the word on ways to prevent pollution every day in different ways. Pollution Prevention is the key to saving our planet's resources and moving toward sustainable future.
Program Benefits
From 2011 to 2016, the EPA's P2 Program has resulted in the following benefits:
Greenhouse gases eliminated—11.8 million metric tons
Energy savings—15.7 billion kW hours
Business savings—$1.4 billion
Water saved—25.7 billion gallons
Hazardous materials reduced—529 million pounds
More Information
Pollution Prevention Week
Pollution Prevention Week is recognized and celebrated as a time when businesses, environmental groups, and citizens can join forces for a common cause. By sharing information about pollution prevention, businesses can become more competitive, businesses and government can realize cost savings, and environmental quality can be enhanced.
National Pollution Prevention Roundtable (NPPR)
The National Pollution Prevention Roundtable (NPPR) is a national forum that promotes P2 Week and supports the development, implementation, and evaluation of efforts to avoid, eliminate, or reduce waste generated to air, land, and water. The sustainable and efficient use of energy, materials, and resources is vital to the protection and enhancement of human health and the environment, and the conservation of natural resources.
Pollution Prevention Law and Policies
Congress passed the Pollution Prevention Act, which states: "the Environmental Protection Agency (EPA) must establish a source reduction program which collects and disseminates information, provides financial assistance to States, and implements the other activities...."