Center for Academic Advisement and Student Success
Academic Momentum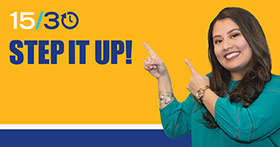 The mission of the Center for Academic Advisement and Student Success (CAASS) is to assist undergraduate students in establishing, monitoring, and achieving graduation requirements. We provide student-focused, developmental advisement in an environment that recognizes the unique spirit and individuality of each student. We work with academic departments and administrative offices to develop and maintain a coordinated and comprehensive approach toward advisement.
Office Hours for the week of October 21st
Monday: 9 a.m.–5 p.m., Express session
Tuesday: 9 a.m.–5 p.m., Express session
Wednesday: 9 a.m.–5 p.m., Express session
Thursday: 9 a.m.–5 p.m., Express session
Friday:  9 a.m.–5 p.m., Appointment
Note: The last express session is 20 minutes prior to closing. Office hours subject to change. 
Express Sessions Advisement Versus Appointment Advisement
An express session allows students to visit the office and choose an available 20-minute advisement slot for the same day. Students may then leave to attend class or perform errands, and return later that day at their appointed time (thus eliminating any waiting time). Slots are available on a first-come, first-served basis.
An appointment can be reserved weeks or days in advance, pending availability, online via BC WebCentral Portal. Appointments are 30 minutes long and are more appropriate for in-depth academic planning.