Office of Diversity and Equity Programs
Brooklyn College is committed to values and policies that enhance respect for individuals and their cultures. In fact, the college's cultural, racial, and ethnic diversity is one of our distinguishing characteristics. The Office of Diversity and Equity Programs is responsible for ensuring the college's compliance with CUNY policies as well as federal, state, and local laws pertaining to diversity, equal employment opportunity, affirmative action, nondiscrimination, and sexual misconduct.
Statement by CUNY Chancellor Matos Rodríguez on the Deadly Shootings in Atlanta
"The unconscionable violence that erupted last night in Atlanta has absolutely no place in our society. On behalf of the CUNY community, I offer condolences to the families of the eight people, six of them Asian women, whose lives were taken in yet another senseless shooting spree. Although the shootings have not yet been classified as hate crimes, they come at a time when the nation is struggling to repudiate a sustained uptick in bias-fueled attacks against Asian Americans and Pacific Islanders. These latest murders also reflect the deep-seated misogyny that continues to degrade our culture.
"In this distressing moment, we must again come together in unity, as individuals and as a university, and acknowledge our interconnectedness. We must reaffirm our commitment to building a society that fully champions diversity and equality, tolerance and inclusion."
View the statement on the CUNY website.
Combating Sexual Assault and Other Unwelcome Behavior
How do I report a sexual assault or incidents of domestic violence on or off campus? What supportive services are available through Brooklyn College and outside organizations? We want to ensure you are informed and your questions are answered.
Programming
The Office of Diversity and Equity Programs develops and coordinates with offices to create programs, trainings and events to combat bigotry and other biases in all their forms and continues to recognize and build on the strengths offered by our multicultural, multiracial and multigenerational campus.
For October, we are offering eight Remote Learning Anti-Discrimination Training Sessions.
The Diverse Experiences of Asian American College Students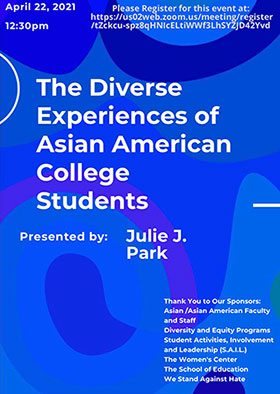 2021 Brooklyn College Haidt Lectures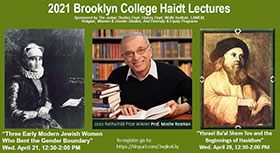 with Prof. Moshe Rosman, Winner, The Rothschild Prize in Jewish Studies, 2020
Professor Emeritus, Koschitsky Department of Jewish History and Contemporary Jewry, Bar-Ilan University
Three Early Modern Jewish Women Who Bent the Gender Boundary
Wednesday, April 21, 2021
12:30-2 p.m.
Yisrael Ba'al Shem Tov and the Beginnings of Hasidism
Wednesday, April 28, 2021
12:30-2 p.m.
Register for both events via Zoom
Sponsored by the Department of Judaic Studies, Department of History, the Ethyle R. Wolfe Institute for the Humanities, LAMEM, the Studies in Religion Program, Women and Gender Studies, and the Office of Diversity and Equity Programs.
Implementation Team for Racial Justice
Chief Diversity Officer Anthony Brown and Ron Jackson, Vice President for Student Affairs, have been appointed to lead a special Implementation Team for Racial Justice on campus. The team will coordinate the collective development of a comprehensive plan on all issues and action items advanced to the administration. The team will ensure coordination among many initiatives under way, so that we can maximize the impact of our campus-wide effort.
Sexual Misconduct and Discrimination Investigations
In order to ensure a safe environment for all members of our community, the Office of Diversity and Equity Programs is charged with the responsibility of addressing and investigating complaints involving discrimination and sexual misconduct, and ensuring that reasonable accommodations and academic adjustments are provided when needed. To file a complaint, contact the Title IX Coordinator (contact information below) and/or complete the:
Additional Resources
Event Calendar
Sexual and Interpersonal Violence Prevention and Response Training
Wednesday, February 17, 2021, 2 p.m.
Thursday, March 4, 2021, 2 p.m.
Wednesday, March 17, 2021, 10 a.m.
Wednesday, April 14, 2021, 2 p.m.
Thursday, April 29, 2021, 10 a.m.
Wednesday, May 12, 2021, 10 a.m.
Thursday, May 27, 2021, 2 p.m.
Wednesday, June 9, 2021, 2 p.m.
Thursday, June 24, 2021, 10 a.m.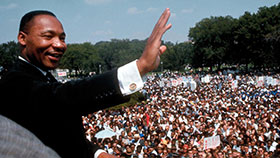 People fail to get along because they fear each other; they fear each other because they don't know each other; they don't know each other because they have not communicated with each other.
— Martin Luther King, Jr.
Suggestion Box
How are we doing? Please submit your suggestions/comments below. Please note, this is NOT a complaint form.